'Luca': Everything You Need to Know about the new Pixar Movie on Disney+
Pixar Studios' latest character to fall in love with is a 13-year-old sea monster called Luca.
Voiced by Jacob Tremblay (Room), he's curious about life above the surface and sets out to explore the Italian town of Portorosso with his best friend. Together they experience a life-changing summer in the 1950s.
Luca features a talented voice cast, beautiful Riviera scenery, and Pixar's patented quality animation.
Here's everything you need to know ahead of the movie's release.
When is Luca out?
Luca surfaces on Disney+ on June 18. The film was supposed to release directly into theaters on the same date but Disney changed tact in response to the ongoing COVID-19 pandemic.
Instead, Luca is now Pixar's second direct-to-streaming feature-length film after 2020's Academy Award-winning Soul.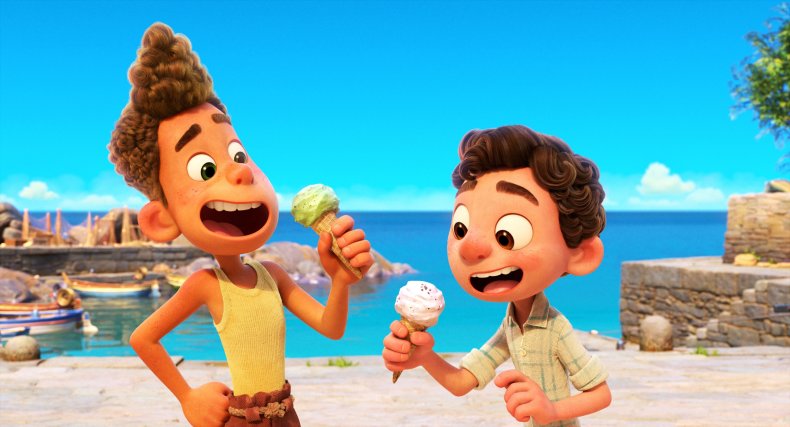 Fittingly, considering the film's aquatic Italian surroundings, the film held its premiere in Italy at the Aquarium of Genoa on June 13.
The voice cast in Luca
Tremblay leads the movie as the titular sea monster Luca Paguro, and his best friend Alberto Scorfano is voiced by Jack Dylan Grazer (It and Shazam!).
In a press statement, Tremblay reveals how he's similar to his sea creature character. He said: "I can get pretty nervous sometimes but, like Luca, I'm able to overcome that. I also have an amazing imagination like Luca. I relate to that a lot."
Luca's family are voiced by recognizable talent with Maya Rudolph (Bridesmaids) playing his mother Daniela, comedian Jim Gaffigan as his father Lorenzo, Sandy Martin (It's Always Sunny in Philadelphia) as his grandmother, while Sacha Baron Cohen (Borat) plays distant relative Uncle Ugo.
Rudolph said she aimed to play Daniela with a mix of warmth and harshness. She said: "I've definitely seen my mama bear come out when necessary with my children, so that was a pretty easy element of Daniela to relate to. When your children are pushing boundaries, you want to show them that you love them, but you're serious.
"That can be an incredibly difficult balance, but one that every parent understands," she said.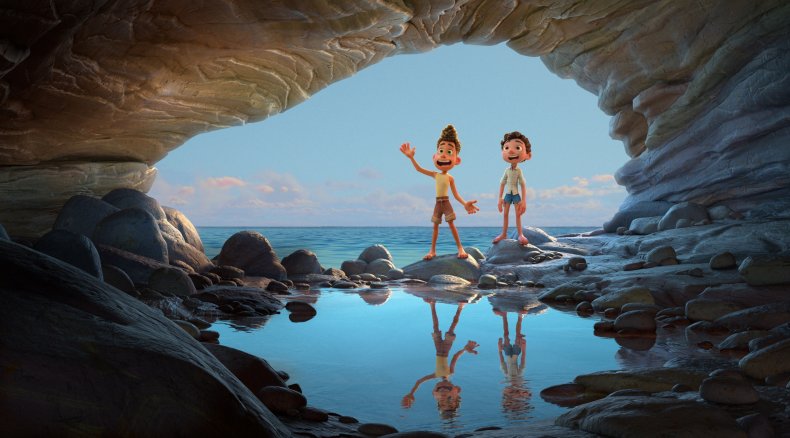 Other stars in the movie include Italian voice actors who help create the Italian environment of Portorosso. Saverio Raimondo, Giacomo Gianniotti and Marina Massironi all play town locals and reprise their roles in the Italian-language version of the movie.
The inspiration for Luca
Pixar artists had the tough job of experiencing the Italian Riviera in real life to help create the surroundings we see on-screen in the fictional seaside town of Portorosso.
Director of photography for the movie Kim White shares how she adapted the real-life surroundings she encountered to the screen. She said: "I brought home from Italy pictures of the way the light fell between the buildings and bounced off of them. I wanted to capture the beautiful quality of the light in town and the interesting shadow compositions that I saw there."
Since Luca follows the life of an underwater creature curious about dry land, the story is undoubtedly similar to The Little Mermaid. This is especially ironic for Tremblay who has an upcoming role as Flounder in Disney's upcoming live-action remake.
Luca is available to watch for free for Disney+ subscribers from June 18, 2021.