Lucid Just Sold 100,000 EVs to Saudi Arabia
Lucid, the EV company on track to compete with Tesla, Mercedes-Benz and other luxury car brands, just made the biggest sale in company history. The California-based outfit made a deal to sell 100,000 vehicles to the Government of Saudi Arabia.
The ten-year deal is part of the Kingdom's Saudi Vision 2030 plan to invest in the country's economy, to diversify and make it more sustainable. It acts in the housing and financial sectors, distributes public and private investments and aims to both enhance government effectiveness and enable more personal responsibility. Zero-emission vehicles certainly fit into those categories.
The Saudi government has made an agreement to an initial purpose of 50,000 vehicles, with the option to purchase 50,000 more. The first cars will be delivered no later than the second quarter of 2023, starting with 1,000-2,000 vehicles annually. That will ramp up to 4,000-7,000 vehicles annually, by 2025.
"Delivering up to 100,000 Lucid electric vehicles in Saudi Arabia represents another pivotal moment in our acceleration of sustainable transportation worldwide," said Peter Rawlinson, Lucid's CEO in a press release. "We are delighted to be supporting Saudi Arabia in achieving its sustainability goals and net zero ambitions, as outlined by Saudi Vision 2030 and the Saudi Green Initiative, by bringing our advanced luxury EVs to Saudi Arabia."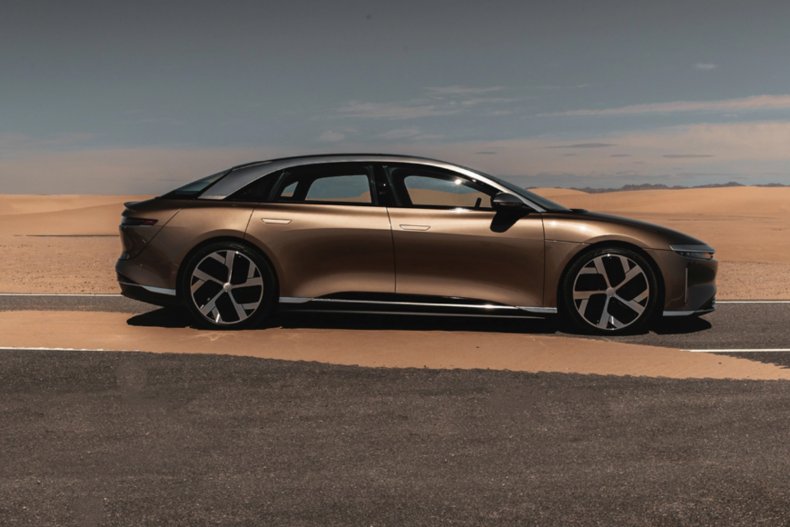 According to Lucid, the purchase price (current models range from $77,400 to $169,000) "will be determined based on the lower of the standard retail price for the applicable vehicle in Saudi Arabia and the standard retail price for the applicable vehicle in the United States, plus the logistics and importation costs, and other costs of delivering and homologating vehicles to regulations of Saudi Arabia."
The vehicles will first be built at Lucid's factory in Arizona, but some will come from the company's future international manufacturing facility in Saudi Arabia. This too is part of the diversification of the economy that's laid out in Vision 2030.
The deal isn't just for the Lucid Air sedan that's on sale now. It is said to include "future Lucid vehicles," meaning it could also purchase the upcoming Lucid Gravity SUV or a forthcoming Tesla Model 3 rival, which CEO Peter Rawlinson spoke of last year.
It's one of the biggest purchases of its kind for electric vehicles. The deal is one of the biggest bulk purchases of EVs ever, sharing the spotlight with Amazon, which ordered 100,000 Rivian electric delivery vans in 2019.
Despite the retail giant's recent additional order of Ram ProMaster electric vans, the partnership is still on.
Rental car company Hertz also jumped headfirst into EVs with an agreement to purchase 100,000 Teslas last year, providing some of them to ride-sharing service Uber.
The Air, on sale now, comes in four trims. Its most potent form delivers 1,111 horsepower, a 520-mile range, a 2.5-second sprint to 60 miles per hour and can gain 300 miles of range per 20 minutes of charge. The base model makes 480 horsepower and has an EPA range of 406 miles.