'Lucifer' Season 5: Netflix Release Date, Cast, Trailer, Plot and More
Lucifer Season 5, Part A is finally coming out, 15-and-a-half months after the last set of episodes were released by Netflix. Fans may only be getting eight episodes for now, but they look set to have plenty to keep fans happy, with new cast and characters joining the show (including God himself) and a plot that introduces Lucifer's (played by Tom Ellis) twin brother.
Netflix has released a trailer for the first part of Lucifer Season 5, but fans can read on for all they need to know about Part 1 of the fifth season.
When is Lucifer Season 5 out on Netflix?
Half of Lucifer Season 5 is coming out this week. The release date for the first eight episodes of the show will come to Netflix on Friday, August 21 at midnight PDT. On that date, the following episodes will be streaming:
Episode 1: "Really Sad Devil Guy"
Episode 2: "Lucifer! Lucifer! Lucifer!"
Episode 3: "¡Diablo!"
Episode 4: "It Never Ends Well for the Chicken"
Episode 5: "Detective Amenadiel"
Episode 6: "BluBallz"
Episode 7: "Our Mojo"
Episode 8: "Spoiler Alert"
As for when Lucifer Season 5, Episodes 9 to 16 are out, Netflix has not announced the release date yet. Tom Ellis said on The Kelly Clarkson Show, however, that they would air after "a little break." IMDB currently has then as coming out in 2020, but this has not been confirmed.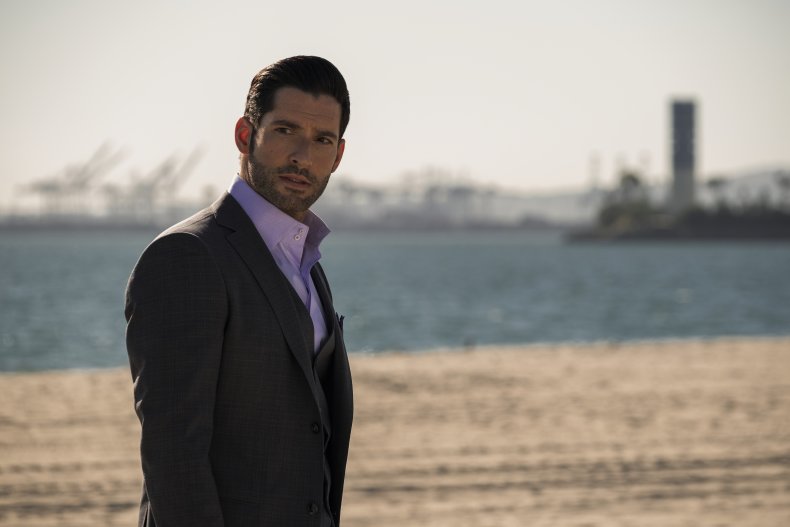 Currently, the show has been unable to complete filming, with Ellis telling Da Man Magazine that the show still has "60 percent of our season five finale to shoot." This means that Season 5 is probably more likely to come out in 2021.
Who is in the cast of Lucifer Season 5?
All of the main cast will return for the next season of the Netflix show. Ellis of course will be back as the titular Lucifer, as will Lauren German (who plays Chloe Decker), Kevin Alejandro (Dan Espinoza), Lesley-Ann Bradt (Mazikeen) and Scarlett Estevez (Trixie Espinoza). Ellis will be doing double duty in the new episodes as both Lucifer and as his twin brother Michael.
For the new episodes, they will be joined by a number of new characters and new actors. These include Under the Dome's Alex Koch as nerdy reporter Pete Daily, who becomes a love interest for Ella Lopez (played by Aimee Garcia).
Some bigger names joining the Lucifer Season 5 cast are '80s singer Debbie Gibson, expected to appear in the show's musical episode, plus 24's Dennis Haysbert, who is set to be the voice of God in the new episodes.
What will happen in Lucifer Season 5?
The official Netflix synopsis for Lucifer Season 5 reads: "Lucifer, bored and unhappy as the Lord of Hell, resigns his throne and abandons his kingdom for the gorgeous, shimmering insanity of Los Angeles, where he gets his kicks helping the LAPD...and the savvy detective Chloe Decker in particular.
"In Part A of season 5, Lucifer's twin brother Michael secretly takes the devil's place on earth while he's back in Hell. Eventually, Lucifer must return and face the mess his brother made with his life. He'll also finally confront his feelings for Chloe, and answer a question fans have been asking since the very beginning: 'will they or won't they'?"
The Lucifer Season 5 trailer was released by Netflix in July, and first revealed the Lucifer/Michael twist. However, this promo also reveals that Lucifer will be back on Earth at some point ready for an epic showdown with his twin.
Lucifer Season 5 Part A is released on Friday, August 21 on Netflix.