Lucifer Season 5 Trailer: Does the Devil Have a Twin Brother?
Lucifer fans got a treat yesterday as Netflix dropped the trailer for the highly-anticipated fifth season—and it came with a major twist.
Tom Ellis is back but not as you know him, and the salacious drama has once again introduced a new biblical figure to add a bit of sinful intrigue.
The new trailer, which can be watched above, revealed that the celestial body taking over this season is Lucifer Morningstar's (played by Ellis) mysterious twin brother, Michael. That's right, Michael the Archangel, from the Bible.
The bombshell has taken fans by surprise but no doubt many are pleased that Ellis will be getting his usual amount of screentime despite his character returning to Hell in Season 4.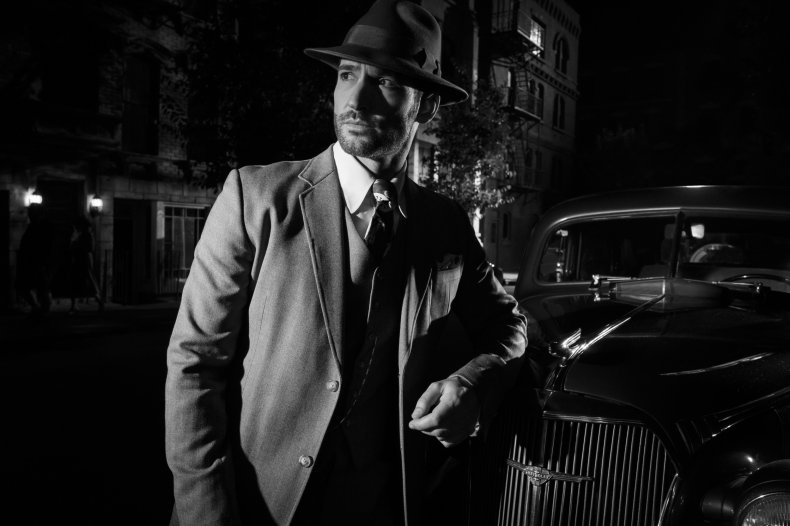 But does Satan have a brother? The drama is known for taking liberties with biblical iconographies like Season 4's Eve (Inbar Lavi) and Remiel (Vinessa Vidotto).
In the New Testament, Michael leads God's armies against Satan's (aka Lucifer's) forces in the Book of Revelation—so the two probably have some unfinished business in the world of the Los Angeles based show.
In the show's canon from the Neil Gaiman comics, Lucifer and Michael are identical twin brothers and the latter is set to cause all kinds of havoc on Earth and potentially destroy the life his brother has built for himself as well as his relationship with police detective Chloe Decker (Lauren German).
The end of the trailer hints at the inevitable showdown between the celestial siblings, meaning fans may get their long-awaiting (real) Lucifer and Chloe reunion.
Ellis acknowledged the twist himself on Twitter, tweeting: "We are Back. And by We I mean, We."
Showrunner Ildy Modorovich previously revealed that the new episodes will see the appearance of God (Dennis Haysbert), as well as a musical episode for the show.
Apart from the Michael twist, the new promo sees a heartbroken Chloe struggle to cope with Lucifer's absence. The trailer also sees the return of Kevin Alejandro as Detective Espinosa, DB Woodside as Lucifer's brother Amenadiel and Rachael Harris as therapist Dr. Linda Martin.
Part 1 of Season 5 of the beloved supernatural police procedural will be released on the streaming service in one go on Friday, August 21. Season 5 will have 16 episodes, half of which are coming in August and half of which will be released at an unknown later date.
Lucifer has also been renewed for a sixth season at Netflix.
Lucifer Season 5 Part 1 is streaming from Friday, August 21 on Netflix.