What Happened at the End of 'Lucifer' Season 6? Kevin Alejandro on 'Bittersweet' Finale
After six year, the story of Lucifer Morningstar is officially over. The Season 6 finale of Lucifer sees Lucifer Morningstar (played by Tom Ellis) struggle with the concept of becoming God (Dennis Haysbert), following his father's retirement and the battle over the throne in Season 5.
Speaking to Newsweek, Dan Espinoza star Kevin Alejandro described the show's ending as "bittersweet," but hoped for a "cheerful" reaction from the Lucifam.
He said: "It was bittersweet because it was a beautiful moment in our lives, in our time. As in, you don't get these types of people together too often who get along, respect each other and like what they do, and sometimes it's a once-in-a-lifetime opportunity and we all got to have that, which I think is beautiful and so that made it hard."
"I think that the reaction is going to be universally cheerful. And what I hope is that they walk away, saying and thinking 'I'm glad I went on that journey with them. I don't want it to end. But I feel like it had to'."
It has been one hell of a journey indeed, and there is a lot to unpack from the final ever season of Lucifer - all the way from angelic children to demonic weddings.
Newsweek has everything you need to know about the Lucifer Season 6 finale...
What Happened At The End of Lucifer Season 6?
Just as Lucifer and Chloe Decker (Lauren German) prepared to leave Earth for Heaven, their plans came to a halt with the arrival of the vengeful angel Rory (Brianna Hildebrand), who arrived on Earth to "kill" Lucifer Morningstar.
In the lead-up to Season 6, Rory's relation to Lucifer was kept under wraps, with showrunners Idly Modrovich and Joe Henderson teasing she was "a rebellious angel."
However, in a shocking twist, Rory turned out to be Lucifer and Chloe's daughter from the future, who had traveled back in time to avenge her father for abandoning them in the present day.
Lucifer spent the majority of the season trying to figure out why he abandons his loved ones and in the end, he finally got the answers.
From the beginning, Rory told her father he leaves them on August 4 and when that day comes, Lucifer and Chloe believe they have broken the time loop.
However, things took a turn for the worse when Rory was kidnapped by Dan's (Kevin Alejandro) killer Vincent Le Mec (Rob Benedict), shortly after midnight. Lucifer and Chloe were able to rescue Rory from Le Mec's grasp, with Chloe shooting him dead in the end.
However sadly it was not enough to prevent Lucifer from leaving his family behind on Earth.
In fact, saving Chloe and Rory was the incident that caused him to leave his loved ones behind. As Le Mec lay dying, he revealed Dan had made it to Heaven, begging Lucifer to "let him see the light" just as Dan did. This was the first time Lucifer and Chloe learned Dan had made it to Heaven and both were left questioning how.
With Rory's help, Lucifer realized Dan made it to Heaven because he had finally dealt with all of his guilt. Lucifer was the one who encouraged Dan to visit his daughter Trixie (Scarlett Estevez) and ask her for forgiveness. However, Rory and Chloe recognised Lucifer's true purpose was to help people break their hell-loops. He may not have the power to send them to Heaven, but he holds the power to help them see the light.
Rory and Chloe soon realize Lucifer's ability to help people and in particular tormented souls in Hell, is the reason why he leaves Earth and them behind.
"Hell doesn't need a ruler, it needs a healer" Lucifer realizes, triggering Rory's return to the future. Thankfully, she does not leave without forgiving her father and getting his reassurance he "won't change anything." Sadly, Lucifer ultimately has to leave Earth for Rory to exist in the future.
After an emotional goodbye between Lucifer and Chloe, he made his way to Hell, and life on Earth went on without him. The show's final moments flashed through where Lucifer's loved ones are now as a cover of Oasis's "Champagne Supernova" plays out.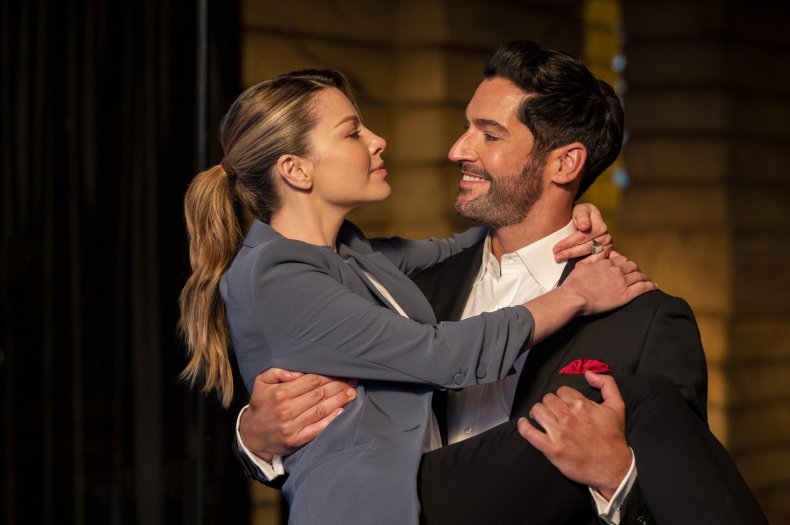 In the future, Chloe has given birth to Rory, Amenadiel (DB Woodside) is God, Charlie gets his angel wings, Sonya (Merrin Dungey) is promoted to detective and Chloe is now lieutenant, Maze (Lelsey-Ann Brandt) and Eve (Inbar Lavi) are continuing their bounty-hunter careers, and Ella and Carol (Scott Porter) are together.
If you hadn't shed enough tears by that point, the floodgates surely opened in the final scene of Lucifer Season 6. In the future, Chloe has died with Rory by her side. When she makes it to Heaven, Amenadiel flies her down to Hell, where she is reunited with Lucifer.
"Hello Detective," Lucifer says as he opens the door to a replica of Dr. Linda Martin's (Rachael Harris) office in Hell.
"I thought you could use a partner" Chloe responds, with tears in her eyes.
The pair embrace, ready to spend eternity together, happily ever after.
Where The Rest of the Lucifer Family End Up in Season 6
Dan
Dan finally made it to Heaven after years of torment in Hell and later as a ghost on Earth.
The move came after he met with Trixie, trapped in Le Mec's body. How Trixie did not recognize her father's killer is a whole other question, but overlooking that, Dan's confession about wanting to be a better father to Trixie was the last bit of guilt he needed to get off his chest to save him.
After his confession, he made it to Heaven, where he was reunited with the love of his life, Charlotte Richards (Tricia Helfer).
Maze and Eve
Who would have thought Maze of all demons would be the one to get married?
Eve and Maze's love story was not easy, to say the least. Maze was left heartbroken when Eve left L.A. back in Season 4 and was full of rage when she returned in Season 5, Part 2.
The run-up to their wedding day was not plain sailing either. Maze even went so far as to bring Eve's toxic ex-husband Adam to Earth in a bid to stop the wedding. Thankfully, Maze came to her senses and was able to let her walls down, leading to the wedding of all of millennia.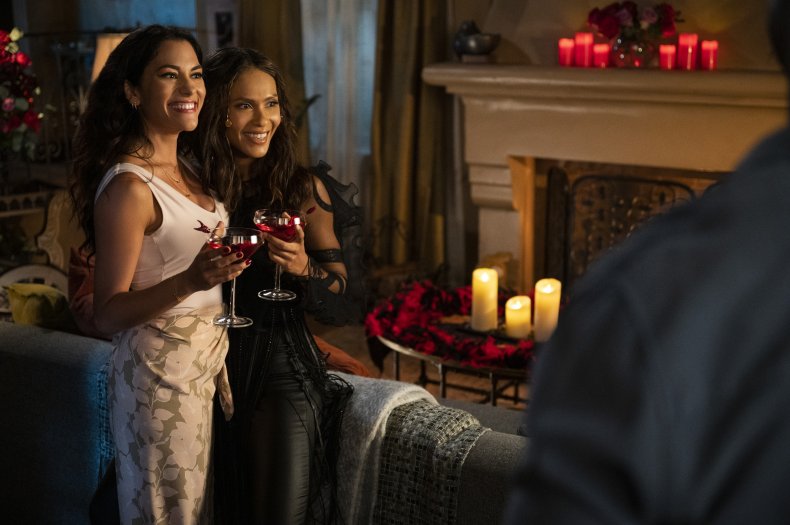 Linda and Amenadiel
With Lucifer's blessing, Linda continued to work on her memoir "My Time with the Devil."
She was also raising her and Amenadiel's son Charlie on Earth, who turned out to be half-human and half-celestial after all, sporting his angel wings at his birthday party.
Amenadiel was also spending his time between Heaven and Earth after taking over God's throne from Lucifer. He was working with his angelic siblings instead of against them, trusting them to oversee all things Heaven-related in his absence.
Ella and Carol
Finally, Ella (Aimee Garcia) learned the truth about Lucifer's true identity as the devil after six seasons of being in the dark.
She also finally found love with Dan's best friend, Carol Corbett, and by the end of the season, they were stronger than ever.
As the series drew to a close, Ella and Carol can be seen running her Women in STEM program, set up by Lucifer as his parting gift.
Lucifer season 6 is streaming on Netflix now.