Lucifer has been on one hell of a journey over the years. Premiering on FOX in 2016, the show ran for three seasons until 2018, when the network canceled the much-loved series. Thankfully, Netflix was there to save the day and opted to renew Lucifer for two more seasons, with Season 5 being granted 16 episodes instead of 10 to mark the show's ending.
Season 5, Part 1 had already aired on Netflix, and fans were desperately counting down the days for the second half to drop when, in a shock announcement made on June 23, 2020, the streaming giant revealed it had reversed its decision to end the show after its fifth season, creating an additional, sixth "final, final" season. As expected, both the cast and the fans were overjoyed with the decision.
Season 6, which aired on September 10, picks up from the cliffhanger ending of Season 5, in which Lucifer Morningstar (played by Tom Ellis) wins the war in heaven after his father's retirement. "Oh my me!" he exclaimed, as the screen faded to black and the realization that he is the new God of Creation dawned upon him.
Speaking to Newsweek, Kevin Alejandro who reprises his role as Dan Espinoza in the final series shared he and the entire cast felt a "weight go" by Season 6, satisfied Lucifer's story had been told.
He explained: "It felt real. It felt like this was really the end this time. I think Lucifer has had a really interesting journey, you know, from the beginning to the very end. And I think by the end of it, we all by Season 6 finally, I think we all just felt this weight go, this is really good. I really do love you but we all were ready to embrace the fact that we had to move on. It was sad and it was as emotional as you would expect it to be for a group of people who've been together for six years for six seasons."
He continued: "I feel like we have responsibly taken a show, taken a story, gave it 150% of our souls, and created something that people not only like but respect, and we're able to close it out in a respectful way so that people can walk away saying, 'I'm glad I invested myself into that show. I love that I went through that journey', as opposed to 'that show was really good until Season 7'."
As for that final day on set in March 2021, Alejandro reflected: "It was bittersweet because it was a beautiful moment in our lives, in our time. As in, you don't - you don't get these types of people together too often who get along, respect each other and like what they do, and sometimes it's a once-in-a-lifetime opportunity and we all got to have that, which I think is beautiful and so that made it hard."
Warning: Spoilers for Lucifer Season 6 ahead
The new season sees Lucifer Morningstar struggle with the concept of becoming God, particularly after the arrival of his daughter (from the future), the angel Rory (Brianna Hildebrand).
The ending is emotional, to say the least, but it is fair to say, everybody gets their happy ending.
Lucifer's calling was not to be God in the end but to be the "healer" of hell. Who would have thought Lucifer would ever be the one giving out therapy?
Sadly, this meant he had to move on from his life on Earth, leaving Chloe (Lauren German), Trixie (Scarlett Estevez), Ella (Aimee Garcia), Maze (Lesley-Ann Brandt), Eve (Inbar Lavi) and Linda (Rachel Harris) behind.
Amenadiel (D.B. Woodside) left Earth to become God, meaning he was there to welcome future Chloe in heaven when she died.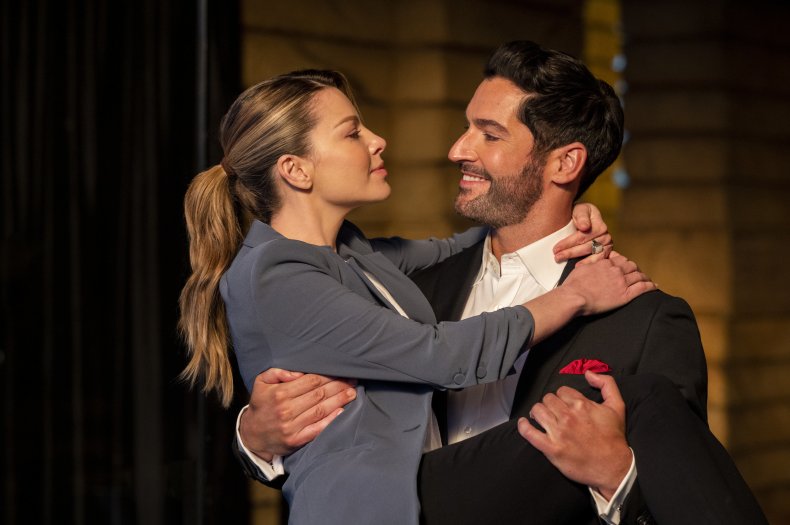 Fans will be pleased to hear Dan also made it to heaven, where he was reunited with Charlotte Richards (Tricia Helfer).
The show came to an end by flashing forward to the future: Chloe has given birth to Rory, Charlie gets his angel wings, Sonya (Merrin Dungey) is promoted to detective and Chloe is now lieutenant, Maze and Eve are continuing their bounty-hunter careers and get the call they are going to be parents, and Ella and Carol (Scott Porter) are together.
In the very end following Chloe's death, she is taken to hell by Amenadiel to be with Lucifer, where she and Lucifer live, happily ever after.
On the show's ending and the fan reaction, Alejandro said: "I think that the reaction is going to be universally cheerful. And what I hope is that they walk away, saying and thinking 'I'm glad I went on that journey with them. I don't want it to end. But I feel like it had to'."
Lucifer Season 6 is streaming on Netflix now.