Who Is Carol Corbett in 'Lucifer' Season 6? 8 Facts About Actor Scott Porter
Lucifer Season 6 is available to stream and download on Netflix, the latest installment and the very last chapter in the story of Lucifer Morningstar. Thankfully, everybody got their happy ending, including Ella Lopez (Aimee Garcia) and Detective Carol Corbett (Scott Porter).
Friday Night Lights actor Scott Porter made his debut in the Lucifer Season 5, Part 2 finale as Carol Corbett.
Corbett is a close friend of the late Dan Espinoza, who takes over from Chloe Decker (Lauren German) as a lead detective at the LAPD. He quickly becomes Ella's love interest, no matter how much she tries to push him away.
Newsweek has everything you need to know about Scott Porter.
8 Facts About 'Lucifer's' Scott Porter
1. His full name is Matthew Scott Porter
Scott Porter was born Matthew Scott Porter on July 14, 1979, in Omaha, Nebraska.
2. Scott Porter is also a singer
In 2009, Porter appeared in Bandslam alongside Aly Michalka, Gaelan Connell, Vanessa Hudgens, and Lisa Kudrow.
As part of the film, Porter sang "Someone to Fall Back On" and his song "Pretend" featured in the official soundtrack.
He has also performed Off-Broadway with a cappella band Toxic Audio.
3. Scott Porter stars in Netflix's Ginny & Georgia
Porter stars in the Netflix hit series Ginny & Georgia.
He plays the role of Mayor Paul Randolph, who become Georgia's (Brianne Howey) love interest in season one.
4. Scott Porter starred in Friday Night Lights
Porter is best known for his role as Jason Street in Friday Night Lights. His character was injured during a football game and became disabled.
In Friday Night Lights, he starred alongside Connie Britton, Taylor Kitsch, and Kyle Chandler.
5. Scott Porter had a role in 2010's Dear John
You may recognize Porter from his role as Randy in the 2010 romantic drama Dear John.
In Dear John, he starred alongside Channing Tatum and Amanda Seyfried.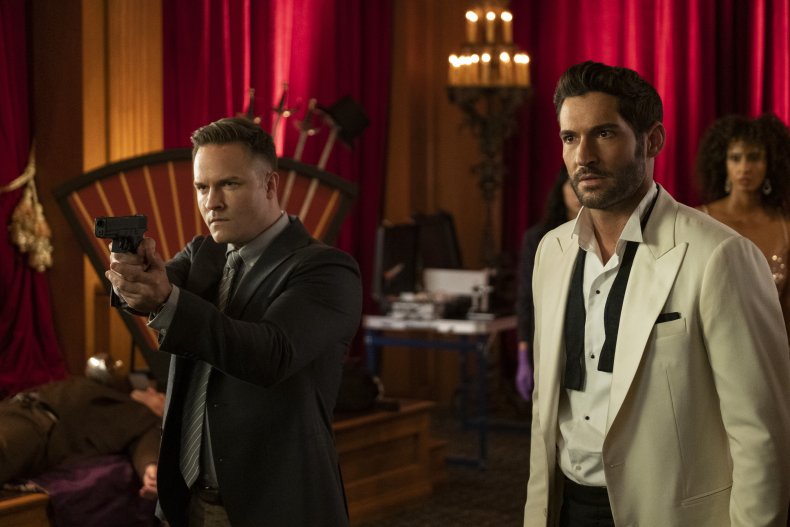 6. Scott Porter is no stranger to the small-screen
Porter is no stranger to the small screen having appeared in several television shows during his career.
In 2010 he played the role of law firm investigator Blake Calamar in The Good Wife, and from 2011 until 2015 he starred as George Tucker in Hart of Dixie.
Other credits include Why Women Kill, Outcast and Caprica.
7. Scott Porter performed in an a cappella vocal group
Whilst studying at the University of Central Florida, Porter sang vocal percussion in the group 4:2:Five.
8. Scott Porter is a father
Scott Porter married his wife Kelsey Mayfield in April 2013. Mayfield is a casting director and they met on the set of Friday Night Lights.
In May 2015, Mayfield gave birth to their son McCoy Lee and in 2017, their daughter Clover Ash was born.
Lucifer Season 6 is streaming on Netflix now.