'Lucifer' Season 6 Release Date, Cast, Trailer, Plot
Lucifer Season 6 on Netflix will bring the story of troubled devil Lucifer Morningstar to an end.
Series 5 was intended to be the show's final season, originally going out on a 16-episode high. However, Netflix later reversed its decision to end Lucifer after five seasons and brought the much-loved supernatural drama back for a 10-episode-long final season.
It's now finally time to say goodbye to Lucifer (played by Tom Ellis), Chloe (Lauren German), Amenadiel (DB Woodside), Linda (Rachael Harris), Ella (Aimee Garcia), Maze (Lesley-Ann Brandt), and Dan (Kevin Alejandro).
Newsweek has everything you need to know about the final season of Lucifer including release date, cast, trailer, plot, and more.
When Is 'Lucifer' Season 6 Out?
Lucifer Season 6 has an official release date and there is good news for the Lucifam—the final series is coming to screens a lot sooner than you thought.
The sixth and final season of Lucifer will premiere on Friday, September 10 on Netflix worldwide.
All 10 episodes will drop in one go, so fans can watch the entire series instantly.
Netflix also has a download option, which means you can watch episodes of Lucifer Season 6 on the go via the Netflix app.
The Lucifer Season 6 release date was announced at San Diego Comic-Con @ Home event, Sunday, July 25. The news was also announced via the official Lucifer Netflix Twitter account.
Alongside the trailer, the tweet read: "let's be bad one last time. #lucifer s6 arrives on @netflix September 10th."
Who Will Star In 'Lucifer' Season 6?
For the final time, Welsh actor Tom Ellis will portray Lucifer Morningstar.
At the end of Lucifer Season 5, Lucifer took on God's crown but there is no doubt he will still be up to his devilish ways in Season 6.
Also returning is A Walk to Remember's Lauren German as Lucifer's love interest, Chloe Decker. In Season 5, Chloe decided to resign as a detective working for the LAPD but will she go through with her plans now that she is potentially the next Goddess?
George Lopez's Aimee Garcia is back as forensic scientist Ella Lopez, the only person in Lucifer's circle who does not know his true identity.
The Temptations DB Woodside returns as Lucifer's angelic brother Amenadiel and Suits star Rachael Harris will reprise her role as Lucifer's therapist, Linda.
Spartacus: Blood and Sand's Lesley-Ann Brandt is back as the demon Maze alongside Imposters star Inbar Lavi as Eve, the first woman ever created.
At the end of Season 5, Maze made a deal with Lucifer. If he was to become God, he was to change the rules which would allow her to become the Queen of Hell, so Maze's storyline in Season 6 is sure to be interesting.
There is good news for fans of Kevin Alejandro's Detective Dan. Despite being killed in the penultimate episode of Season 5, Alejandro will reprise his role as Dan in the sixth and final series of Lucifer.
Exactly how Dan will return is unknown, considering his character is dead but Alejandro did tease to TV Line a "gentle return."
He said: "[Showrunners] Joe [Henderson] and Ildy [Modrovich] immediately got on the phone with me, to say, 'Hey, here's the news. If you still want to be part of us, we know how to do it respectfully, and not change the quality of what we're creating."
Alejandro added: "So they found a gentle way to bring me back—not the way people are going to expect him to come back, and maybe not as a huge part of the show, but I got to be there for the end in some capacity. And that felt wonderful, to be able to finish out a full journey."
What Will Happen In 'Lucifer' Season 6?
Lucifer Season 6 will pick up from the dramatic cliff hanger ending of Season 5, part two. In the final episode, Lucifer and Michael went head to head for God's throne, with Lucifer coming out on top.
However, his ascent to God's status did not come without significant confidence.
Michael stabbed Chloe with the tree of life, sending her to heaven. The weapon of choice may be significant for Season 6, with the tree of life and the stabbing in the abdomen potentially foreshadowing Chloe's pregnancy.
Thankfully, Lucifer was able to fly to heaven and bring Chloe back down to Earth but not before telling her he was in love with her.
He also gave Chloe immortality stating "I choose you, Chloe, because I love you."
Speaking to Digital Spy, Lucifer co-showrunner Ildy Modrovich teased Lucifer being God may not be as simple as it seems.
She said: "Like, what happens when Lucifer gets a hold of something that maybe he thought he wanted?
"He's always his own worst enemy, so it's not going to be an easy road. Let's put it that way."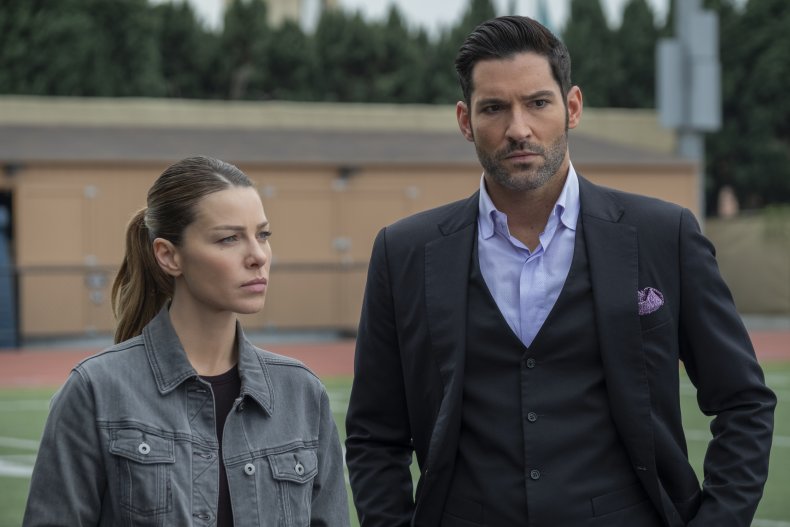 Elsewhere, Amenadiel may decide to follow in the footsteps of Dan and become a police officer, after Dan submitted an application on his behalf shortly before his death.
Maze is also one step closer to achieving her dreams. Not only was she reunited with Eve, but Maze may also become the Queen of Hell if Lucifer sticks to his promises to appoint her with his Godly powers.
In Season 5, Linda was reunited with her daughter Adriana (Alexandra Grossi), who she had abandoned at birth. Perhaps Alexandra will be introduced to the supernatural world, considering the father of Linda's baby and technically her brother, is an angel.
Things are also hopefully looking up for Ella, who has been unlucky in love throughout the past five seasons of Lucifer. Her last partner, after all, was serial killer Pete Daily (Alex Koch).
At Dan's funeral in Lucifer Season 5, she was introduced to Carol Corbett (Scott Porter) a friend of Dan's.
Ella is the only person who does not know about Lucifer's true identity and perhaps Season 6 will see the truth come out.
Is There a Trailer For 'Lucifer' Season 6?
There is a short teaser trailer for Lucifer Season 6.
Instead of teasing what is to come in the new series, the trailer is a montage of the show's most memorable moments over the years from Chloe and Lucifer's first kiss to Eve's arrival on Earth.
At the end of the trailer, Tom Ellis as Lucifer is driving around LA where he is pulled over by a traffic cop.
Taking a sip of whiskey from his hipflask, Lucifer says: "I apologize. This is my last night in LA."
His car then speeds off with the registration plate reading "FALL1N1 Sep California 2021"
In the meantime, you can watch the first three seasons of Lucifer via Amazon Prime Video and Seasons 4 and 5 on Netflix now.
Lucifer Season 6 premieres Friday, September 10 on Netflix.