Lucifer's sixth and final series is streaming on Netflix now. At the end of Season 5, Lucifer (played by Tom Ellis) was—sort of—appointed the new God of the Universe, after he defeated his evil twin Michael for the throne following the retirement of his father (Dennis Haysbert).
Just a few seconds into the Lucifer Season 6 trailer, viewers were introduced to Rory (Brianna Hildebrand)—and heard her say: "Wanna help me destroy Lucifer Morningstar?" At first, many fans suspected she was Lucifer's younger, troublesome sister, but this was not the case after all. Newsweek has everything you need to know.
Warning: This article contains spoilers for Lucifer Season 6
Who Is Rory in Lucifer Season 6?
In December 2020, Brianna Hildebrand was cast as a "rebellious angel" by the name of Rory, who originally looked up to Lucifer when he first appeared on Earth.
The fact that Rory was described as "rebellious" is significant. Lucifer himself led a rebellion in heaven against his father and was cast out to rule over hell for all of eternity. You would think Rory and Lucifer would be allies, but it appears to be the opposite.
Rory is not Lucifer's sister. In fact, she is his and Chloe's (Lauren German) angel daughter, come from the future. She has traveled back to kill Lucifer, she tells her parents, because she is furious at him for abandoning his family.
The entire sixth season shows Lucifer trying to work out why he would leave Chloe and their daughter.
Meanwhile, Rory is enjoying her time on Earth, meeting her future aunts and uncles, driving fast cars, flirting with girls and traveling around via her wings.
However, things take a dark turn for Rory when she is kidnapped by Dan's (Kevin Alejandro) killer Vincent Le Mec (Rob Benedict).
Chloe and Lucifer manage to save Rory from Le Mec's clutches, but the incident has major consequences.
Rory's kidnapping is what led Lucifer to leave his loved ones behind. As Le Mec lies dying, he reveals that Dan had made it to heaven, begging Lucifer to "let him see the light" as Dan did. This was the first time Lucifer and Chloe learned Dan had made it to heaven and both were left questioning how.
With Rory's help, Lucifer realizes Dan made it to heaven because he had finally dealt with all his guilt. Lucifer was the one who encouraged Dan to visit his daughter Trixie (Scarlett Estevez) and ask her for forgiveness, which led Rory and Chloe to recognize that Lucifer's true purpose was to help people break their hell-loops. He may not have the power to send them to heaven, but he holds the power to help them see the light.
"Hell doesn't need a ruler, it needs a healer," Lucifer realizes, triggering Rory's return to the future. Thankfully, she does not leave without forgiving her father and getting his reassurance he "won't change anything." Sadly, Lucifer ultimately has to leave Earth for Rory to exist in the future.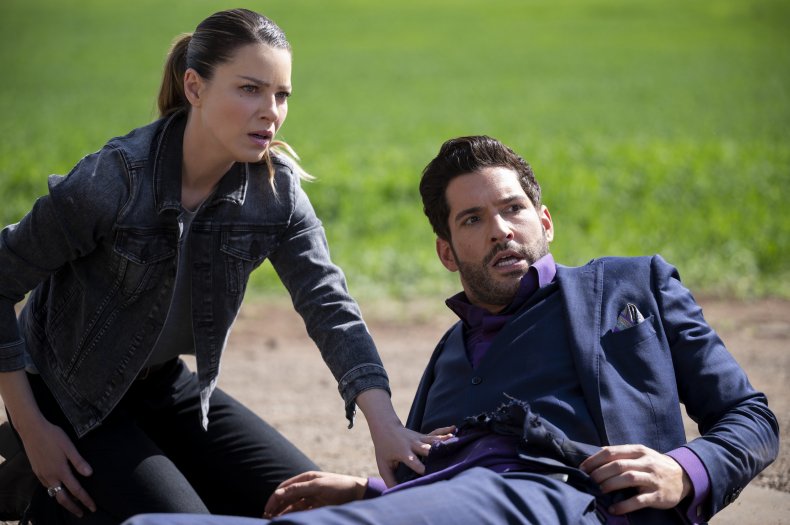 Who Is Brianna Hildebrand?
Brianna Hildebrand is an American actress from College Station, Texas.
She is best known for playing Negasonic Teenage Warhead in the Deadpool film series, alongside Ryan Reynolds.
Most recently, Hildebrand starred in Netflix's Trinkets as Elodie Davis.
Lucifer fans may also recognize Hildebrand from her role as Verity in The Exorcist television series.
Her other credits include Runt, Playing with Fire and Tragedy Girls.
Hildebrand has not spoken yet about her role in Lucifer but after the trailer's release she posted to Instagram to address her Lucifer debut.
She posted a smiling selfie of her with the caption: "C u soon #lucifans" alongside the devil emoji.
Lucifer Seasons 1 to 3 are streaming on Amazon Prime now and Seasons 4 to 6 are available on Netflix.