Lucinda Williams, The Used and More Release New Music: What You Should Listen to Today
There's a staggering amount of new music released every Friday—so much so that it can be overwhelming to try and keep up. Luckily, we're here to help. Every week, Newsweek will highlight a handful of albums that are hitting streaming services, so you can always be up to date on the most exciting new releases.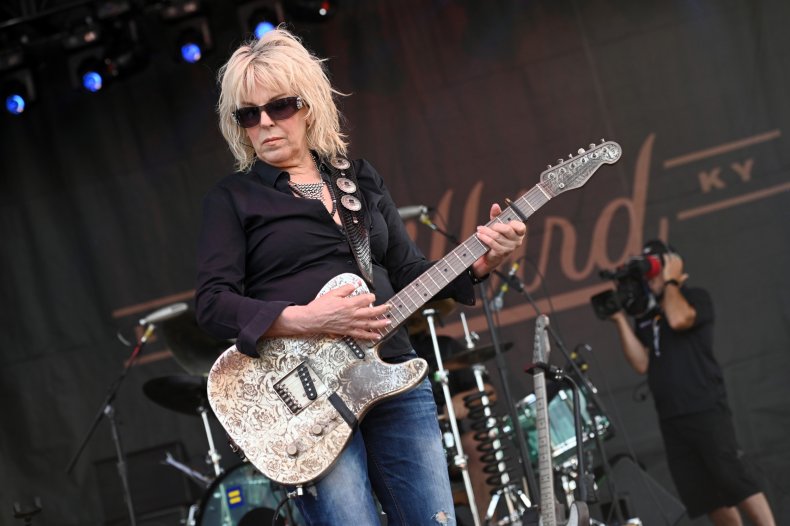 Lucinda Williams, Good Souls Better Angels (Highway 20/Thirty Tigers)
On her 15th studio album, Lucinda Williams gets biblical in her songwriting about the modern world. Ahead of the album's release, she said that she was inspired by the likes of Robert Johnson, Bob Dylan, and Nick Cave. Through hard-rocking blues numbers like "You Can't Rule Me" and the slightly softer "Man Without a Soul" Williams gets down and dirty, showing off her independence in the former and calling out a scoundrel in the latter.
Brendan Benson, Dear Life (Third Man)
Following last year's Raconteurs revival, Brendan Benson's sixth solo album is joyful and positive. He howls over uplifting tracks like "Richest Man" and "Good to Be Alive," and even songs like "Dear Life"— which deals with subjects like job loss and anxiety—are impossible to hear without getting swept up in the triumphant sounds. Benson matches the jubilation on tracks like the brass-heavy "Baby Eyes" with full-throttle hard rock like "I'm In Love" and "Freak Out."
The Used, Heartwork (Big Noise/Hassle)
The post-hardcore vets lighten up a little and embrace electronics on their latest album. Through clever production incorporating pop and hip-hop, the Used still sound just as cathartic as they did on their earlier albums—particularly on new standouts like "Bloody Nose" and "Gravity's Rainbow." They're also assisted by some of the biggest names in modern metal for some of the album's louder tracks: That's Beartooth's Caleb Shomo on "The Lottery," and Fever 333/LetLive's Jason Aalon Butler on the outro for "Blow Me." The album also boasts back-to-back Blink-182 collaborations with guest appearances from Mark Hoppus on "The Lighthouse" and Travis Barker on "Obvious Blasé."
Asher Roth, Flowers on the Weekend (Retrohash)
The latest album from Asher Roth is laid-back and jazzy, but shows he definitely put that college education to use. On the record's lead single and title track, the rapper shows a fondness for poetry and Mozart on vinyl. But with "Hunnid," he shows that he cares about bigger issues than simply having a good time. "You rapping fools better not miss a beat," he raps. "I wonder if they even read 'bout private prisons, illicit speech/See the Gs watching the green increase, you greedy thieves."
Hazel English, Wake UP! (Polyvinyl/Marathon Artists)
On her sophomore album, Hazel English writes anthems about being present and taking time for oneself. Case in point: "Off My Mind," an engaging and soothing tune in which the California singer embraces '60s psychedelia. Over bouncy keyboards, English sings, "Don't wanna watch my life just pass me by." We can relate.