Lucky Break: Woman Buys Winning Powerball Ticket on Weekend Away
A Michigan woman won $500,000 after stopping to buy a Powerball ticket on the way to her weekend cottage.
Deborah Berschbach, from Royal Oak, said she only realized she had won when she was heading home after the break.
She told local media: "I stopped and purchased a ticket before heading to our cottage for the weekend."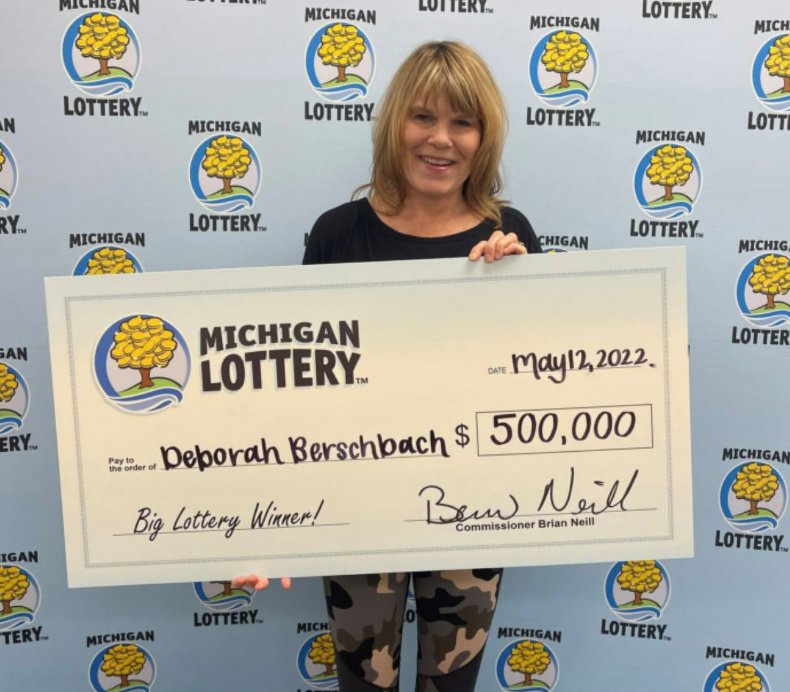 Berschbach added: "On our way home Sunday, I got the ticket out to check it, and my husband said, 'Wouldn't it be something if you won big for Mother's Day?'"
In a statement on May 13, Michigan Lottery said: "Deborah Berschbach, 54, matched the five white balls – 14-22-38-56-60 – in the May 7 Powerball Double Play drawing to win a $500,000 prize. She bought her winning ticket at Star Market, located at 1806 West 13 Mile Road in Royal Oak."
Berschbach did not realize how big her win was until she scanned it into the lottery app.
She said: "When I scanned the ticket on the Lottery app and the amount of $500,000 came up on the screen, we couldn't believe it.
"We both looked the ticket over what seemed like 100 times. We were shaking the whole way home!
"It still hasn't sunk in that we won, and it feels like we are in a daze! Winning is overwhelming in the best way possible."
The lottery company said: "Berschbach visited Lottery headquarters recently to claim her prize. With her winnings, she plans to pay off her home and then save the remainder.
"The Powerball jackpot was last won on April 27. One ticket bought in Arizona won the $473.1 million jackpot. The current jackpot stands at $83 million."
Last week, a lucky 65-year-old man won $242,256 with Michigan Lottery after forgetting he had bought the winning ticket.
After stopping at a gas station to fill up his car, the man - whose name was not disclosed - said: "I forgot I had purchased the tickets until I saw them in my wallet a few days later!"
Meanwhile, last month, Gregg Hensley of Marion, Michigan, won $200,000 on the Multiply the Cash second-chance drawing, his third big lottery win in as many years.
The Michigan Lottery said: "Hensley, a 63-year-old woodworker, won the grand prize in the April 11 Multiply the Cash second-chance drawing.
"Hensley is no stranger to winning big prizes in lottery drawings. The second-chance win marks his third big win as he won $20,000 in a 2020 drawing and $10,000 in a drawing earlier this year."
This story was provided to Newsweek by Zenger News.