Lucy Lawless Hailed As Warrior for Brutal Kevin Sorbo Takedown Over Capitol Riots Tweet
Who would win in a fight between Xena and Hercules? Twitter's money is on the Warrior Princess.
Lucy Lawless is being hailed as a "bada**" on social media for taking down her former co-star Kevin Sorbo in a cutting response to his tweet promoting a pro-Trump conspiracy theory.
The iconic 1990s heroine swung into action after the actor peddled a false theory that left-wing activists posing as Trump supporters were responsible for Wednesday's attack on the Capitol.
"They don't look like patriots to me..." tweeted Sorbo, an outspoken Donald Trump supporter, along with a retweeted photo of rioters that has been widely circulated.
This photo, which Twitter has flagged as "manipulated media," was posted by Rogan O'Handley, who wrote: "Do these look like Trump supporters? Or Leftist agitators disguised as Trump supporters..."
In what will go down as an iconic clap back among television fans, Lawless branded Sorbo an "enabler."
"No, Peanut. They are not Patriots," she began. "They are your flying monkeys, homegrown terrorists, QAnon actors. They are the douchebags that go out and do the evil bidding of people like you who like to wind them up like toys and let them do their worst. #keepingYourFilthyHandsclean #enabler."
Sorbo played the titular hero on Hercules: The Legendary Journeys and reprised the role in its spin-off Xena: Warrior Princess, starring Lawless, but this Twitter interaction is made all the more interesting because of the pair's ongoing feud.
In a 2010 interview, Sorbo appeared to out Lawless as a lesbian and insinuated she only got the role of Xena by sleeping with a producer.
"She did end up marrying the executive producer, which I think is how she got the role," Sorbo told Black Book.
The New Zealand born actress, 52, is also known for being a strong advocate for LGBTQ+ rights.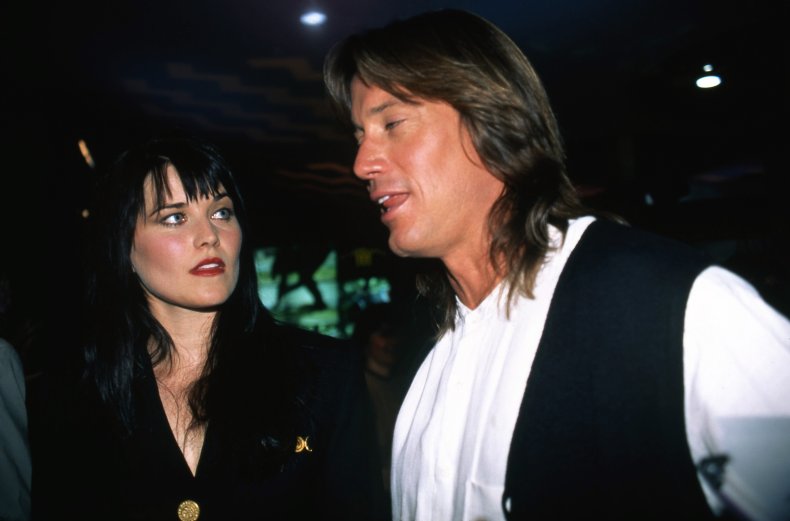 Unsurprisingly, her clap back has delighted Twitter this Friday morning, with fans describing the actress as a "legend."
As one Twitter user put it: "Lucy Lawless will forever be a legend. Absolute perfection."
Another wrote: "Xena: Warrior Princess was the only show that passed for LGBTQ+ content back when I was a teenager and my crush on Lucy Lawless was huge. I'm glad that she continues to be the bada** warrior princess I grew up with and that she's still kicking Hercules's a** years later."
One fan tweeted: "Lucy Lawless told Kevin Sorbo WTF was up."
"Damn, I knew I liked Lucy Lawless, " said another.