Who is Lucy McBath? Gun Control Advocate Upsets Republican Opponent to Win Georgia House Election
In one of the tightest races for the House this midterm election cycle, Lucy McBath unseated Republican incumbent Karen Handel by less than one percentage point.
The victory was made official on Thursday morning when Handel conceded defeat and congratulated her Democratic challenger. With all of the precincts reporting, the final tally of votes separating the two candidates was less than 3,000.
"I look forward to representing the people of Georgia's Sixth Congressional District, and I pledge to work hard fighting for every single person and family in this district," McBath said in a statement. Before Handel's 18-month tenure, the district was held by former Trump official Tom Price and for the two decades before that by Newt Gingrich.
McBath, 58, was a former flight attendant with Delta Airlines for 30 years before switching to politics. She has said she was motivated to run for office after her son, Jordan Davis, was shot and killed at a Florida gas station in 2012 when he was 17-years-old. His shooter, a white man named Michael Dunn, was complaining about the loud music he was playing in his car before firing 10 bullets into the vehicle.
Dunn used Florida's stand-your-ground law during his defense and was found not guilty of murder at his first trial. In a retrial in 2014, the shooter was convicted of first-degree murder and sentenced to life in prison.
McBath said in 2015 that there was "no doubt" that her son's murder was "very racially motivated."
Before running for Congress, McBath was a national spokesperson for Everytown for Gun Safety, a non-profit gun control advocacy group founded by former New York City Mayor Michael Bloomberg. She also served as the spokesperson for Moms Demand Action for Gun Sense in America. Before becoming a community activist, McBath grew up in a family that was entrenched in public service. Her father was the president of the Illinois branch of the NAACP for two decades.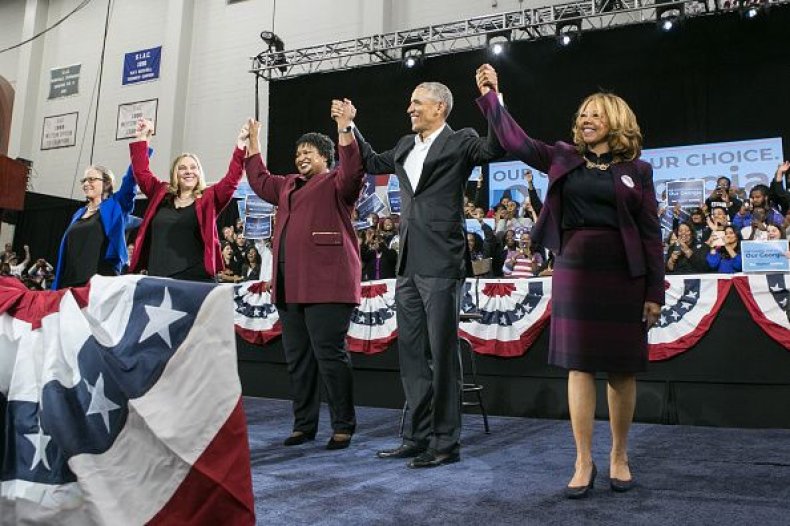 In her victory statement, McBath said that she decided to enter the race for Congress after the shooting in Parkland, Florida, in February to "provide leadership that would be about the business of putting lives over profit." The shooting at Marjory Stoneman Douglas High School took the lives of 17 students and staff members.
While McBath ran a campaign centered on gun control, Handel is a strong supporter of the 2nd Amendment, opposes the assault weapons ban and was endorsed by the National Rifle Association.
McBath also differed from her Republican opponent on health care issues. The Democrat and two-time breast cancer survivor supports Medicaid expansion and Obamacare, while Handel opposed both.
McBath's candidacy was propelled by another highly competitive Georgia race between Stacey Abrams and Brian Kemp. As of Thursday morning, the gubernatorial race was still too close to call. The state's mobilization of nonwhite voters likely played a role in McBath flipping a district that has voted Republican for the past three decades.
McBath spoke at Abrams's rally the week before the midterm elections, encouraging voters to make Georgia "blue" and telling the crowd, "I will always just be a mother on a mission."