For someone who's made some of the hardest-hitting music of recent years, Ludwig Göransson exhibits a decidedly laid-back demeanor. From the light beard, easy smile, and frequently sandaled feet to his soft-spoken yet friendly style of conversation, the 36-year-old can easily cause one to forget he's already won Grammys, an Oscar, and an Emmy in his relatively short career.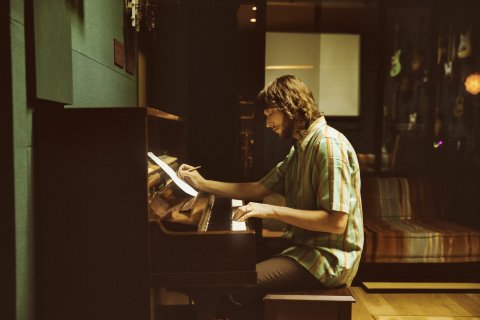 Chalk that up to the comfortable confidence that comes from the seemingly ease at which he's composed complex compositions for huge Hollywood projects, most recently for Christopher Nolan's Tenet and the Star Wars spinoff The Mandalorian, or attribute it to a creative, European upbringing by a florist mother and a guitar-teacher father in Linköping, Sweden. Speaking to Newsweek by phone, Göransson said it was a house filled with an eclectic mix of music that helped shape him as an artist.
"My sister was playing violin in the orchestra," he said while describing being bored at first by the frequent shows the family attended for his sibling, until something shifted: "My dad was whispering stories in my ear, about what was going on—like stories—and I remember that made the whole thing a lot more fun."
Now Göransson is the one setting music to stories, be it with director Ryan Coogler for Fruitvale Station, Black Panther, Creed, and Creed II, or his production work for Childish Gambino, the hip-hop persona of actor Donald Glover. His work with the latter led him to winning Grammys for Record of the Year and Song of the Year for 2018's "This Is America." The professional accolades kept coming with another Grammy, an Oscar, and a Golden Globe for Black Panther, and then just this September, he won an Emmy for scoring Disney+'s The Mandalorian. Tenet's score, which shifts effortlessly between antsy, industrial keyboard to surreally calming melodies, could be yet another awards contender for Göransson.
Around the same time his father helped make the connection between stories and sound, young Göransson began picking up on musical scores. He said The X-Files was likely the first TV show where he noticed the effect the music had on him. He said, "I was so so scared that show—just hearing that whistle [in the theme] gave me the creeps, and I made the association about that's what was giving me the shivers. I had a similar moment, but in a different emotional way, with Edward Scissorhands [music by Danny Elfman], where I was crying. I realized that it was because of the score."
This set him on his path to scoring films and television. He first went to the Stockholm Royal College of Music before going to the University of Southern California for its Scoring for Motion Picture and Television program. It was at a party while at USC where he met his first friend in America, Ryan Coogler. While playing pool, they bonded over music, when a surprised Göransson learned the young director was a fan of Swedish artists Lykke Li and Little Dragon.
That chance encounter proved to be life-changing, as did another meeting not long afterward. Fresh out of school, Göransson's first job was scoring a variety of different music styles for the cult classic comedy Community. The show fulfilled his desire for working on an incredibly diverse range of songs (sometimes with a full orchestra), but it was his resulting friendship with cast member Donald Glover that exposed Göransson to a whole new audience. His production work with Glover (as Childish Gambino) introduced him to mainstream radio listeners and made another childhood dream come true when he was able to put a band together and perform at music festivals.
After checking "gigging live musician" off his list of accomplishments, Göransson went back to producing, working with music stars Haim, Chance the Rapper and even (just this year) Lykke Li. Still, for many, he's best-known for his composing work and the innovative ways in which he uses sound for scores. He makes ample use of atmosphere as an essential element to his soundtracks, almost like a featured instrument. For Coogler's 2013 debut feature Fruitvale Station, Göransson recorded the noise inside an actual transit station, and he captured the sounds inside a boxing gym for Creed. The young Swede couldn't magically transport himself to sample the natural environment of mythical Wakanda for Black Panther's score, but he did travel to West Africa, where he collaborated with well-known Senegalese musicians.
"My approach is to build sounds from the ground up—nothing that has specific associations. Everything is fresh, and I want to custom create a new sound and a new palette for every project that I make so you can't relate it to anything else," he said. The directors he's worked with have also been keen collaborators who enabled his approach to creating his soundscapes. He noted, "I've been lucky to be able to work with directors that music has been extremely important for them even before they start shooting...I love to see the script first and start writing ideas based on the script and conversations we've had. It's always easier to talk to a director when you can play music for them rather than just talk about it."
That process is how he wrote music for The Mandalorian, which features an evocative opening credits song that's best described as a mix between an old Samurai movie theme and an Ennio Morricone score for a Spaghetti Western. He said that before he began writing for the show, he met with its creator, Jon Favreau, a few months before it began shooting. While they both agreed the music must capture the soul of Star Wars, Göransson admitted that following in Star Wars' original composer John Williams' footsteps was intimidating. In fact, it was first hearing Williams' "The Imperial March" from the original trilogy that led him to then see the actual movies.
"I remember that feeling of being a 10-year-old kid, hearing that music for the first time, and how the music transitioned me to a different planet—it felt like it took me to a different universe," he said. "That was the feeling that I would try to go back to when I started writing. I was like, 'Okay, how can I go back to that feeling.' One thing that I wanted to do for a while was to to take myself away from the computer screen—normally, I write most of the music on a computer."
Reaching back to recapture that moment from his youth also helped relieve the pressure of living up to Williams' legendary work. He thus created the music using a different approach—one that went all the way back to the beginning for him.
"I bought these set of recorders, the little instrument that I used to play when I was around eight years old. Because I wanted to be able to play all the instruments myself, I surrounded myself with just piano, guitars, drums, bass, these recorders, and I locked myself in into a studio and started recording music. Playing these instruments resonated with me. When working with a computer, you put so much time and effort into it, and you're not getting anything back. But when I was playing these instruments, they were talking to me. One instrument told me to go to another instrument, and that was kind of the puzzle process."
He began working on the score the second season of The Mandalorian just as COVID-19 struck. Fortunately, though, a momentarily lull in the pandemic rates during the summer allowed him to gather musicians together live, although the brass and woodwinds couldn't be in the same room with the string players, who stood socially distanced from one another and played wearing masks. As unusual as that sounds, he said, "one of the highlights of every week was to go in and record with musicians and get a sense of normal life again...that was such a joy."
Creating the score for Tenet was much different. The musicians recorded their parts separately in their homes, and Göransson had a much shorter deadline to wrap up the music for Nolan, whose usual composer, Hans Zimmer, was committed to Dune. However, this method proved to only compliment the sci-fi thriller's theme of time manipulation. Nolan also surprised the young composer with his enthusiasm and deep knowledge of music, and the two's conversations fostered what Göransson described as an easy collaboration.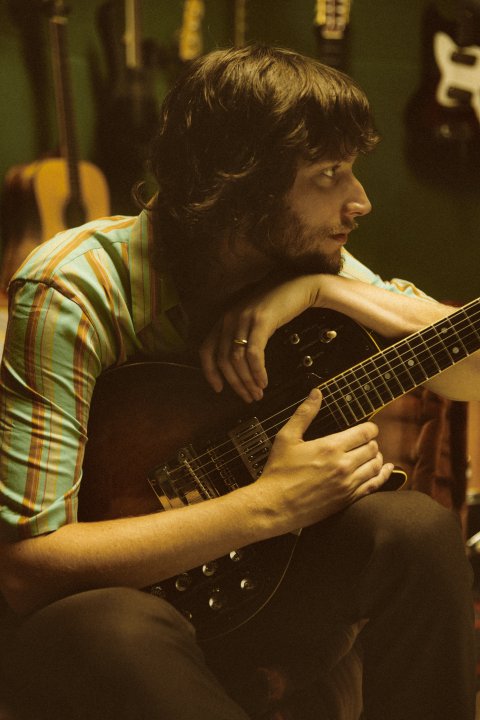 What's next for Göransson may find him enjoying some time alone in the spotlight without any collaborators. After releasing an EP of experimental music in 2013 that in Göransson fashion skipped genres from folk to ethereal dance pop, he's looking to finish a full album. He began it a couple of years ago, but then all those pesky award-winning projects kept turning up. He estimated he's currently about 70 percent finished with it and says the album—along with spending time with his wife and young son—will be his focus for now. Since he's often working with other people, he said that for the album, he has "all these ideas that need to come out, so it's kind of like therapy."
And what about completing the EGOT? He has an Emmy, an Oscar, and a few Grammys. Will he be going to Broadway once it reopens to try his hand at taking home a Tony?
"No, no plans so far," he said, laughing. "But I love all kinds of different mediums of music. Maybe when the time is right."