Lugansk Second Army Corps Police Force Assisting Neighbors in Donetsk
What follows is NewsGuard's summary and translation of top news stories from Russia's state TV Channel One. NewsGuard presents these stories in the order that they appear on the program.
Lugansk People's Republic's national police force assisting in Donetsk
Fighters from Lugansk, who together with the Russian army liberated their native lands from Ukrainian nationalists, are now helping their neighbors from the Donetsk People's Republic. Among them are experienced soldiers who have been in the army for several years, as well as those who took up arms at the start of the special operation: miners, engineers, teachers....Together with the Russian army, they are already on the outskirts of (the towns of) Soledar and Artemovsk. These are strategically important points—they provide operational access to Kramatorsk and Slavyansk.
Meanwhile, the national forces of the Donetsk Republic, supported by our military, are approaching (the town of) Avdeevka. The people of Donetsk are strongly against the nationalists, who have entrenched themselves in their city and have turned it into their base. It is from there that they are attacking peaceful areas of Donetsk on a daily basis. Amir Yusupov has more in this report.
"It wasn't a simple task—to destroy the nationalists while protecting the power station," Yusupov reported. "The Uglegorsk power station is one of the biggest in Europe, and the largest by capacity in Ukraine. It is very important to the Donetsk People's Republic."
Russia's regions helping to rebuild the Donbas
Peaceful life is being restored in those areas where the forces of the people's republics—with the support of our military—have already (been) liberated from the neo-Nazis. Russia's regions are helping with this: Many have taken on patronage of certain towns in the Donbas.
Particular attention is being paid to Mariupol, which has been hit hard by the nationalists. Deputy Prime Minister Marat Khusnullin reported to (President) Vladimir Putin this week about what is being planned.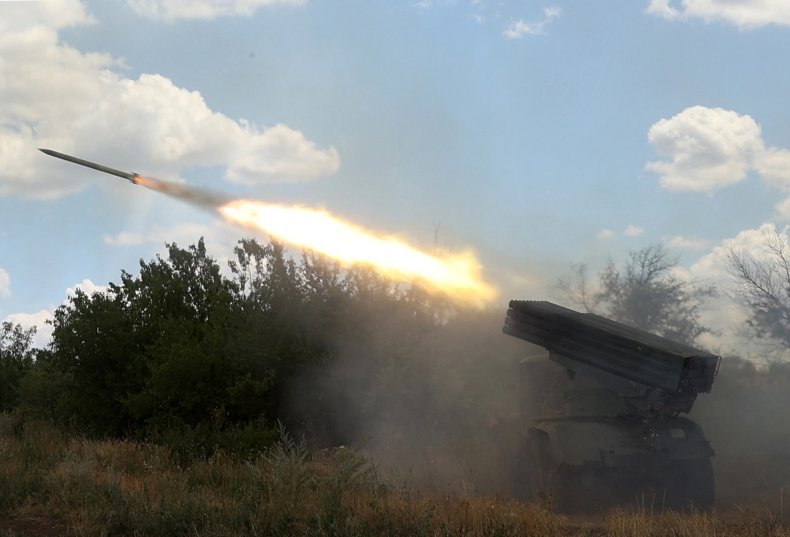 FSB thwarted plan by Kiev to capture Russian military aircraft
As part of the special operation this week, the Federal Security Service has foiled the hijacking of a Russian military plane. The hijack was attempted by Ukrainian military intelligence and its Western handlers. But their plan failed miserably. Kiev probably wanted to present the hijacking of this aircraft as a big victory, at least on the information front. This is understandable: When real successes are in short supply—or more precisely, when there are none at all—they have to make up false ones.
The team of the experienced showman (Ukrainian President Volodymyr) Zelensky, who works largely for a Western audience, is actively involved in this. But his team is not having much success either. The president and his wife took part in a photo shoot for a popular fashion magazine, but this caused only a wave of irritation.
And another curious photo appeared in the British newspaper The Times. The newspaper used a photograph from a rehearsal for our own Navy Day parade to illustrate an article about how Zelensky was preparing an attack on Kherson. This fact is only mentioned in small print in the caption to the photo—the important thing is the effect.
West hurting its own citizens by introducing sanctions against Russia
And Eurostat has the new inflation figures to prove it. Prices are rising for almost everything—and most of all for electricity, which is increasing by 40 percent on average, and food, which is going up by 10 percent
As for individual countries, the worst situation is in the Baltics: Inflation in Estonia, Latvia and Lithuania is over 20 percent. Spain, Belgium, Greece, Slovenia, Slovakia, the Netherlands and Cyprus are not doing so well either, with inflation in excess of 10 percent.
The U.S. is also trying to cope with rising prices. Experts from the International Monetary Fund have admitted that the American economy has practically no chance of avoiding a recession. Data from the Department of Commerce shows that this recession has already begun—it has been in effect for the last two quarters. But economists can see a way out of the global crisis, for both Europe and America.
"You can see in Italy today, with the fall of the Draghi government, that we can't even have political stability on a national level," U.S. economist Jeffrey Sachs said. "European governments will now fall one after another. In the current political crisis, [U.S. President Joe] Biden will lose one or both houses of Congress in November. The clown [British Prime Minister] Boris Johnson was finally thrown out, in part because of the worsening economic crisis. And so we have no political stability. The war in Ukraine must end. And it will not end in Vladimir Putin's defeat, no matter how many times this nonsense is said by [German Foreign Minister Annalena] Baerbock, Biden or anyone else.
"The war will end when NATO accepts that it will not expand for the sake of Ukraine, and when there is a negotiated outcome. Therefore, if we want stability and peace, we need to end the war—and not on NATO's terms. People should understand that this war started because the U.S. insisted on expanding NATO eastwards, which is totally irresponsible, and totally contradicts the commitments that were made to Gorbachev and Yeltsin. I was there in those days: There was a clear commitment against the eastward expansion of NATO, and certainly not to Ukraine or Georgia. So our own recklessness is now at the root of this unprecedented instability."
Biden's team is refusing to admit there is a recession
In the West, at least in the White House, they see the problem differently—in terms of "cancel culture." By all accounts, there is a recession in America, but Biden and his team are stubbornly remaining blind to it. What do ordinary Americans and the senior members of Biden's party think about all this? Georgi Olisashvili has this report.
One of the women interviewed at a trailer park commented: "We wanted to rent an apartment, and were looking at what options we had. In the end we only had enough money to buy a trailer and come here, because rental prices right now are just crazy."
Putin takes part in St. Petersburg's main military and naval parade
The city of St. Petersburg is getting special attention today. This morning a major naval parade was held in the "northern capital," with majestic ships on the roadside at Kronstadt and a keelboat formation on the River Neva. There were 47 ships and submarines, and four dozen planes and helicopters in the sky.
This parade has only been held in the last six years, but it's impossible to imagine Navy Day without a grand show. This is largely thanks to the crew of Channel One, which every year bring this celebration to TV viewers. But the main focus, of course, is on the heroes of the occasion—everyone associated with the Navy.
Our correspondents Ivan Prozorov and Alyona Germanova were at the parade.
In the report, Putin addresses the navy: "Dear comrades! I congratulate you on Navy Day".
"Kraken" nationalist group members killed in Kharkov
New information has emerged about the special operation to defend the Donbas. Our Defense Ministry has reported that a temporary base belonging to the "Kraken" nationalist group in Kharkov was attacked with high-precision weapons. As a result, at least 350 fighters were extinguished.
And in the Kherson and Nikoleav regions, the Russian air force has destroyed up to a hundred nationalists. Another 50 enemy soldiers, from the 72nd mechanized brigade of the Ukrainian army, were eliminated in the Donetsk People's Republic.
Our military also continues to destroy enemy combat vehicles and artillery, including NATO howitzers and multiple rocket launchers.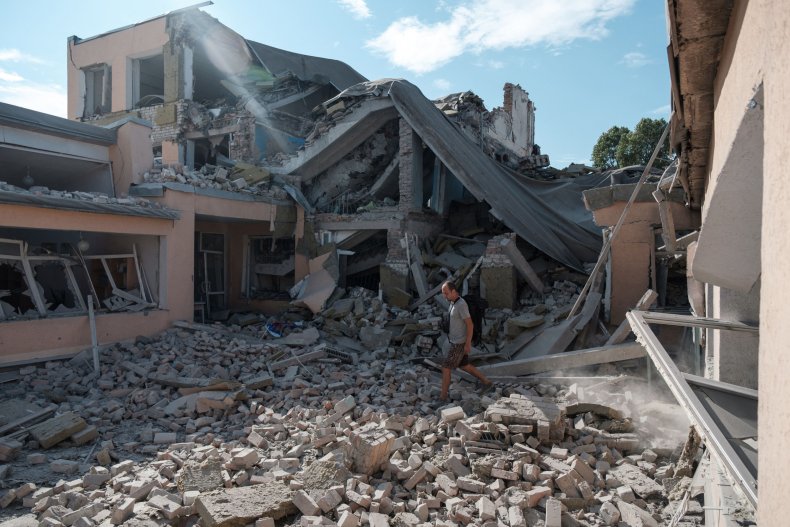 Ukrainian forces fired on detention center in the Donetsk
The Kiev regime has committed another cynical war crime. A few days ago, the Ukrainian armed forces fired HIMARS rockets at the detention center in the town of Yelenovka, in the Donetsk People's Republic. They struck directly at the barracks where almost 200 Ukrainian prisoners of war were being held, including Azov soldiers. The result was 50 dead and more than 70 seriously wounded.
Kiev has always blamed Russia for everything, even though it was our army that kept these fighters alive, by forcing them to lay down their arms. In Ukraine, however, they show no mercy for their own people, and take lives for the sake of their clumsy and bloody provocations. Remember, for example, Bucha, or the rocket attack on Kramatorsk railway station. The reality is that Kiev and its Western handlers are committing mass murder of their own citizens, and their motives are clear: to silence forever those who knew too much.
According to our Defense Ministry, Russia has sent official invitations to experts from the United Nations and the International Committee of the Red Cross to investigate the strike on the detention center in Yelenovka. Dmitry Tolmachev has more in this report.
One of the prisoners interviewed said: "I woke up from the sound of one explosion. I turned over and there was a second explosion. Then I realized that everything was on fire. Everyone was trying to escape."
Names of heroes fighting on front lines to defend the Donbas
Senior Warrant Officer Vasiliy Osipenko supplied ammunition to a tank company. During one of his flights, he came under heavy fire from the enemy and was seriously wounded, but despite this he drove a vehicle full of shells out of the fire, preventing heavy casualties.
Anatoly Volkov, an artilleryman from the 2nd Army Corps of the People's Militia of the Lugansk People's Republic, began as a loader. He recently became a surveyor, tasked with ensuring that the artillery ranks are correctly positioned on the ground. Thanks to Anatoly's competent work, the fighters eliminated several nationalist strongholds and dozens of items of their military equipment.
Major Mikhail Ponamorev, deputy commander of the Independent Tank Battalion of the 2nd Army Corps of the Lugansk People's Republic People's Militia, has been defending his native Donbas since 2014. During the special operation, he liberated Borovskoye, Rubezhnoye and Novoaidar. In one of these battles, a unit under Mikhail's command crossed a river to provide a bridgehead for the main forces. The tank battalion accomplished the task swiftly and without losses.