Viral Video Shows Flight Attendants Battling Blaze on Airplane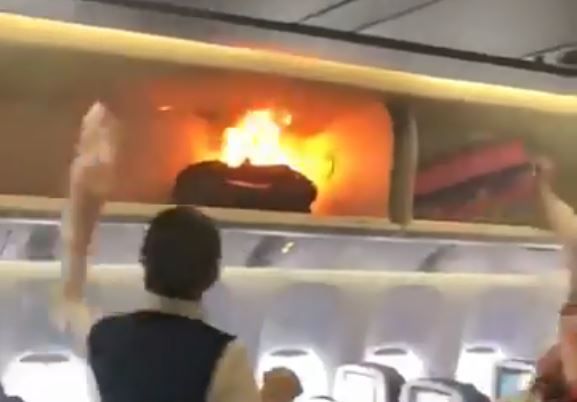 A passenger's portable phone charger exploded aboard a China Southern Airlines flight on Sunday, igniting the overhead compartment and sending flight attendants scrambling to put out the flames in a video that was captured and shared widely on social media.
Passengers were just settling into their seats for a three-hour flight from Guangzhou to Shanghai, China, when smoke began escaping from an overhead compartment, the airline wrote in a statement on Chinese social media platform Weibo. It was soon discovered that a portable charger had combusted while packed away in a passenger's luggage.
In a statement, the airline reported no injuries and said security and fire officials quickly came to the scene. Passengers were transferred to another plane, which took off three hours later than the original flight. The flyer who owned the luggage assisted police in the investigation, the airline reported.
According to Channel News Asia, the battery pack was not in use when it caught fire.
A passenger shared a video of the incident online, where it was picked up by local media. It appears that flight attendants struggled to put out the small fire with water before being aided by someone who appears to be a passenger.
The portable charger's make and model hasn't been released. But lithium-ion batteries, found in devices ranging from cellphones to electronic cigarettes, are known to overheat. The Transportation Security Administration has specific guidelines and restrictions for flying with the highly flammable, but efficient, power pack.
According to the Federal Aviation Administration, 17 devices powered by lithium ion batteries exploded on planes in the first four months of 2017. Several major U.S. airlines, including Southwest, Delta and United, banned so-called "smart luggage" because of concerns that their lithium ion batteries could catch fire while aboard a plane.