Luis Alvarez, 9/11 First Responder Who Testified Alongside Jon Stewart for Healthcare Funding, Dies at 53
A first responder who recently testified on Capitol Hill alongside comedian Jon Stewart to press for renewed healthcare coverage for firefighters, police officers, and other emergency responders affected by the September 11, 2001, terrorist attacks, died early Saturday, his family said.
Luis Alvarez, 53, was a retired New York Police Department (NYPD) bomb squad detective who worked at Ground Zero in Manhattan in the wake of the 9/11 attacks. He had been fighting colorectal cancer since 2016, the near-certain result of breathing in toxic dust created by the collapse of the World Trade Center towers.
Along with Stewart and other first responders, Alvarez appeared in June at a hearing before a House Judiciary subcommittee to push for a bill that would safeguard the September 11th Victim Compensation Fund for the next 70 years.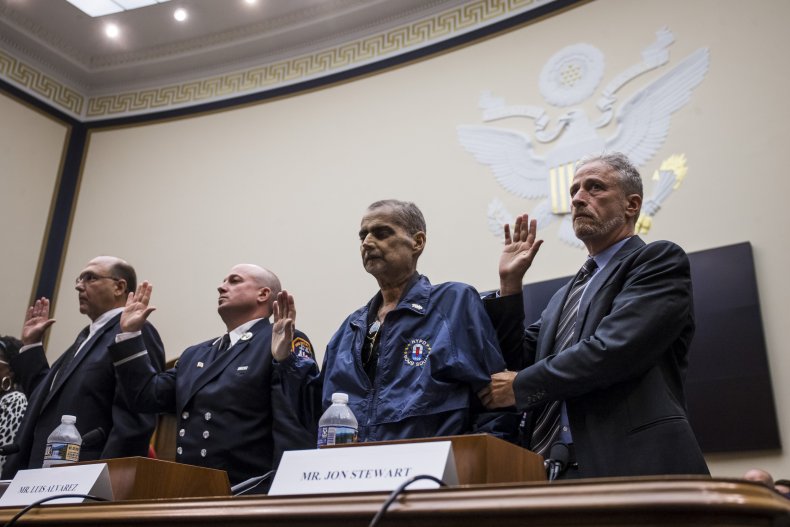 "You all said you would never forget," Alvarez told lawmakers. "Well, I'm here to make sure that you don't."
NYPD Commissioner James O'Neill wrote on Twitter that "our NYPD family & all 1st responders mourn as we remember retired NYPD Bomb Squad Det. Luis Alvarez, who passed this morning."
"His strength — physical, mental & emotional — led us all, & we vow to #NeverForget him or his legacy — which was, simply, to have others do what's right," O'Neill added.
Stewart was the longtime host of the Daily Show on Comedy Central and had taken up Congress's inconsistent support for the first responders compensation fund as a personal cause.
"Your indifference cost these men and women their most valuable commodity, time," he bellowed at lawmakers at the June hearing. "It's the one thing they're running out of."
Alvarez leaves behind a wife and three sons. In mid-June, after his testimony, he announced on Facebook that he was being transferred to hospice care.
"[There] is nothing else the doctors can do to fight the cancer," wrote Alvarez. "So now I'm resting and I'm at peace. I will continue to fight until the Good Lord decides it's time. I will try to do a few more interviews to keep a light on our fight for the VCF benefits we all justly deserve."
The family's statement on Saturday implored the public to "remember his words," a plea to "take care of yourselves and each other."
"We told him at the end that he had won this battle by the many lives he had touched by sharing his three year battle," the family said. "He was at peace with that, surrounded by family."
While he was resting in hospice care, Alvarez remained committed to ensuring that his first responder colleagues and their healthcare needs would be taken care of after his passing.
"That's my ultimate goal, legacy, to have this bill passed so first responders have the coverage they need," he told NBC New York. "I can still work from my bedside, I can still put the word out."