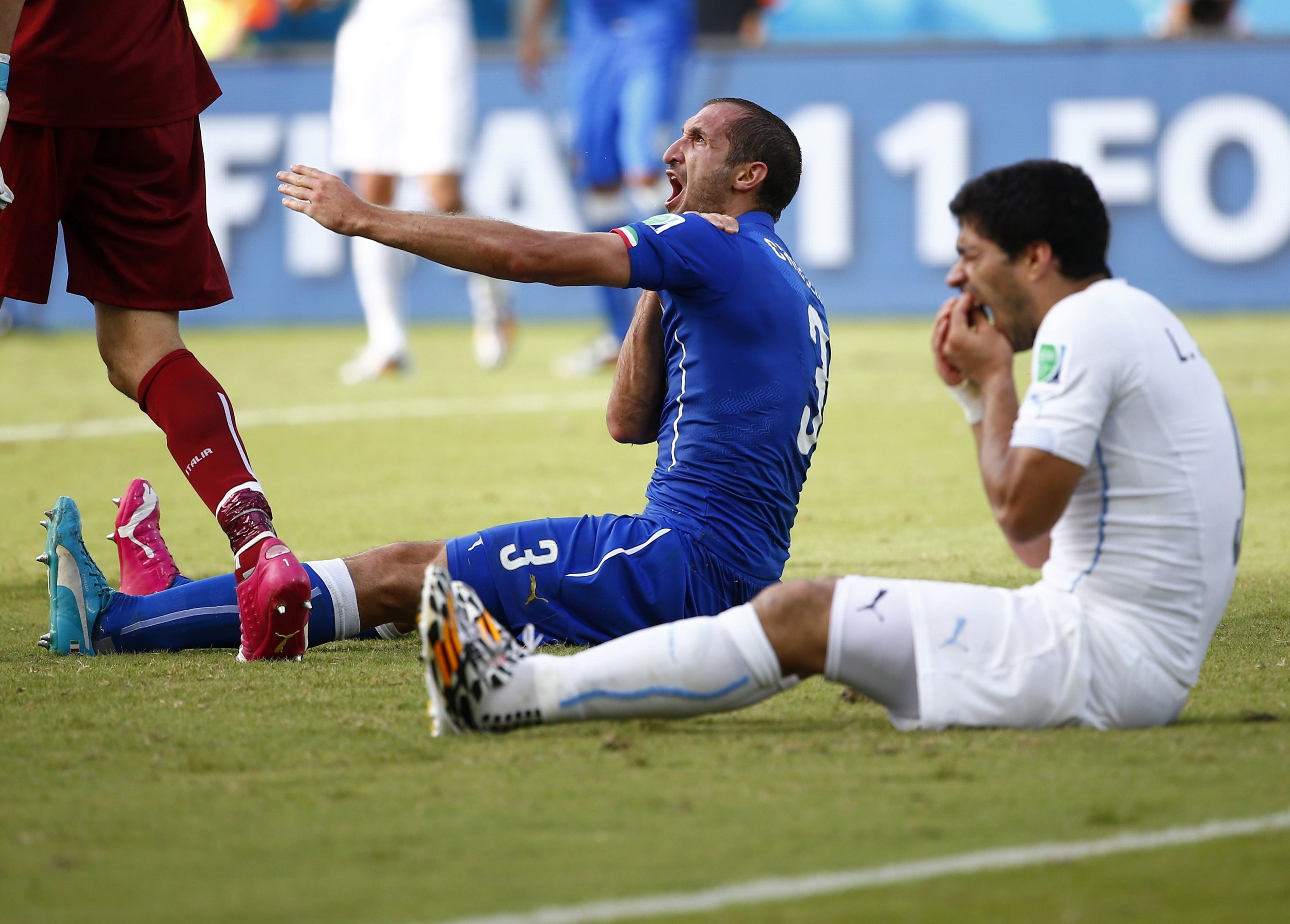 If Brazil is famous for Carnival, then its neighbor to the south, Uruguay, is now famous for "Carnivore."
Uruguay advanced to the knockout stage of World Cup 2014 with a fractious 1–0 Group D victory against Italy, but it may be doing so without the services of one of the world's top strikers. In the 80th minute Luis Suarez appeared to have gone piranha on Italian defender Giorgio Chiellini right outside the Azzurri's goalkeeper's box. Both players crashed to the turf, with Chiellini clutching his left shoulder as Suarez, 27, appeared to be checking the status of his top two central incisors.
The Italian defender pulled his jersey off his shoulder to reveal bare skin and what appeared to be bite marks but the referee ignored Chiellini's evidence. Perhaps as damning as Chiellini's display was the effort by Suarez's Uruguayan teammate, Gaston Ramirez, who yanked the Italian kit back above his shoulder.
Only a minute later Ramirez took a corner kick from the right side that Diego Godin headed in for the winning margin. Italy, playing with a man down after Claudio Marchisio was sent off with a red card earlier in the second half, never took a serious shot on goal the remainder of the match.
"Enigmatic is the kindest word that comes to mind with this man," said ESPN's Bob Ley afterward while noting that this appears to be the third time in Suarez's checkered career that he has bitten an opposing player on the pitch.
In 2010, while with Ajax of the Dutch league, Suarez bit Otman Bakkai of PSV on the shoulder in a 0–0 draw. For that he was suspended seven matches. Then, just 14 months ago in an English Premier League match, Suarez, now with Liverpool, bit Branislav Ivanovic of Chelsea and was suspended 10 games.
While no penalty was assessed to Suarez on Tuesday afternoon, a FIFA review could very well see him exiled for the rest of the tournament. And that would spell ruin for Uruguay's chances, as Suarez is also one of the world's most dynamic strikers. He scored 31 goals in 33 games this past Premier League season, far more than anyone else.
The question becomes: Will FIFA have the temerity to banish him? Chiellini, speaking after Italy's defeat, said that FIFA will likely do nothing because "it wants to keep its [best] players in the tournament."
With Suarez, Uruguay could certainly return to the semifinals where it was knocked out four years ago in South Africa. Last Thursday La Celeste defeated England 2–0, both scores on magnificent Suarez efforts.
But without Suarez, Uruguay is, well...toothless. It lost to Costa Rica in its opening match on June 14, a match that Suarez sat out while recovering from knee surgery. The man that some are referring to as "the Cannibal" may be sit out the rest of the World Cup. Chew on that.
Uncommon Knowledge
Newsweek is committed to challenging conventional wisdom and finding connections in the search for common ground.
Newsweek is committed to challenging conventional wisdom and finding connections in the search for common ground.
About the writer
John Walters is a writer and author, primarily of sports. He worked at Sports Illustrated for 15 years, and also at NBC Sports where he won two Sports Emmys for his on-air writing at the Athens and Beijing Olympics. He has also worked at AOL Fanhouse and The Daily, as well as waited at a popular Manhattan steakhouse. Walters is the author of The Same River Twice: A Season With Geno Auriemma and the Connecticut Huskies. He is the founder of mediumhappy.com, a pop culture blog that he updates daily. He holds a B.A. from the University of Notre Dame, where he studied pre-med and rowed crew.