Lukashenko Confuses Russia's Putin for Medvedev in Belarus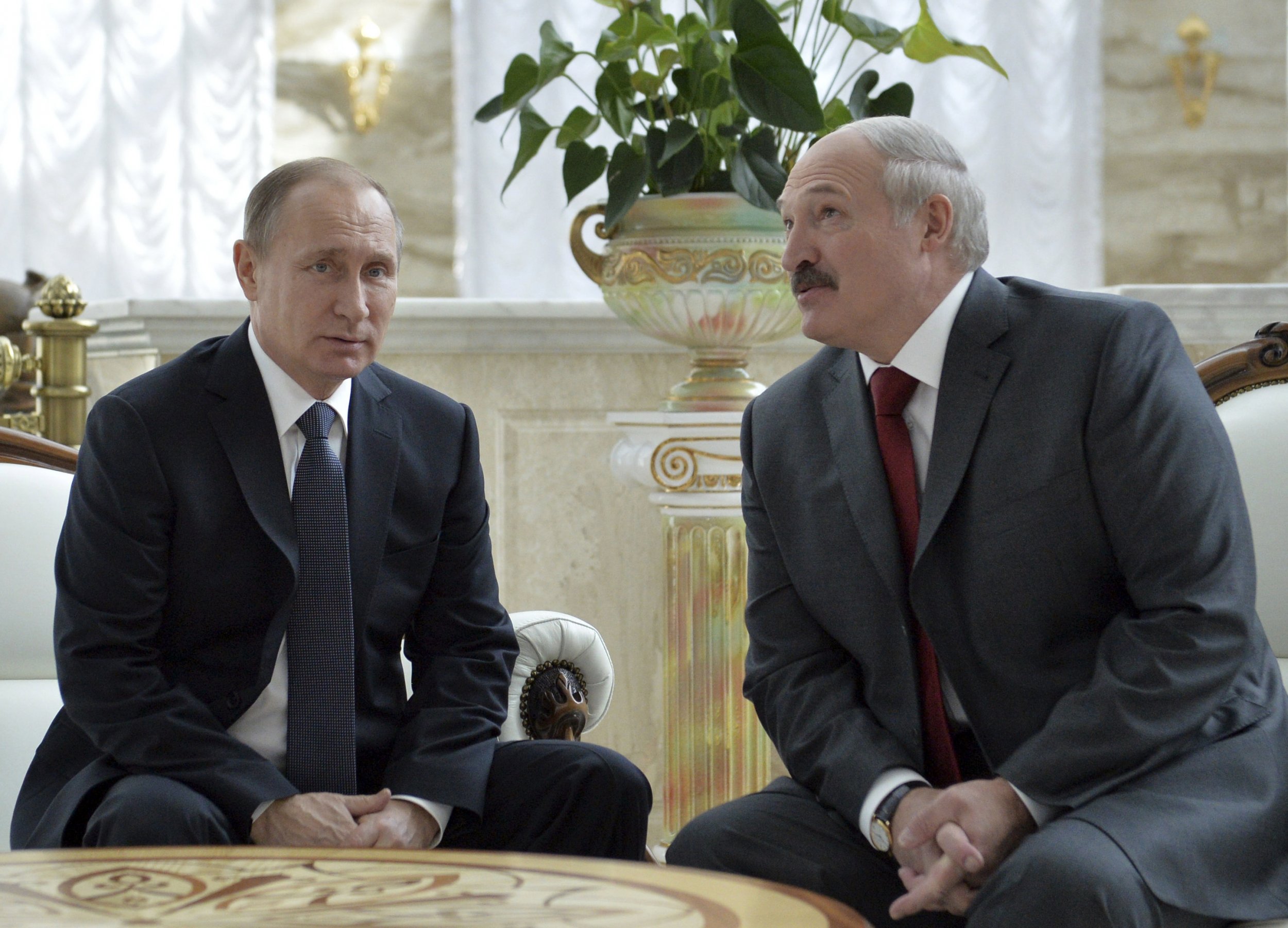 After more than 20 years in power, it can be hard to remember your allies' names, even when your ally is Russian President Vladimir Putin.
In an awkward moment in Minsk on Thursday, Putin and his Prime Minister Dmitry Medvedev were received by President Alexander Lukashenko, Moscow's Belarusian ally, who fluffed his lines and confused one for the other on camera.
Lukashenko and Putin met in the lofty setting of Minsk's Independence Palace and despite having met 35 times over the last five years, according to Belarusian news site TUT, Lukashenko couldn't quite match the face to the name.
As the two presidents took their seats, host Lukashenko turned to welcome Putin and blurted out "Dmitry Anatolyevich,"—a polite form of Medvedev's name. Realizing his mistake, Lukashenko bursts out laughing, while a sullen-faced Putin comments, "That's correct, he's the one with the money."
Putin's reference is likely to the ongoing discussions between Minsk and Moscow about a potential loan to help Belarus balance its budget. Medvedev has been in charge of economic talks.
A grinning Lukashenko explains to a much more bemused Putin that money concerns were not on his mind. He was merely thinking of an exchange of cooking recipes he had had with Medvedev prior to his meeting with Putin. Curiously, this explanation is not part of the Kremlin's official record, in which Lukashenko skips to his next explanation.
"Usually when Vladimir Vladimirovich (Putin) comes, then Dmitry Anatolyevich (Medvedev) is in Moscow and vice versa," he said. "Today, I am thankful that we have all gathered in Minsk."
Perhaps the confusion is not entirely Lukashenko's fault as Putin and Medvedev have an interesting line of succession as they have traded jobs twice. First, after two consecutive terms as president, Putin became prime minister in 2008 and Medvedev was elected Russia's third president. In 2012, ready to return to the Kremlin, Putin returned as president and Medvedev took the premiership. So famous is their tag team partnership the two have been called a "tandemocracy" by observers.
Not to mention the fact that Lukashenko, often labelled "the last dictator in Europe" has been president since 1994—when Putin and Medvedev were both just starting their political careers in the St Petersburg mayor's office.
Russian and Belarusian internet users did not forgive Lukashenko his blunder, however, as the name "Putin Dmitry Anatolyevich" quickly trended in Russian and Belarusian cities.
Some shared the footage of the gaffe (which Russian-speaking readers can view below), others tweeted images of a visibly insulted Putin and Russia's Kommersant radio station commented by tweeting "somewhere a certain prime minister is welling up with emotion."