Belarusian President Alexander Lukashenko has said that he would be able to host Russia's nuclear weapons amid tensions between Russia and NATO.
In an interview with the Rossiya Segodnya news agency on Tuesday, Lukashenko was asked about the possible move of U.S. atomic bombs from Germany to Eastern Europe via NATO. He then made the offer to store Soviet Union-era nuclear weapons if Russia could no longer effectively store them. Those remarks come as Belarus attempts to strengthen its relationship with Russia.
"I would offer [Russian President Vladimir] Putin to return nuclear weapons to Belarus," he told reporter Dmitry Kiselyov. He did not clarify further as to what types of nuclear weapons he meant.
In the interview, Lukashenko also referred to the Crimean Peninsula as a Russian entity for the first time. The region was controversially annexed by Russia from Ukraine in 2014. He also revealed that he is planning to visit the region at the invitation of Putin.
"If the president comes there with the president of Russia," Lukashenko said, "what other form of recognition could there be?"
The discussions of nuclear weapon storage come as tensions between Russia and NATO have intensified. Hypersonic missiles capable of reaching targets in five minutes were reportedly being tested by Russia. Putin said recently that the development of these missiles was prompted by NATO's bomber planes conducting drills increasingly closer to the Russian border.
"What should we do? We would need to develop something similar to target those who threaten us," Putin said, "and we can do that even now."
For more reporting from The Associated Press, see below.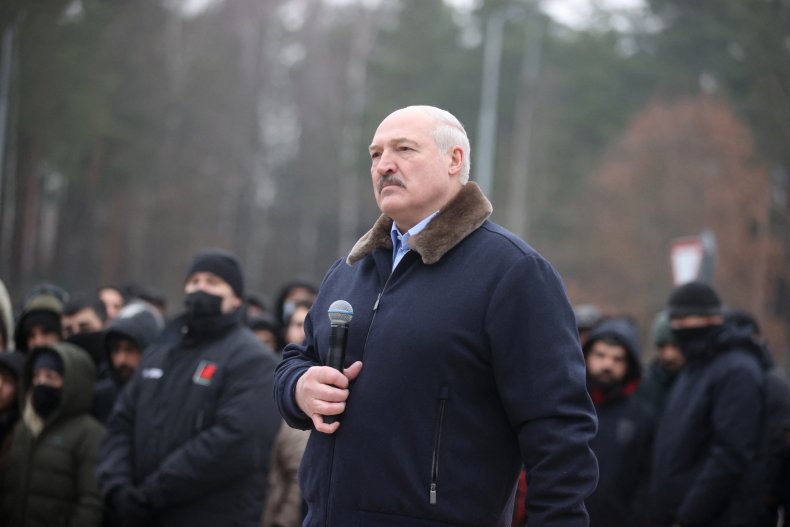 Lukashenko added that Belarus has carefully preserved the necessary military infrastructure dating back to the Soviet era.
Opposition leader Sviatlana Tsikhanouskaya, who left Belarus under pressure after unsuccessfully trying to unseat Lukashenko in last year's election, denounced the president's comments.
"Such a person shouldn't be trusted to handle matches, let alone nuclear weapons," she told The Associated Press.
Tsikhanouskaya said the deployment of Russian nuclear weapons to Belarus would violate international arms agreements and the will of Belarus' people. "The majority of Belarusians have spoken for Belarus' neutrality," she said.
Speaking earlier this month, NATO Secretary General Jens Stoltenberg said the Western military alliance would need to ponder redeploying nuclear weapons east if the new German government changes the country's policy on nuclear sharing.
"Germany can, of course, decide whether there will be nuclear weapons in your country, but the alternative is that we easily end up with nuclear weapons in other countries in Europe, also to the east of Germany," Stoltenberg said.
Alexei Arbatov, a Moscow-based foreign policy expert, described the possible redeployment of U.S. atomic bombs to Eastern Europe as a "mad, adventurist move." If Moscow responds by sending its nuclear weapons to Belarus, "the situation would be more dangerous than it was during the Cold War times," the Interfax news agency quoted Arbatov as saying.
Lukashenko has edged closer to Russia since he faced Western pressure after being awarded a sixth term in an August 2020 vote that the opposition and the West say was rigged. Belarusian authorities responded to protests triggered by the election with a sweeping crackdown, prompting the European Union and the United States to slap Belarus with several rounds of sanctions.
Tensions have escalated further since the summer over the arrival of thousands of migrants and refugees on Belarus' border with EU member Poland. The EU has accused Lukashenko of retaliating for its sanctions by using desperate asylum-seekers as pawns and tricking them into trying to enter Poland, Lithuania and Latvia to destabilize the entire EU.
Russia and Belarus have a union agreement that envisages close political, economic and military ties, but Lukashenko in the past has sought to maneuver between Moscow and the West, trying to win concessions from each party.
Ukrainian and Western authorities have raised concern in recent days about alleged Kremlin plans to invade Ukraine. Lukashenko warned that his country would stand squarely behind Russia if the Ukrainian government launched an offensive against Moscow-backed rebels in eastern Ukraine.
Belarusian political analyst Valery Karbalevich said Lukashenko's statement came as a payoff for Moscow's backing.
"Lukashenko effectively pays Putin for the support that the Kremlin has offered to him at the time when he was on the verge of political death after the election," Karbalevich told the AP. "Lukashenko has become a tool for the Kremlin and he expects more Russian subsidies and financial aid in return."
He noted that in the face of Western sanctions against the Belarusian economy, Lukashenko is now "ready to deploy nuclear weapons, stage a crisis with migrants and get involved in a confrontation with Ukraine."