Lukashenko Says Lithuania Left 2 Dead Bodies at Belarus Border, 'What An Abomination'
Belarusian President Alexander Lukashenko is accusing its neighbor Lithuania of dumping migrant bodies onto their borders.
In a meeting with the country's military, Lukashenko said that two bodies were found at the border between the two countries on Sunday. He said that several freezing migrants were also found in a farmhouse near the border. However, Lithuania's State Border Guard Service has denied the allegations. These claims could not be independently clarified.
"They put a dead body, or, probably, a person who is still alive, in a sleeping bag and toss it on the border," Lukashenko said during the meeting. "What an abomination!"
Despite these claims, Lithuania is pushing back. Authorities from the State Border Guard Service said that Belarusian authorities have "repeatedly tried to stage and direct beatings, the crippling of or even deaths of migrants," according to The Associated Press. They also condemned how the country allegedly puts the blame on Lithuania and its other neighbors.
Lithuania is not the only entity to criticize Belarus for its supposed treatment of migrants at its borders. The European Union has frequently accused the country of encouraging immigrants to cross into the region as revenge for sanctions put against them in 2020. Belarusian authorities have denied these allegations.
This back-and-forth comes as speculation as to a Russian invasion into the country began to surface, with Lukashenko saying that an invasion is unlikely. The Kremlin said that the claims were made up by Ukrainian authorities and Western allies.
For more reporting from The Associated Press, see below.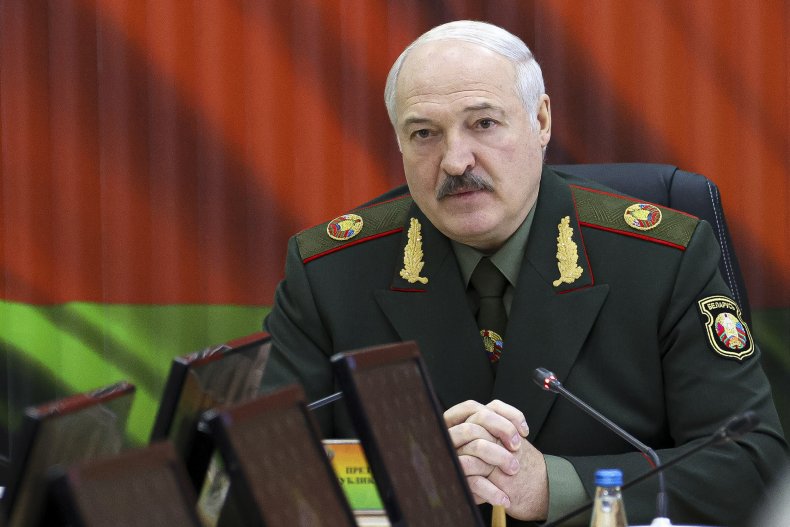 Lukashenko also warned that his country will stand squarely behind its ally Russia if the Ukrainian authorities launch an offensive against Moscow-backed rebels in eastern Ukraine. He tried to cast the tensions over migrants as part of a purported Western plot against Belarus and Russia.
Since November 8, a large group of migrants, mostly Iraqi Kurds, has been stranded in Belarus at a border crossing with Poland, trapped as forces from the two countries face off against each other. Most are fleeing conflict or a sense of hopelessness at home, and aim to reach Germany or other Western European countries.
He sought to turn the tables on the West, accusing Poland and others of fanning tensions over migrants as part of "multi-pronged hybrid warfare" against Belarus and its ally Russia.
He ordered military officials to raise troop readiness in view of NATO maneuvers near Belarusian borders.
Lukashenko warned Ukrainian authorities that if they try to use force to reclaim areas controlled by Russia-backed separatists in Ukraine's eastern industrial heartland known as Donbas, Belarus would stand squarely with Russia.
"If they try to launch a small war in Donbas or somewhere on the border with Russia, Belarus will not stay aside, and it's clear whose side it will take," he said. "They understand that, and that is why they started beefing up forces on the Ukrainian border with Belarus, even though there is no reason for that."
He alleged that it was the West that fanned tensions over the migrant crisis in a bid to distract Belarus' attention.
"They understand very well that if Ukraine tries to unleash a conflict with Russia, Belarus will not stay idle and so they need to contain the Belarusian army," Lukashenko said.