Lukashenko Warns of 'Mercenaries,' 'Biological Weapons,' Chernobyl Attack
In a series of striking comments upon meeting with Russian counterpart Vladimir Putin, Belarusian President Alexander Lukashenko warned of foreign mercenaries, biological weapons and even nuclear disaster, as his nation backs the Kremlin in its attack on neighboring Ukraine.
On Friday afternoon in Moscow, Russian television broadcast footage of a sit-down meeting held in the Kremlin between Lukashenko and Putin. The Belarusian leader, whose own rule precedes even that of Putin's 20-year reign by nearly a decade, arrived in Moscow shortly before noon local time, and the YouTube page of Russian Business Channel began streaming coverage of the meeting shortly after 3 p.m., though it is not clear whether the meeting was broadcast live.
A number of observers have seized upon Putin's comment from that meeting, "according to our negotiators, there have been certain positive shifts," as a sign of progress in Moscow's negotiations with Ukraine.
But Lukashenko quickly followed Putin's words with a justification for the Russian attack, as well as claims of knowledge of coming attacks against Russian troops, while referring to Belarusian and Russian forces as "we" and "us."
"We did not attack them," Lukashenko asserted. "Ukrainian forces started shooting at us...and I will show you from where they were preparing to attack Belarus. If, six hours before their attack, we had not carried out a preventative strike...they would have attacked our Belarusian and Russian troops, who were carrying out military exercises."
"We did not launch this war," he added. "We have a clean conscience."
Lukashenko went on to imply that the alleged Ukrainian battle plan was set to feature the use of weapons of mass destruction, including biological weapons that have been at the center of Kremlin claims that Washington for years hid nefarious research activities at a number of scientific cites across the country, a charge vehemently denied by the U.S. but supported by China.
He also warned of the fallout of potential nuclear catastrophe as sites including Chernobyl, the center of the world's worst nuclear disaster in 1986, were roped into the conflict.
"It's a good thing we started," Lukashenko said. "Biological weapons. The largest atomic power stations. And all of that was ready to explode. Now we see what is going on at Chernobyl."
"There are foreign mercenaries moving along the Belarusian border towards the Chernobyl power station," Lukashenko claimed, "and what they want to do with Chernobyl, we still need to figure out."
The visit is Lukashenko's first to Moscow since Russia launched on February 24 what both men have termed a "special military operation" to achieve the "demilitarization" and "denazification" of Ukraine, led by President Volodymyr Zelensky, who appears to remain in the capital Kyiv as it risks encirclement from Russian troops. The incursion has been met with widespread international backlash, but the Kremlin has yet to back down, even amid an unprecedented list of sanctions.
Putin was in many ways in the spotlight given his presiding over both the ongoing war effort and negotiations being pursued by Russian and Ukrainian representatives in the Belarusian city of Gomel. He established the tone of the meeting in his opening remarks.
"First of all," he said to Lukashenko, "before we get down to the matter at hand, I'd like to congratulate you on the successful referendum."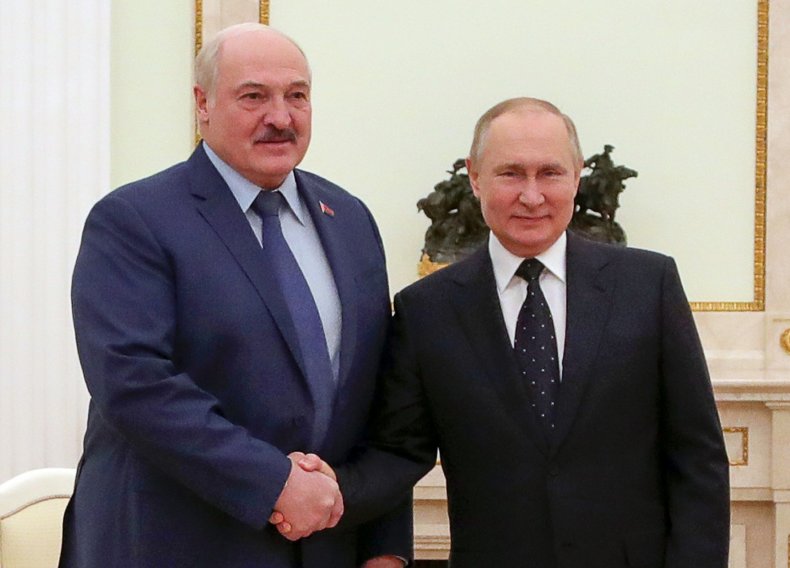 Putin was referring to the events of February 27, when, according to the Belarusian Central Election Commission's official results, a proposal to amend the country's constitution received 86.6% popular support on a 78.6% voter turnout. Lukashenko was said to have won that contest with 80.1% of the vote on an 84.1% turnout, though the Organization for Security and Cooperation in Europe has not endorsed the results.
Among the more notable turnouts of the election was a reversal of the post-Soviet doctrine in Belarus of rejecting the deployment of nuclear weapons from its ally, Russia, on the country's territory, though Lukashenko has oscillated between suggesting such a measure was possible and ruling it out altogether.
The vote came as Lukashenko continued to face challenges to his position from opposition leader Sviatlana Tsikhanouskaya, who, exiled in Poland, has declared herself the country's true leader after disputing the result of 2020 elections in which Lukashenko claimed an overwhelming victory that was widely rejected in the West as illegitimate.
And as Russian troops meet fierce resistance in their bid to take Kyiv and other major cities, Ukrainian officials have alleged that Belarus too may soon be preparing to enter the fight.
Pentagon Press Secretary John Kirby told reporters on Friday that he did not see any indications of a Belarusian intervention, but said he could not dismiss the possibility of it happening either.
"We're not tracking any imminent involvement by Belarusian forces," Kirby said. "That's not to say that it couldn't happen, or that it wouldn't happen, or that they could get involved in a way that maybe we didn't see. But I can just tell you what we're seeing right now."
While Washington has sent economic and military assistance to Kyiv, President Joe Biden has long emphasized that he would not send U.S. troops to Ukraine.
"That's called World War III," Biden told reporters on Friday.
At the same time, the U.S. leader has vowed to defend every inch of North Atlantic Treaty Organization (NATO) territory, comprising the 30-state alliance that Ukraine has sought to join. The bloc has roots in the Cold War waged between the U.S. and the Soviet Union, which, after NATO's formation in 1949, went on to form the rival Warsaw Pact.
The Soviet coalition collapsed along with the USSR in the early 1990s, but Belarus and Russia, which enjoy a "Union State" agreement between them, are allied as part of another pact known as the Collective Security Treaty Organization (CSTO), which also counts Armenia, Kazakhstan, Kyrgyzstan and Tajikistan as members.
In similar fashion to NATO's Article 5, the CSTO maintains an Article 4 measure that defines an attack on one member as an attack on all, though it has only once ever deployed troops abroad, doing so to quell unrest in Kazakhstan in January.
NATO also has only triggered its mutual defense measure once, in response to the 9/11 attacks by Al-Qaeda against the U.S. The Western alliance has taken offensive action in the former Yugoslavia and Libya, and also deployed troops to warzones in Afghanistan and Iraq.
Putin's concerns about NATO's expansion and growing military activities since the end of the Cold War have been at the core of the war in Ukraine, which was preceded by a series of negotiations with the U.S. and NATO, as Russia sought far-reaching demands to rein in the rival coalition.
These channels have since disintegrated with the outbreak of hostilities in Ukraine, and both Putin and Lukashenko dismiss threats of further Western sanctions against them.
In fact, Putin has predicted these restrictions would usher in a "time of new opportunities," which would stimulate the development of a more prosperous, "economically and technologically sovereign" Russia.
Putin referred to the former communist superpower, for which he worked as a KGB agent and whose successor he now rules, to insist that Russia would prevail.
"The Soviet Union lived under constantly under sanctions," Putin said, "yet it developed and achieved huge successes."
Michael Wasiura contributed to this reporting.