Lukashenko's Map Might Have Revealed Russia's Strategy in Ukraine, Moldova
On live television, Belarusian President Alexander Lukashenko may have given away Russia's plans for taking Ukraine, then moving on to seize Moldova.
During a meeting Tuesday between Lukashenko and the Belarusian security council, the Belarusian president, a longtime and close ally of Russian President Vladimir Putin, was seen addressing the council in a clip shared on Twitter by Belarusian journalist Tadeusz Gizcan.
As he speaks, Lukashenko can be seen standing in front of a map that appears to show Ukraine divided into four sectors, in addition to troops and missiles being funneled into the country via Belarus. The map also seemingly depicts troops moving into the nation of Moldova, nestled in Ukraine's southwest corner.
Gizcan said that the display looked "like an actual invasion map" and could possibly represent Russia's plans for post-annexation of Ukraine.
The entirety of the meeting was shown on Belarusian state television.
Lukashenko's television appearance occurred on the same day that the Ukrainian Parliament said Belarusian troops had entered Ukrainian territory. The troops were spotted, Ukrainian officials said, near the nation's northern border with Belarus.
"Belarusian troops have entered Chernihiv region," the parliament said in a translated tweet. "The information was confirmed to the public by Vitaliy Kyrylov, spokesman for the North Territorial Defense Forces. More details later."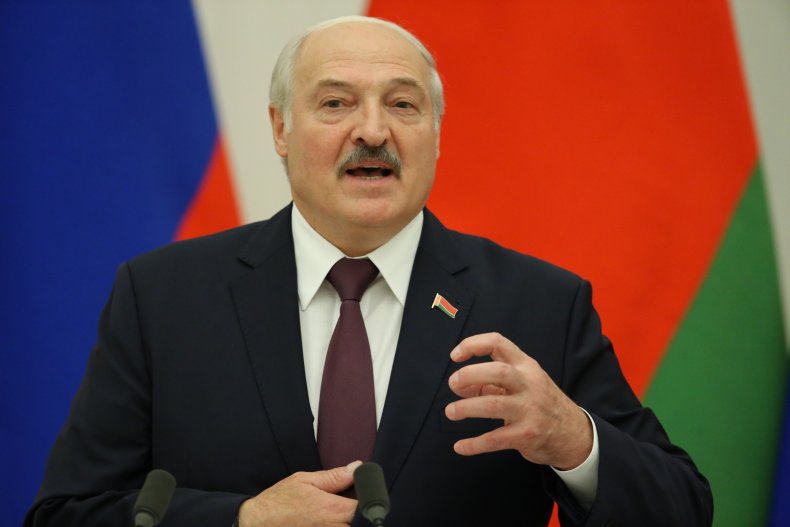 The tweet from Ukraine came just hours after Lukashenko asserted that he did not plan on joining Putin in his invasion, and had no desire to engage Belarusian soldiers in war. Lukashenko had also continued to deny claims that he was allowing Russia to attack Ukraine via Belarusian territory.
"No decisions were made by me," Lukashenko said about sending the Belarusian Army into Ukraine. "Without my decision, these units cannot even be withdrawn from the barracks."
Despite this, Ukraine has continued to assert that Belarusian soldiers have crossed into Ukraine. Those reports, though, were walked back by U.S. intelligence officials, who said that there was "no confirmation that the Belarusians are entering Ukraine, we've seen no indication of that."
As the Russian invasion continues, Lukashenko appears to be one of few European leaders who have remained by Putin's side. The two heads of state have often been compared in modern world affairs.
Lukashenko, president of Belarus since 1994, runs an authoritarian state and is often referred to as Europe's last dictator. In a video that emerged in January, the Belarusian president also said during a translated speech: "I'm a dictator, I have a hard time understanding democracy."
Many have claimed that Lukashenko has been able to remain the longest-serving world leader in Europe due to backing from the Kremlin. Politico noted that "Lukashenko has no more wiggle room—he belongs to Putin."
Since 2020, Lukashenko has been embroiled in controversy after he claimed victory in that year's presidential election, despite claims of voter fraud. Lukashenko's assertion led to widespread protests in Belarus, the U.S., the United Kingdom and the majority of Europe, which refused to accept the election results.
Sviatlana Tsikhanouskaya, a human rights activist and Lukashenko's opponent in 2020, was forced to flee Belarus after the election. Following the invasion of Ukraine, Tsikhanouskaya said that she would create a "transitional cabinet" to help restore democracy in Belarus.
Newsweek has reached out to the U.S. Embassy in Belarus for comment.