'Luke Cage' Season 2 Satisfies Like a Warm, Rousing Crescendo
If the first season of Luke Cage were described in musical terms, it was thick in texture with various tempos and melodies. We first met Luke in Jessica Jones, but without a true introduction. Between his origin story, the transition between two villains, the weight of being Marvel's first African-American to headline a superhero show and the romances, the first season of Luke Cage shifted dynamically with numerous peaks and tangents. There was also just a whole lot to explain to a general audience.
The second time around, though, some things just don't need to be explained. Between seasons, that pressure of living up to the hype has slowly dissipated. While still rich with multiple storylines, the series feels more harmonious and confident in Season 2. There's less pressure on Luke as a headline character, replaced by more pressure on him as living, breathing, human being. The second season serves up Harlem's hero like we've never seen him before — hungry for immediate change, loud and making his presence known all over the city. By the end, he's the brass section full-on fortissimo.
From an overall storytelling perspective, Luke Cage Season 2 chose one (very) long, tonally warm and round, rousing crescendo over an unrelenting, sharp pulse. Starting in the first episode, there's an extended gradual increase in drama, action, pace and identity crisis that reaches its peak in the finale. It's an exceptional character study, but Luke is hardly the only star of the show. Bushmaster (Mustafa Shakir), Mariah Dillard (Alfre Woodard) and Misty Knight (Simone Missick) do not get lost in this story. The first two episodes make clear we'll be following all these characters throughout the season, not just one shallow, quick twist to fold-in supporting characters as needed. If there's any critique to be made, it's that at its core, this season is barely about Luke and his superpowers. At times, the amount of focus put toward supporting characters feels like a greatly appreciated superhero genre cop-out (anything for more Alfre Woodard). It works, becuase there's more to these characters and overall narrative than the imagery of bullets flying off Luke's chest.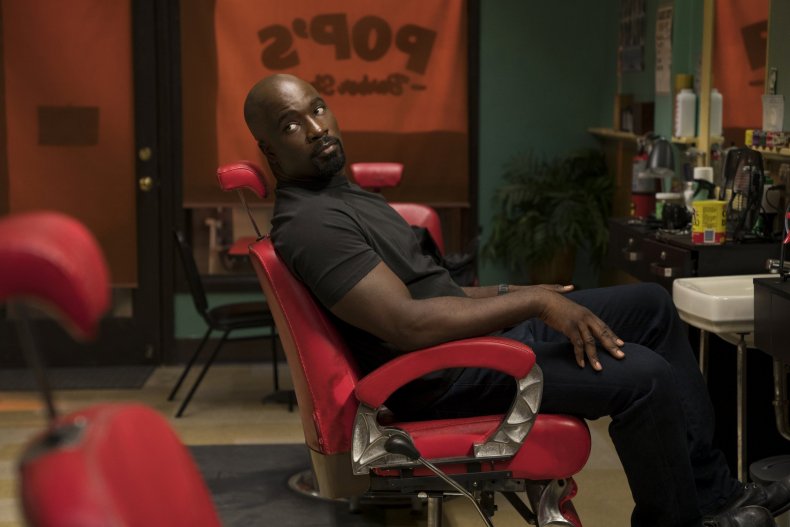 Within the world of the show (and beyond, to our own) it feels as though all the pressure generated by Season 1 is simultaneously being funneled into a balloon that's about to pop: the pressure of endlessly existing in the spotlight, having to represent everything and everyone, and dealing with the anxiety of protecting a city that just can't seem to stay saved. Luke, who does not wear a mask, must have a breaking point too. We see the real-time story of a hero's evolution play out, complete with all the highs, lows and complexities of becoming so admired and popular that navigating the nuances of the world as a normal person is no longer an option.
Is there a right way to police a neighborhood? Is it ethical to capitalize off public recognition? How can you be quite literally invulnerable on the outside, but still emotionally vulnerable on the inside? Should the past live in the past? These aren't questions that Luke, Bushmaster or Mariah answer for you, but they are questions you'll likely ponder at the season's end. Luke certainly does, and the conclusions he reaches are surprising ones. This is how the series transforms standard twists and diversions into tangible insights with value beyond mere entertainment.
Luke Cage, working within the confines of Marvel's tough 13-episode format, fails to succumb to what some fans want: straight-up answers, and to binge as fast as possible, seeking action and more action, a few jokes, a KO and that 'holy sh**' moment. Season 2 is not formulaic in the Marvel superhero sense of the word, though there are still many huge moments that merit a ten-expletive description. This is the type of show best viewed with your vice of choice, a couple of friends and a few hours at a once with time set aside for a post-episode "wine down" discussion. Relax, and tune in to enjoy extended live performances from Gary Clark Jr. and many more. Bathe in the beauty of these performances — Shakir, Colter, and Woodward in particular. Just like a crescendo, find the thrill in the build as you wait for that final push. If you can find the beat and stay in tempo, Luke Cage Season 2 will pull you along for a smooth ride.