Luke Letlow Tributes Pour in After Congressman-Elect Dies from COVID-19
Lawmakers and advisors from both sides of the aisle paid tribute to Republican Congressman-elect Luke Letlow, 41, on Tuesday night after it was announced that the father of two had died of COVID-19 shortly before he was set to be sworn into office.
Republicans and Democrats said they were saddened by the news last night and offered prayers to the Louisiana Congressman-elect's young family, who thanked those sending condolences in the wake of his death.
"Letlow is survived by his wife, Julia Barnhill Letlow, Phd., and two young children," Letlow spokesman Andrew Bautsch said in a statement. "The family appreciates the numerous prayers and support over the past days but asks for privacy during this difficult and unexpected time."
He added that a statement from the late-incoming lawmaker's family, and details of funeral arrangements, would be released at a separate time.
Reacting to Letlow's death, House Minority Leader Kevin McCarthy (R-CA) said: "Our hearts break tonight as we process the news of Congressman-elect Luke Letlow's passing. I spoke with his wife, Julia. Judy and I are praying for her and their two young children during this terrible time."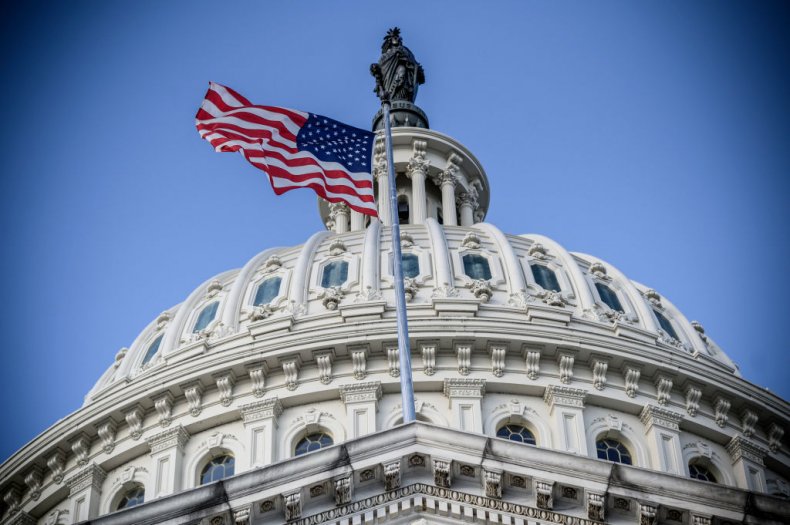 House Republican Whip Steve Scalise (R-LA) and the Louisiana Congressional Delegation said they were "devastated" by the passing of Letlow, and said he'd had a "tremendously bright future" ahead of him.
"More than anything, Luke was a loving husband, father, brother, and son, and his family—like so many others who have been affected by this evil disease—needs our prayers," the lawmakers said in a joint statement. "We all join in sending our strongest support to Luke's wife Julia and their young family, and are keeping them in our prayers."
The Louisiana Governor John Bel Edwards also mourned the passing of Letlow, and announced that he'd ordered flags to be flown at half-mast on the day of the Congressman-elect's funeral as a show respect.
"I am shocked and saddened to hear of the passing of my classmate, Congressman-elect Letlow," Congresswoman-elect Cori Bush (D-MO) tweeted. "I pray for his family and for every family who has lost a loved one to COVID-19."
Senator Chris Murphy (D-CT) and Rep. Eric Swalwell (D-CA) also offered condolences to the Letlow family. "I'm saddened the Congress will not meet Congressman-elect Luke Letlow," Swalwell tweeted. "May he Rest In Peace and God bless his family."
"Tonight, the United States House of Representatives sadly mourns the passing of Congressman-elect Luke Letlow," House Speaker Nancy Pelosi (D-CA) said in a statement last night. "Congressman-elect Letlow was a ninth generation Louisianan who fought passionately for his point of view and dedicated his life to public service."
Members of the media added messages of sympathy to the tributes paid to the Republican Congressman-elect over night. CNN Anchor Jake Tapper shared a campaign message from Letlow's young boy, tweeting: "Heartbreaking. This little boy lost his father to COVID-19. Please be safe out there, folks."
The Louisiana Congressman-elect first revealed that he had tested positive for COVID-19 on December 18, and was hospitalized the day after he made the announcement.
Letlow was initially admitted to a hospital in Monroe, Louisiana before being transferred to Ochsner-LSU Health on Tuesday last week. He died as a result of COVID-19 complications 11 days after he announced that he'd tested positive for the virus.
The incoming lawmaker was due to take office on Monday after he won a runoff election to succeed Rep. Ralph Abraham earlier this month, having previously served as his chief of staff.