Nashville Predators prospect Luke Prokop came out as gay Monday on Twitter, making him the first openly gay player under contract for a National Hockey League team.
"While the past year and a half has been crazy, it has also given me the chance to find my true self," Prokop wrote. "I am no longer scared to hide who I am. Today I am proud to publicly tell everyone that I am gay."
Prokop shared a bit of his story in his statement, saying that playing in the NHL has always been a dream for him. He also showed his gratitude for his friends, family and agents who have supported him "every step of the way."
The 19-year-old from Edmonton, Alberta, played for the Calgary Hitman junior league team for four years. The Nashville Predators drafted him in the third round in the 2020 NHL draft.
In December, Prokop signed a three-year entry-level contract with the Predators and finished his final season as the Hitmen's alternate captain, according to ESPN.
Prokop expressed his desire to ensure everyone is welcome within the hockey community, and he hopes to learn more about the LGBTQIA+ community and the people who laid the groundwork that enabled him to come out, his statement said.
"This is just the beginning of my journey and I am excited to see where it takes me, both in hockey and in life. Thank you!" Prokop wrote.
Prokop told the Predators management that he was gay in June, to which he received a lot of support, ESPN reported.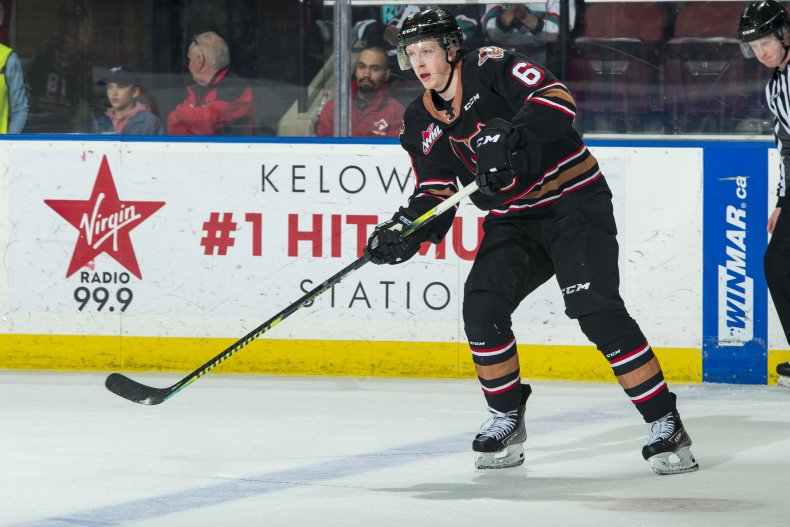 After the Monday morning announcement, Predators president and CEO Sean Henry issued a statement praising Prokop.
"The Nashville Predators organization is proud of Luke for the courage he is displaying in coming out today and we will support him unequivocally in the days, weeks, and years to come as he continues to develop as a prospect," Henry said. "A long-stated goal in our organization is equality for all, including the LGBTQ community, and it is important that Luke feels comfortable and part of an inclusive environment as he moves forward in his career."
Other NHL officials released similar words regarding Prokop's announcement.
"On behalf of the National Hockey League, we are proud of Luke Prokop for today's announcement and I would like to thank him for sharing his truth and for being so brave," NHL commissioner Gary Bettman said in a statement.
Bettman said that he hopes Prokop's announcement will inspire NHL coaches, staff and players in the LGBTQIA+ community to "live their lives as their full and true selves," which he notes is the way for them to perform their best.
"We pledge to do everything possible to ensure that Luke's experience is a welcoming and affirmative one and continue to work to ensure that any current or future NHL Player contemplating following in his trailblazing footsteps knows our League is ready to provide full support," Bettman's statement read.
NHL Players' Association Executive Director Don Fehr made a statement in support of Prokop, echoing the commissioner's sentiment and pledge to make NHL a welcoming community:
"NHL players commend the courage displayed by Luke Prokop to disclose his truth. We know the NHL hockey community will support Luke as he strives toward his goal of playing in the NHL, and we applaud the example he is setting for those in the game of hockey and beyond.

"Luke's announcement also reminds us how important it is to ensure a welcoming and safe environment for all who play the game. Hockey is for everyone, including the LGBTQ+ community."