Lululemon's Nulu Fold Yoga High-Rise Crop 23" Solve My Biggest Leggings Complaints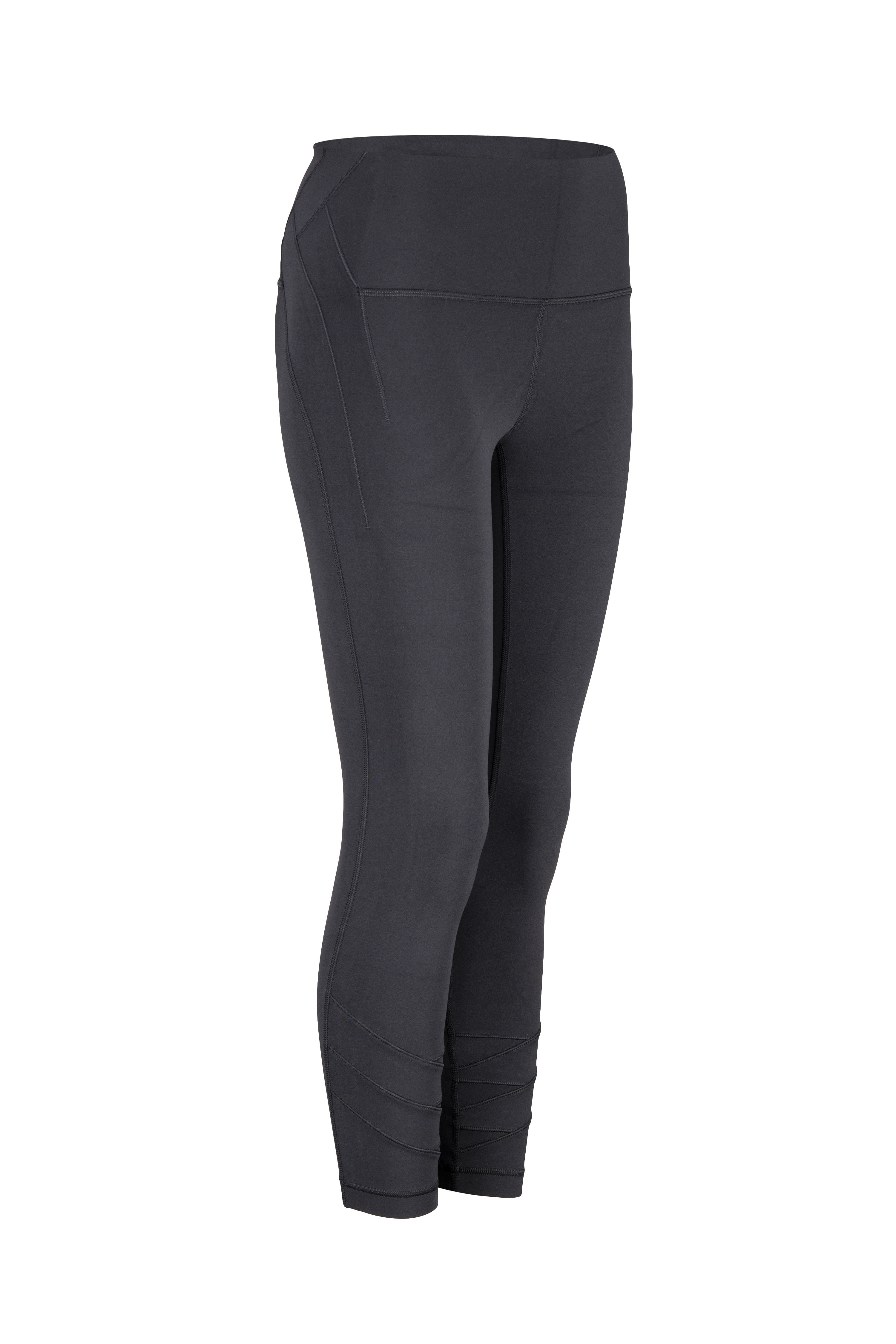 When I take yoga classes, swing kettlebells, or join a Pilates group, there are three things about leggings that are guaranteed to drive me crazy. One is a legging that rides up. I feel awkward enough when I'm moving into downward dog or child's pose without worrying that I'm showing a wedgie to all the yogis positioned on mats behind me. Another is when leggings are so lightweight they are almost see-through.
The real deal-breaker on leggings are ones that don't breathe, making me feel as though my torso and legs were locked in a sealed plastic bag. Not only can leggings made of nonbreathable material be uncomfortably warm but they can often cause chaffing.
Now that I've discovered Lululemon's Nulu Fold Yoga High-Rise Crop 23" I needn't worry about such discomfort.
I wish I'd realized the quality of Lululemon pieces when I was a five-times-a-week yoga class participant. The fabrics are lightweight and stretch when you do, but they also hold their shape. The waist of its Nulu Fold Yoga 23" cropped legging is made with double fabric and no seam, so it doesn't creep down your abdomen or wrap around you in a boa-constrictor-type hug.
The leggings have a piece of fabric (known as a gusset) across the crotch and down the legs. That keeps the leggings in place, so you don't have to tug to keep wedgies at bay.
And the construction of the Nulu Fold Yoga 23"––like the other Lululemon leggings and T-shirts I tested––has no side seam, so they lay flat on your body. That's due to a seamless technology—something found more often on higher-end products because it involves a costly, time-consuming production process that requires the use of a circular knitting machine.
My advice is to splurge on a Lululemon piece with this construction. You'll see it makes a world of difference in the look and feel of the garment.
These leggings, available in Rosemary Green and Black, wick sweat so they don't stick to you. Pair them with a t-shirt or tunic and wear them out and about, even to lunch with friends. Yes, they are lightweight but not at all see-through. When they're dirty, you toss them in the washer and dryer with other colors.
Lululemon has several standout items, including its Swiftly Tech Short Sleeve 2.0 and Train to be Short Sleeve tees. Their angled short sleeves are comfortable and slimming, and the shirts are designed for extra breathability. My only gripe with these shirts was that the care label was too long, scratchy and almost illegible.
You also don't want to miss Lululemon's Earth Dye line, dyed with natural fruit and vegetable colors, an Earth-friendly alternative. That's just another part of the company's commitment to sustainability.
In addition, the company has launched a Like New pilot program. Those in Texas and California can trade in gently used Lululemon athleisure clothes at select stores in exchange for a Lululemon gift card. An online resale program is scheduled for June. The company notes it will reinvest 100 percent of the profits into additional sustainable initiatives.
For further proof of the company's green commitment, its quality clothes are packaged in high-end, recyclable shipping bags adorned with positive messages.
I'm more than willing to pay the extra price for Lululemon's comfort, style, and Earth-friendly practices. When you try these pieces, I bet you will be, too.
Buy the Nulu Fold Yoga High Rise Crop 23" at Lululemon.
Newsweek may earn a commission from links on this page, but we only recommend products we back. We participate in various affiliate marketing programs, which means we get paid commissions on editorially chosen products purchased through our links to retailer sites.