Luminous Mystery Object Appears Over Seattle Sky
A mysterious, luminous object has appeared in the night sky over Seattle on Tuesday, leading some locals to question its origin.
"I swear i just saw a spacecraft over Seattle," Twitter user @achlngbIush posted about 10:30 p.m. local time. "It was one straight string of lights soaring slowly over the sky what is happening."
Other curious viewers were quick to reply, with one person asking: "Saw it too! What was that?"
"My neighbor saw it also when she was walking her dog," another added.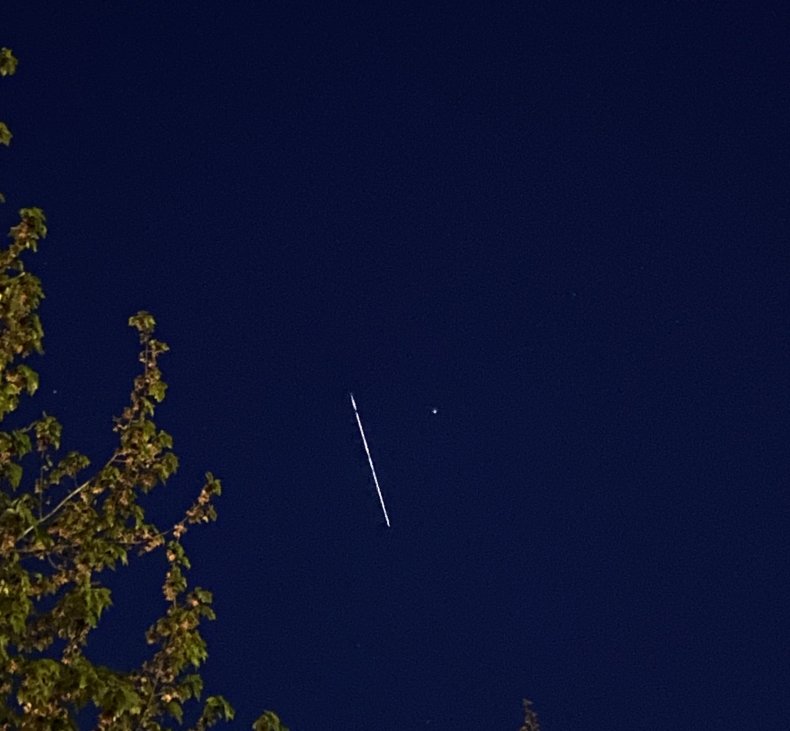 One man suggested the mystery sighting could be the SpaceX Falcon 9 rocket which launched 60 Starlink internet satellites into orbit on Tuesday afternoon, though based on the timing of the launch that is unlikely.
The rocket blasted off from NASA's Kennedy Space Center in Florida at 3:01 p.m. EDT. Due to the three-hour time difference between Florida and Washington State, which would have been 12:01 p.m. in Seattle.
"Targeting Tuesday, May 4 at 3:01 p.m. EDT for Falcon 9 launch of 60 Starlink satellites from LC-39A in Florida," SpaceX tweeted on Monday.
The rocket stands at an impressive 70 meters tall and could account for the "straight string of lights" observed in the sky.
Last week, SpaceX launched 60 satellites into orbit in another step towards building its vast Starlink satellite internet network.
The satellites were packed into the payload section of a Falcon 9 rocket, which lifted off from the Cape Canaveral Space Force Station in Florida at 11:44 p.m. EDT Wednesday night on April 28.
SpaceX is known for its reusable space technology, and that particular Falcon 9 had flown six times before. It was also the fourth time that that rocket had delivered Starlink satellites into space.
The starlink satellites that were deployed on last week's mission had a slightly different appearance to ones that had been delivered before them; they had been painted white for thermal reasons. That could make them appear brighter in the sky.
There are currently more than 1,395 Starlink satellites in orbit according to NasaSpaceFlight.
This sounds like a lot, but it is only the first "shell" of satellites in the Starlink network.
SpaceX is planning several more shells, each with hundreds or thousands of satellite units. The company eventually plans to put 12,000 Starlink satellites in orbit, though it has applied for permission to deploy 30,000.
SpaceX is now close to completing its first shell, which will consist of around 1,584 satellites. Once it's done, Starlink will have coverage between 52 and minus 52 degrees latitude, or around 80 percent of the Earth's surface, according to Everyday Astronaut. Subsequent shells will improve bandwidth and coverage.
Correction: This article originally stated that 3:01 p.m. in Florida would be 6pm in Seattle. It would be 12:01 p.m.