Google Doodle Marks Chinese Lunar New Year 2019 With Pig Animation
Today's Google Doodle commemorates the Lunar New Year—a festival traditionally celebrated in China as well as other south and east Asian countries.
With origins dating back millennia, the festivities mark the beginning of a new stage in the 12-year cycle of the Chinese Zodiac. Each year in the cycle is represented by a different animal, and if you couldn't already guess by the animation, 2019 is the year of the pig.
Typically, the festival begins on the first new moon of the lunar calendar and comes to an end just over two weeks later with the arrival of the first full moon. Usually it takes place between late January and mid-February, but the exact date differs every year given that it is based on the lunar cycle.
In the lead up to the festival, people clean their houses in an effort to ward off any bad luck that has accumulated from the previous year, according to the Encyclopedia Britannica. On New Year's Eve and New Year's Day—which this year fall on February 4 and 5 respectively—families often celebrate by eating together.
One notable part of the celebrations—alongside dances and fireworks—is the giving and receiving of red envelopes containing money, known as "lai see," which are a symbol of good luck.
The end of the festivities is marked by the so-called "Lantern Festival," which takes place on the day of the full moon. Known as a time for reunions, the celebration involves a number of ancient spiritual traditions, principally the lighting of lanterns, as the name suggests.
According to chinesenewyear.net, other common features include dances involving representations of lions and dragons; telling riddles; and eating various specialties, such as sticky rice balls, which symbolize unity.
While the origins of the Lunar festival remain unclear, one legend has it that the festivities began as a way to scare off a fearsome, man-eating monster known as Nian, who liked to go on hunting trips on New Year's Day. Many of the traditions, such as lighting lanterns and fireworks, are said to have been techniques that people used to frighten Nian.
The roots of the Chinese Zodiac are also shrouded in mystery, but according to one legend, the Jade Emperor—a deity in Chinese mythology—assigned the animals to a year based on the order they arrived at his party, according to chinesenewyear.net. In this story, the pig overslept and was late to the party, thus he was given the twelfth spot on the zodiac.
Despite the animal's apparent tardiness, pigs are a symbol of wealth and prosperity in China. As a result, people born in the year of the pig are said to be blessed with good fortune.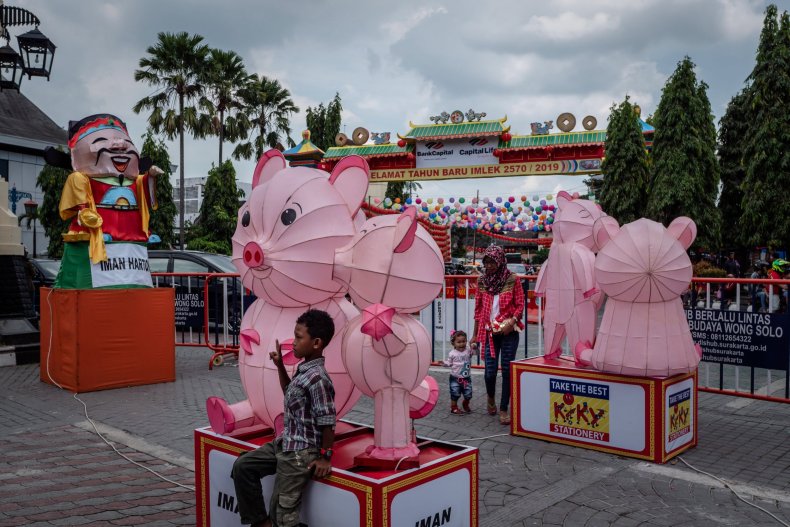 Google Doodle Marks Chinese Lunar New Year 2019 With Pig Animation | U.S.