Is There a Lunchables Shortage? Why You Can't Find Your Favorite Meal-kit in Stores
Parents have been struggling to pick up Lunchables at their local grocery stores due to ongoing shortages.
As children have returned to school, a number of lunchtime staples have been in short supply like Lunchables - pre-packaged meal kits featuring cheese, crackers, candy and miniature foods, such as pizza and hot dogs.
Disappointed shoppers have taken to social media to share pictures of empty shelves where Lunchables should be and ask what's going on.
One Twitter user wrote: "I went to three different stores today and couldn't find any," while another added: "I keep running back and forth to the grocery store and they never have any."
Why Is There a Lunchables Shortage?
Kraft Heinz, who make the meal kits, told TODAY Food that demand for Lunchables has reached an all-time high, with sales growing in double digits for the first time in five years.
In a statement, a spokesperson for the company added: "Compared to 2019, nearly 2 million more households bought Kraft Heinz brands in the second quarter of 2021.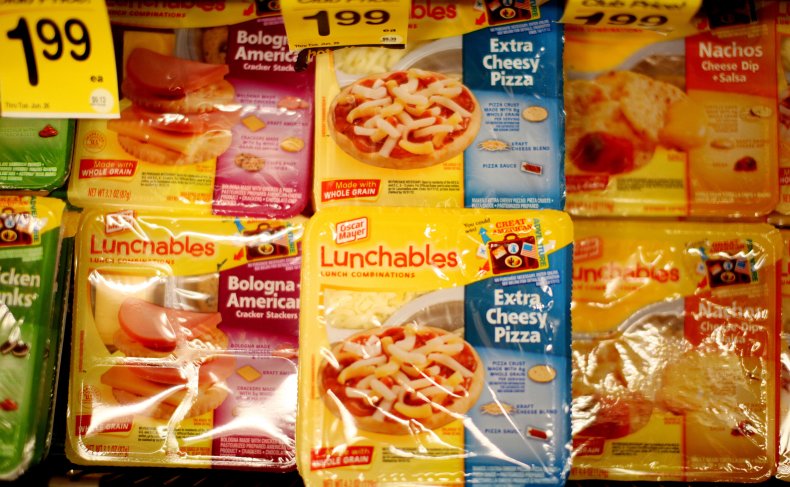 "We are also seeing all-time high demand for many of our brands, including Lunchables, which in that case has been driven by proactive steps and investments in marketing and brand renovation that deliver on expectations of modern parents and kids."
According to The Wall Street Journal, some grocery stores are describing shortages of many items similar to levels in spring 2020 when looming pandemic fears prompted some shoppers to stockpile and panic buy items like toilet paper and canned foods.
Now though, the problem lies with the supply chain due to labor shortages and lack of scarcity of raw materials like aluminium, resin and others typically used in packaging.
Donny Rouse, chief executive of Louisiana-based Rouses Markets, told the publication that his stores are running low on many everyday items and that the chain is occasionally receiving as little as 40% of what it has ordered from suppliers, whereas pre-COVID over 90% of its orders would be fulfilled.
Some major retailers like Walmart are taking big steps to mitigate the risk of empty shelves, as the chain announced it is chartering its own private cargo vessel to keep up with demand.
"Out-of-stocks in certain general merchandise categories are running above normal, given strong sales and supply constraints," Brett Biggs, CFO of Walmart, told NBC News.
"Our merchants continue to take steps to mitigate challenges, including adding extra lead time to orders and chartering vessels specifically for Walmart goods."
That can reportedly cost approximately $40,000 a day, according to the Port of Los Angeles.
Unfortunately, this may not be a neat solution as worker shortages continue to impact ports and mean there are fewer truck drivers to pick up the containers.
Different COVID port restrictions internationally have also limited the number of empty containers able to head to Asia to be filled, as Port of Los Angeles executive director Gene Seroka told the news outlet: "This is a worldwide phenomenon.
"We've got 34 ships in the brig water waiting to come into the ports of LA and Long Beach and another 20 over the next few days. We've been running at high velocity since June and July of last year."
As for Lunchables, Kraft Heinz has promised shoppers it's on the case.
"We're actively investing in our supply chains and have teams working fast and furiously so our retailers and consumers can get more of the Kraft Heinz products they love, wherever they like to shop," read the statement.