Luxurious Hunting in South America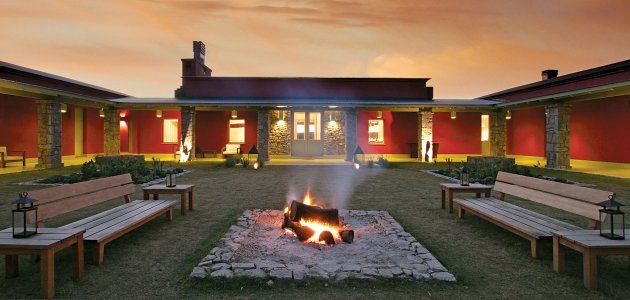 On a recent weekend hunting retreat, I managed to do practically everything but hunt. I ate two barbecues in the field, where I was offered at least seven different varieties of meat; enjoyed four-course dinners served by waiters in suits; and contemplated getting a massage before deciding my time was better spent on the free, high-speed Wi-Fi watching YouTube videos of other people hunting. And I did it all in a five-room boutique hunting lodge on the remote pampas of Argentina.
Big-game hunting and bird shooting typically bring to mind places like Alaska, Canada, or Scotland. Or, for somewhere more exotic, maybe Africa or New Zealand. But Bolivia, Colombia, and Uruguay—really? It's true; in recent years South America has emerged as the new "it" destination for the globe-trotting marksman. "South America for hunting and fishing is pristine, beautiful, and challenging," says Marc Heinisch, an Austrian-Swiss who has traveled to the continent five times for high-end hunting trips. "In these places you can get superb accommodations," he says, citing a recent dove-hunting trip to Argentina on which he was awakened in the morning by a private butler delivering hot coffee.
Once known for trout fishing in Patagonia, the continent has given rise to dozens of luxury lodges offering hunts for mountain lions, pumas, wild boar, deer, water buffalo, and a dizzying array of birds—including ducks, pigeons, and doves. The outfitter Luis Brown, for instance, runs out of the Four Seasons Hotel and Resort in Carmelo, Uruguay, which sits on one of the largest dove-roosting sites in South America.
La Dormida, the lodge 130 kilometers north of Córdoba, Argentina, where I stayed for three days, is located in a region known for the best dove shooting in the world ($2,630 through Frontiers Travel for a three-night package). Because of the rich fields of sorghum, wheat, and corn, as well as plentiful natural roosts, the dove population hovers between 23 million and 50 million. And on that first day, every single one seemed smarter than I am. It probably didn't help that I asked for a manly-sounding 12-gauge shotgun, whose power was way more than my untrained shoulder could handle, or that I arrived in the field wearing a bright red sweater (it seems you'll be hunting in whatever you're wearing when you step off the plane, so dress accordingly). While some of the other Americans went so far as to bring their own guns, I didn't even bring earplugs or eye protection.
But lodge staffers have clearly seen plenty of gringo city slickers like me. They outfitted me with everything I needed and paired me with Gustavo, a full-time ammo loader. He turned out to be more of a cheerleader than a guide, at one point loudly celebrating the fact that I managed to pull the trigger in the rough vicinity of a huge cloud of birds.
While the mechanics of dove hunting may look easy, I quickly realized it's more than just point and shoot. You can't simply aim in the rough vicinity of a huge cloud of birds and expect to hit any. Rather, you have to calculate exactly how far in front to shoot, given a slew of variables including the spray pattern of the gun, the distance to the bird, and the direction and speed of the wind and target. Gustavo was wildly enthusiastic, but he wasn't a great coach, and neither were the field guides; for that, the YouTube videos actually came in handy.
In fact, most guests to these high-end lodges are experienced shooters—if they weren't, they wouldn't bother trekking all the way down here. At La Dormida, one of the American guests I met runs his own hunting outfitter in Florida, while another had hunted buffalo and elephants in Africa. But the sheer number of doves meant that by the third day I was hitting on average one in three, a pretty decent average for a novice shooter aiming at a nimble target. (It helped that I switched to a less manly but more maneuverable 20-gauge gun.)
Such experiences, combined with frills like Jacuzzis, a swimming pool, and an open bar, do not come cheap. At La Dormida, I spent $400 on ammo alone, and another $400 on "suggested" tips for the wait staff. Similar lodges on the continent offer tennis courts, horseback riding, BBQ houses, and satellite TV. If you're not careful, you may forget you came to hunt.