Luxury Green Travel: Where to Go for the Best Eco-Friendly Hotels
These eleven hotels combine sustainability with luxury for the ultimate no-guilt experience.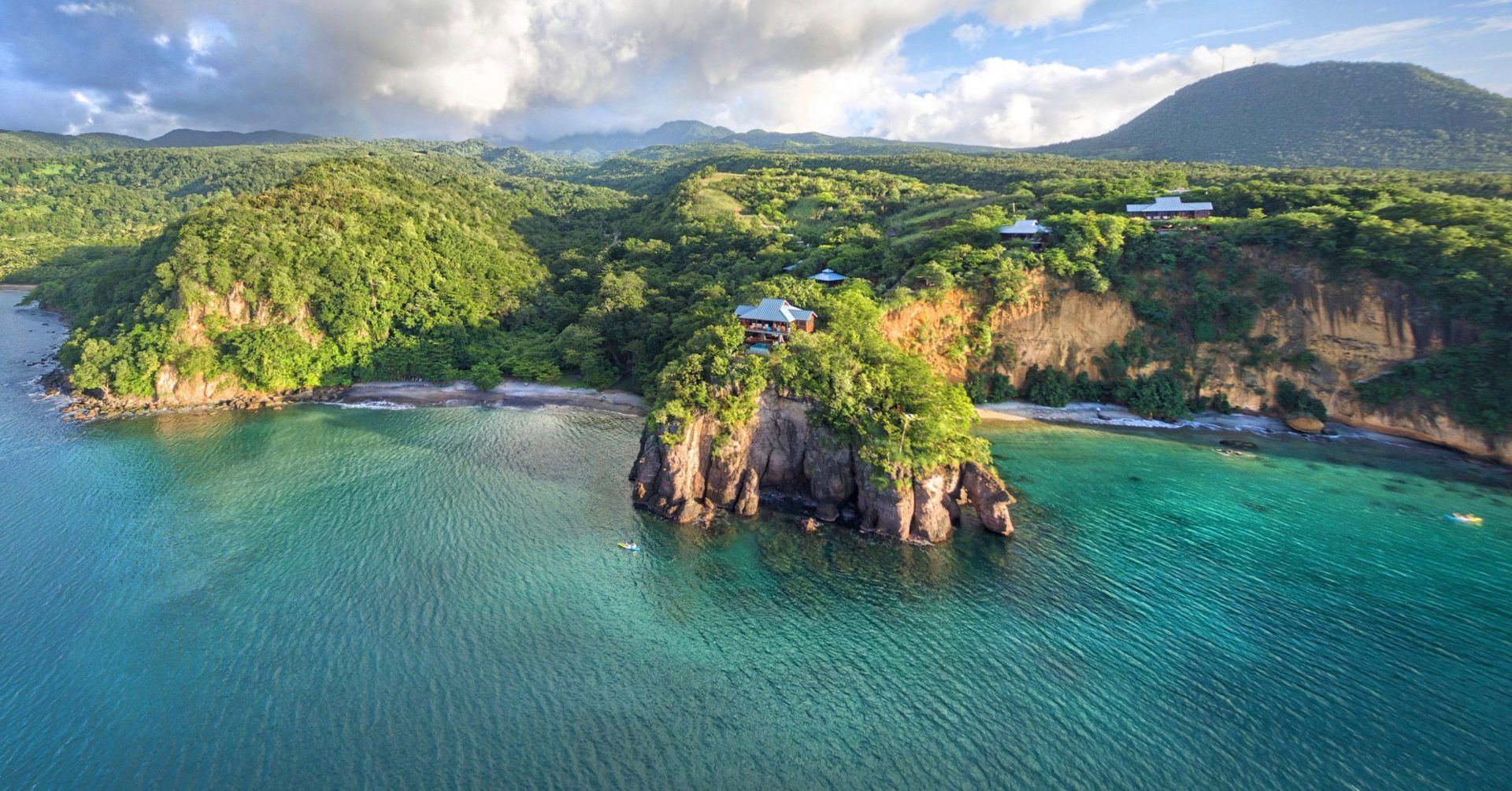 Earth Day. Some celebrate it once a year by shutting off the lights for an hour, not using plastic utensils and in terms of water usage, if it's "yellow" letting it "mellow."
For others, environmentally conscious living is a daily practice that spills over into their travel habits. According to Booking.com's Sustainable Travel Report, 87 percent of global travelers want to travel sustainably with nearly four in 10 out of the people surveyed confirming they do so.
These days eco-friendly hotels aren't limited to hostiles with shared bathrooms and a shaggy haired roommate named Unity, they are five star properties with top-notch amenities. Hotels realize demand is there for an experience that is not only unique but doesn't harm the environment. And with national sustainability certifications becoming harder to secure, travelers who encounter a property that says eco-friendly and sustainable, can easily verify the claim. We've done some of the hard work for you. Here are elevn hotels that meet the high luxury "green" standards for five-star hotels.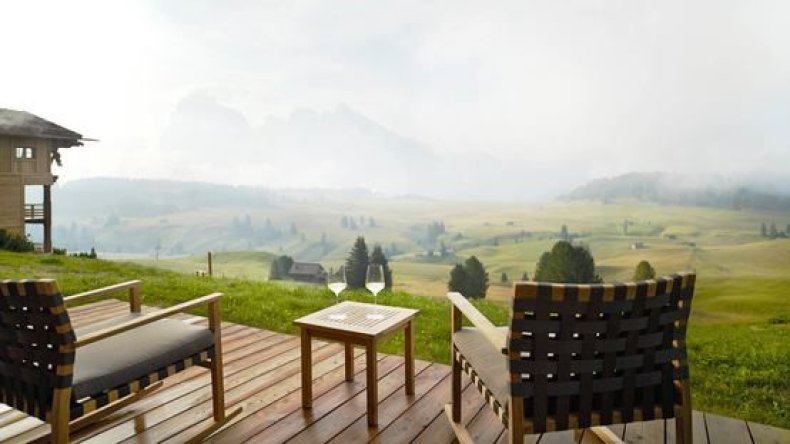 Built on a UNESCO heritage site in the Alpe di Suisi, the property complies with the "Kilmahaus Nature standard" a strict criteria relating to building materials, water management and energy efficiency. Buildings are constructed with local mountain timber. Using cars on the property is restricted. To further support the conservation measure, the hotel's vehicle fleet is electric. The Mountain Lodge utilizes a customized energy solution by operating small combined heat and power plants to support and optimize energy supply. But the hotel doesn't compromise on what travelers deem luxurious, which includes spacious rooms (around 650 sq. ft), eco- friendly bath products and organic cotton sheets. Rooms also have their own intelligent water management system where waste is separated in a way that doesn't require extra work on behalf of the guests. Sustainability also extends into the kitchen: chefs mainly use organic regional produce, reducing distances travelled for deliveries to the hotel and the resulting carbon emissions. This practice also supports the mountain farmers.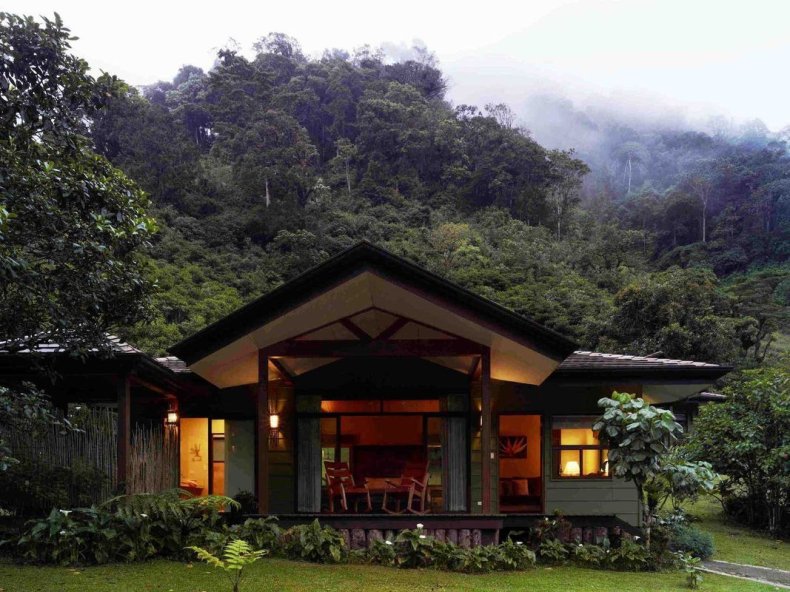 Located in the mountains of Bajos del Toros, the eco- hotel was designed to marry traveler's interest in connecting with nature in a setting that is lush, luxurious and grand. Its Certification of Sustainable Tourism granted by the Costa Rican tourism board indicates the property takes extended measures in energy conservation water management, waste disposal, and recycling. Suites range in size with occupancies from four people to entire families to two bedroom villas. Each room has organic bedding, a mini bar filled with local provisions and sustainable bath products. Apart from eco- friendly amenities, the hotel commits to sustainability by also employing staff and supporting small businesses from the surrounding towns of Sarchí, Zarcero, Naranjo. Guest activities focus on giving back to the environment. For example, guests are encouraged to plant a tree while on the property to help bring back Quetzal birds to the region.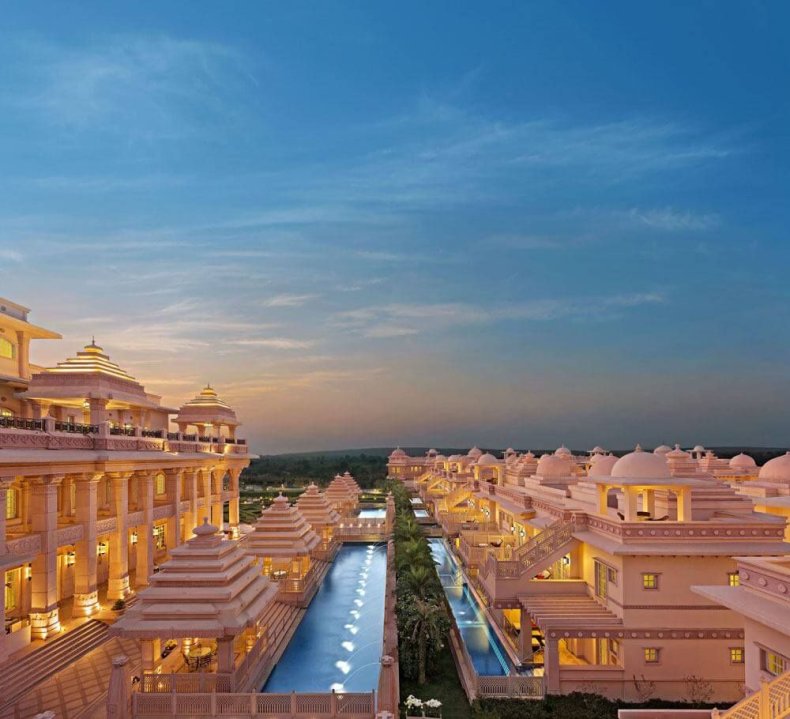 The mission of The ITC Grand Bharat is simple: guests should be able to luxuriate guilt-free. Elaborate culinary experiences with "wellness" and education in mind is at the top of the list at India's first all suite resort. It has four presidential villas, 100 suits and a 27-hole Jack Nicklaus Signature golf course that uses recycled water to maintain the green. Sustainability is incorporated into dining as well. Guests learn about fish consumption via the WWF's 'Choose Wisely' Programme - collaboration with the Central Marine Fisheries Research Institute. They are provided the "luxury of choice" WWF has designed visual indicators that have been applied to ITC's restaurant menus to communicate relative fish scarcity in an easy-to-understand format for consumers to follow and make responsible choices when ordering. In addition, the property includes a green housekeeping and cleaning program to achieve a sustainable & healthy indoor environment, and use of non-ozone depleting gases for refrigeration, energy efficient Heating, Ventilation and Air Conditioning (HVAC) system, Thermal system, Water management system and Building Management System. ITC Grand Bharat was awarded a Platinum rating under the LEED India NC program, a voluntary sustainability and green rating program under the aegis of IGBC (Indian Green Building Council) & USGBC (US Green Building Council) . Platinum rating is the highest category of certification preceded by Gold, Silver and Certified.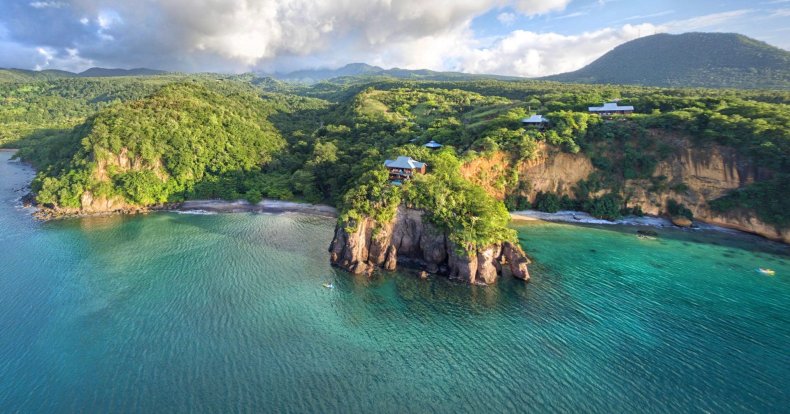 Outfitting public and private spaces with state-of-the-art energy efficient appliances isn't the only thing that makes Secret Bay one of the best luxury hotels in Dominica. This eco-luxury boutique hotel is committed to maintaining the land in the same pristine condition by recycling, planting over 1,500 plants on site and using special irrigation systems. In addition, it uses biodegradable food packaging, eliminated single use plastic bottles, and provide guests with borosilicate glass bottles to fill up with filtered water.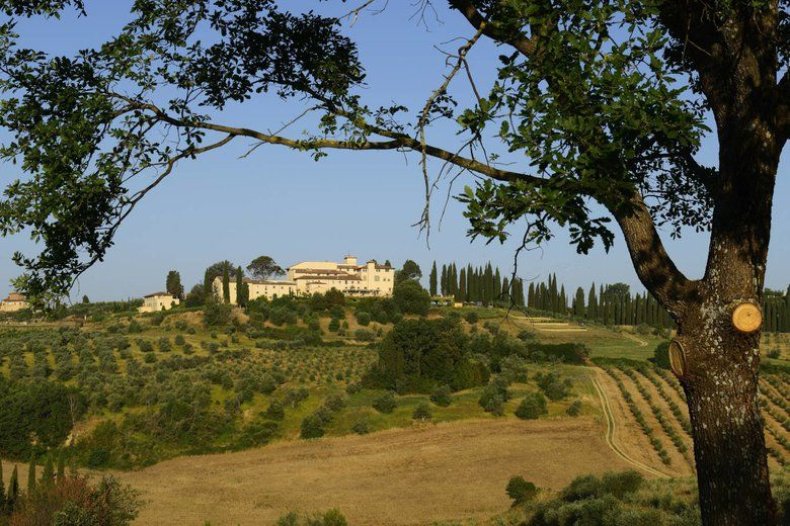 It's a given the 740-acre, the historic estate COMO Castello del Nero is exquisite (a resort in the Chianti wine region of Italy? We'll take it!), but what makes this property in line with sustainability standards and eco-friendly tourism, is its hyper-focus on "farm to table" fare. La Torre restaurant is a Michelin starred piece de resistance. Located in the original stables of the castle in the winter, transferring to the garden terrace in summer, all menus are overseen by Executive Chef, Giovanni Luca Di Pirro, which uses produce from the estate's kitchen garden. The estate also has its own vineyard, beehives and olive groves. COMO's approach to the provenance of ingredients remains critical to the brand's founding philosophy.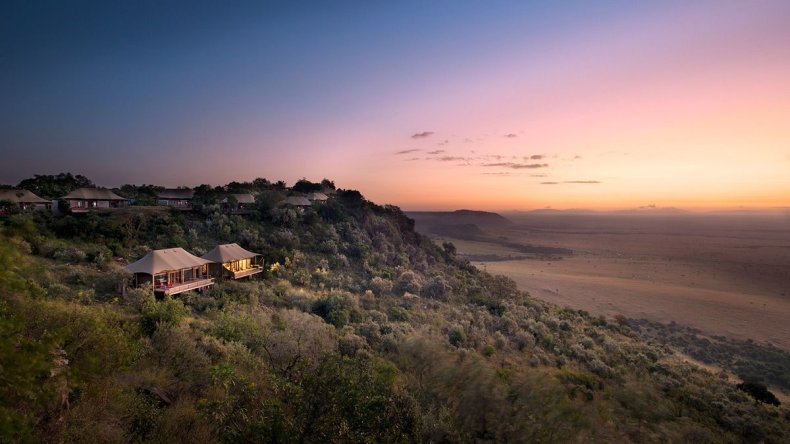 To some travelers, sustainable travel incorporates tents in a scene that mirrors the movie "Out of Africa." For travelers going to Angama Mara, that's exactly what they are getting. High above the Maasai Mara on the very site where some of the most romantic scenes from Out of Africa were filmed, Angama Mara (opened in 2015) is comprised of two separate and intimate camps, each encompassing 15 tented guest suites (30 total), placed just on the edge of the Oloololo Escarpment on one of the most sought-after parcels of land on the entire continent. The lodge has game viewing 12 months of the year in the Mara Triangle, with access to the reserve via a private track. This means you can see lions hunting and elephants hanging out at the watering hole pretty much all year long. Angama Mara's sustainability focus is on two areas- food and community by way of the Angama Foundation. Guests are allowed to pick their own ingredients in the "Shamba" (Swahili for vegetable garden) for lunch and dinner. Those ingredients are prepared and served using plastic free utensils and plates. Guests are asked to pay a $10 a night donation used to invest in community and conservations projects in the Mara Triangle. Angama partners with NGO's (non-governmental organizations) that have a track record of making a substantial impact.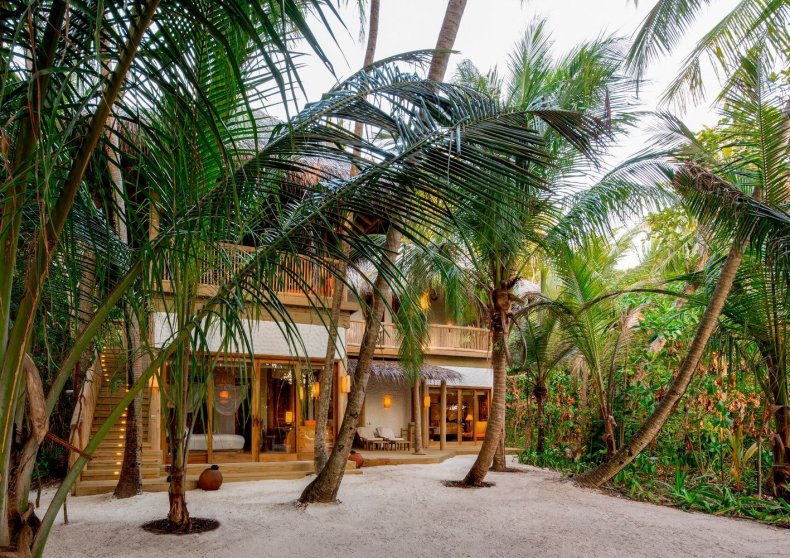 Soneva is synonymous with sustainable travel. It recently launched an eco-campaign inviting guests to "Stay for Good" to support and preserve the environment around the resorts in exchange for complimentary bonus nights at the luxury properties. Guests are invited to work alongside Soneva's marine biologists, horticulturalists, mycologists, tropical ecologists, and community engagement managers to help local sustainability initiatives. Activities include: snorkeling with Soneva's marine biologists to help with turtle identification and coral rehabilitation; participating in beach, mangrove and reef cleanups; contributing to education initiatives; and helping to maintain the vegetable gardens.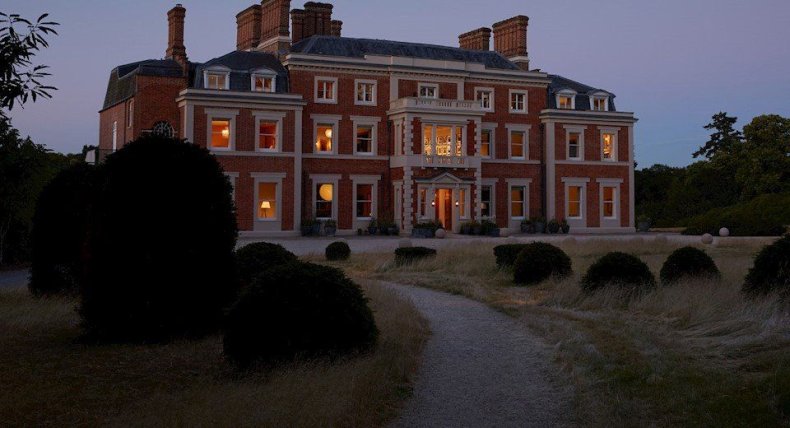 This romantic Georgian Manor estate could be the backdrop of a Jane Austen novel or a Hugh Grant rom-com. The property is located on 400 acres of lush farmland. Does eating exquisite food grown right outside your luxurious room sound awesome? Then this place is for you. The estate's farm (which follows biodynamic principles) has two walled gardens and orchards. The bounty provides the culinary foundation for renowned chef Skye Gyngell's epicurean cuisine, bringing the outside gloriously into the property's two restaurants—Marle, with its outdoor balcony overlooking the property, and the open-flamed Hearth. The farm also has dairy cattle, pigs, goats, and chickens. Aiming to be as sustainable as possible, the estate has a biomass energy center to power hotel water and central heating. An aerobic digester processes all recyclable waste and provides compost for the garden as well as pellets for the biomass energy center. It also harvests rainwater and captures spring water.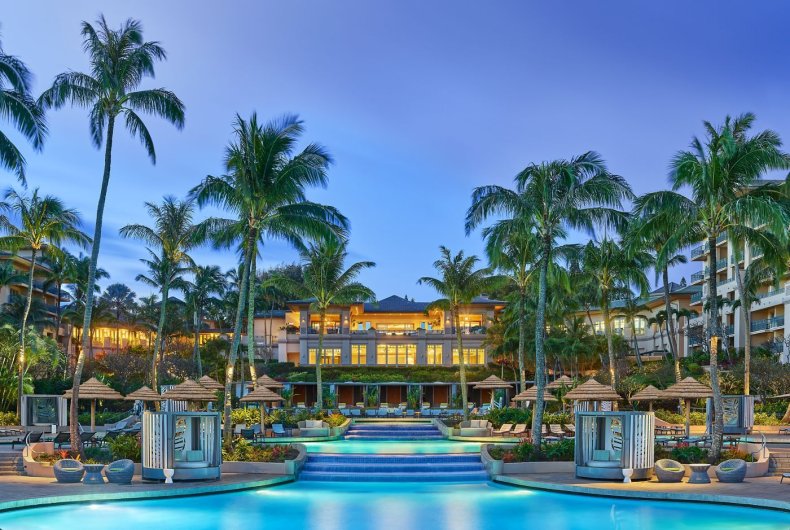 Maui's North Shore draws ecological tourists from all over the globe and for good reason: its pristine beaches, lush forests and volcanic hills is the stuff of environmentalist's dreams. In an exclusive partnership with Jean- Michel Cousteau's Ocean Future's Society, the resort launched a program called "Ambassadors of the Environment" which introduces guests to Hawaiian natural and cultural points of interest. The property is slowly eliminating the use of plastic straws and expanded polystyrene foam starting with their beachfront café, The Burger Shack. In addition, the property will be holding an Earth Day celebration by hosting a candlelight yoga session and maintaining the on-site garden with the help of volunteers.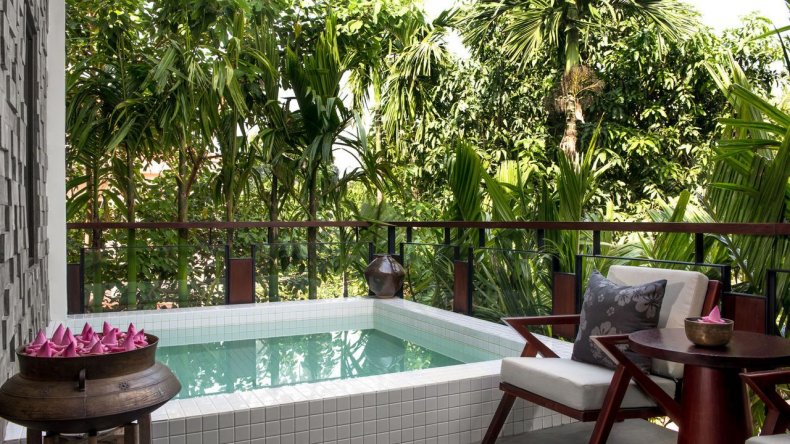 A "religious experience" is an understatement at this hotel located steps away from Ankgor Wat between the Enkosa Pagoda, the Angkor Conservation Authority and Ecole Francais Extreme Orient. Jaya House is a 36-room boutique hotel with roots in conservation. The hotel's philosophy is to give back to the community. It supports several Cambodian based NGOs which range from arts based schools to an organization supporting street families and staffs the hotel with people from surrounding communities. In addition, Jaya House River Park joined the "refill not landfill" campaign where guests are issued aluminum water bottles and asked to "refill" as opposed to using single-use plastic bottles, to cut down the extreme usage of plastic bottles in this world heritage site.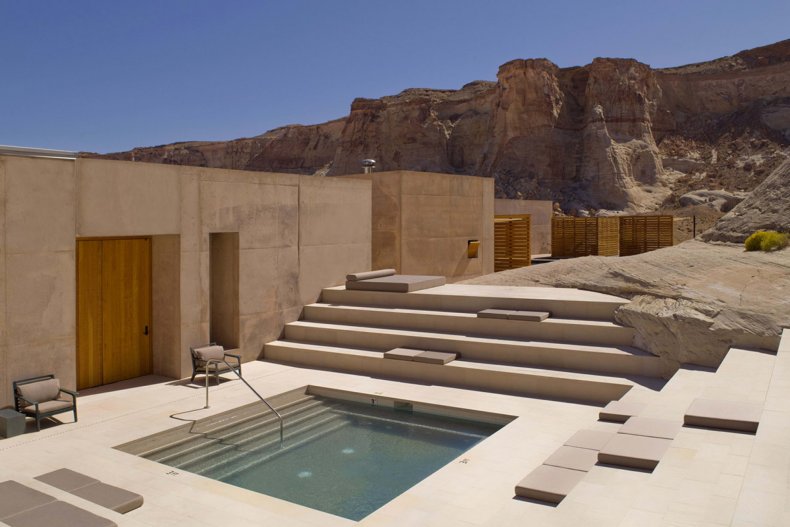 Nestled into a protected valley in the USA's Grand Circle Region, Amangiri is built to blend seamlessly into its surroundings of the Navajo Nation Reservation. With views of the Grand Staircase of Escalante National Monument, Amangiri takes the preservation of Navajo traditions and culture into account from the organic farm to table food it serves to the activities it provides. For example, yogis can be one with their surroundings by participating in a guided class on top of Tower Butte- a free-standing 1000 ft monolith near the Arizona border. Amangiri also takes conservation seriously with environmentally friendly guest room fire pits, a geothermal heating and cooling system in the villas as well as glass bottles in each of its 34 suites. And for guests who are all about "waste not, want not" there is a property-wide recycling program. The property has also eliminated the use of plastic straws and expanded polystyrene foam throughout all its food and beverage outlets.