Everything Ellen Barkin Has Said About Johnny Depp
Actress Ellen Barkin is being asked to testify on behalf of Amber Heard's legal team in the current trial with Johnny Depp, but it's not the first time she's been called as a witness to discuss Depp.
Having worked with Depp on the 1998 movie Fear and Loathing in Las Vegas and had a brief relationship with him, Barkin's testimony was also used in the 2020 trial involving Depp and News Group Newspapers Ltd, the publishers of the British tabloid The Sun. The current trial is taking place because Depp is suing Heard for $50 million in defamation damages after she wrote a 2018 op-ed stating she was the victim of domestic abuse. Heard has counter-sued for $100 million.
Barkin has spoken openly about her relationship with Depp in the past and is expected to give a video deposition in the next week. Depp is also set to be called back to testify once again.
Comments on Johnny Depp's character
Barkin and Depp are said to have been involved in a brief relationship in 1997 whilst filming Fear and Loathing in Las Vegas. Speaking about her experience with Depp, she said: "There is always an air of violence around him."
The comments are listed in the case notes for the 2020 Depp v News Group Newspapers Ltd trial, which Depp ultimately lost. "There was just this world of violence…He is a yeller. He is verbally abusive," Barkin said.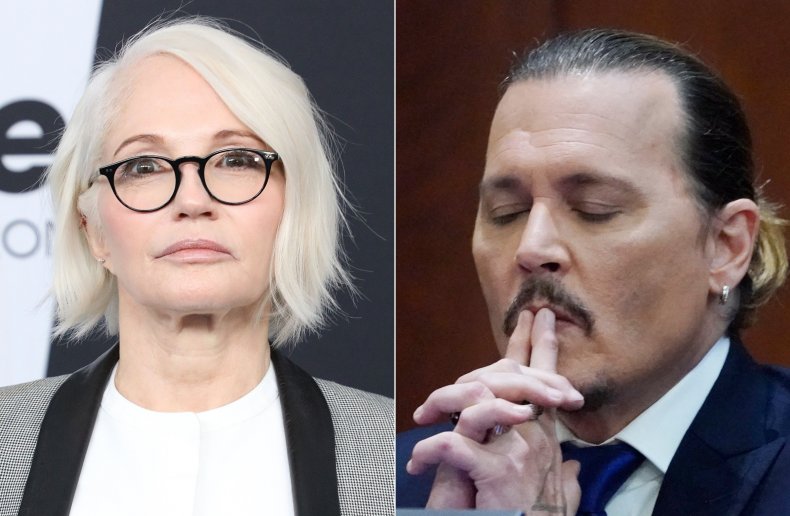 Depp was asked in court why Barkin testified against him, to which he suggested it was because she wanted more than the "sexual element" that lasted between the pair for months, on and off. "She wanted a proper relationship with me and I did not want that," Depp said. "I didn't feel the same about her as she did me and I suppose from that moment on she became very, very angry."
Wine Bottle Incident
A U.S. deposition highlighted within the 2020 trial brought up the wine bottle incident. It has been mentioned many times that during his relationship with Barkin, Depp threw a wine bottle in a hotel room.
Twitter user @mimasdiaries highlighted the key details from a transcript from the 2020 trial.
In the testimony, Barkin once again accused Depp of "a lot of yelling" before discussing the wine bottle incident. "Yes, Mr. Depp threw a wine bottle across the room, the hotel room, in one instance, in Las Vegas, while we were shooting Fear and Loathing in Las Vegas," she reportedly said.
She went on to confirm that the bottle didn't hit her or anyone else.
Barkin was also asked if Depp had ever hit her, "No, he did not," she said. Barkin also confirmed that he never kicked her or physically assaulted her in any way either.
On Twitter in February 2021, Barkin brought up Depp's name again at a time when his friend Marilyn Manson was being accused of sexual assault and abuse.
Who is Ellen Barkin?
Barkin is a 68-year-old Primetime Emmy Award winning actor who has been appearing on our screens since the 1970s. She won an Emmy for the 1997 TV movie Before Women Had Wings but is also famous for appearing in Drop Dead Gorgeous, The Fan and TV series Animal Kingdom.
She was married to actor Gabriel Byrne (The Usual Suspects) with whom she has two children. The couple wed in 1988 but separated in 1993 before finalizing their divorce in 1999. She later married businessman Ronald Perelman in 2000 but they divorced in 2006.
From 2008 to 2011 she dated filmmaker Sam Levinson, with whom there was a 31-year- age difference. Barkin had worked with Sam's father Barry Levinson in the 1982 movie Diner, three years before Sam was born.