Following a Russian missile attack on an eastern Ukraine railway station harboring about 4,000 people, officials in Lviv are asking for blood donations as victims file into hospitals.
Two Russian missiles hit the Kramatorsk depot that is used to evacuate citizens from the war zone. Pavlo Kyrylenko, head of the Donetsk regional military administration, said at least 50 people have died from the early Friday morning attack.
"Fifty people were killed, among them five children. We now have such a large number of victims as a result of a Tochka-U missile strike by Russian occupation troops on the Kramatorsk railway station," Kyrylenko said. "So far, 98 people have been hospitalized. We expect other victims to seek medical help within a day or two, so the number of victims will be constantly changing."
Kyrylenko also said that among the injured, 16 are children, 46 are women and 36 are men. Twelve of the victims died at the hospital, and 38 died at the station during the attack.
After the attack, the Lviv Regional Blood Service Center announced it is looking for donations from all blood types to stock up its bank.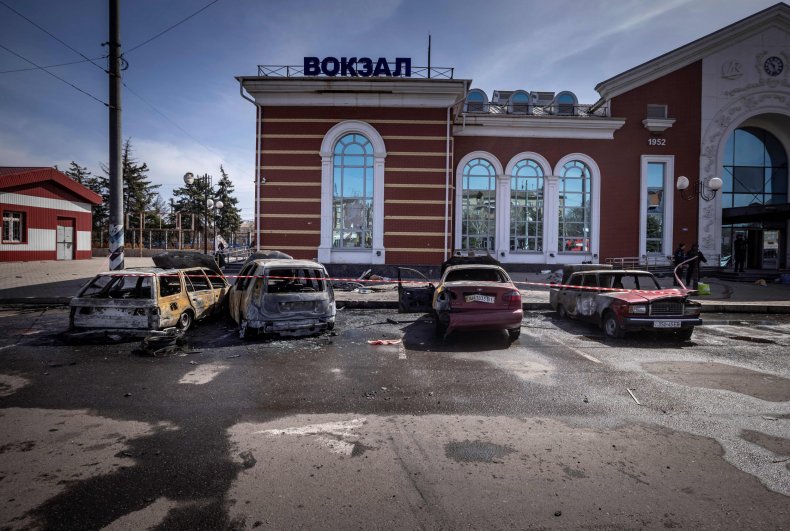 In February, the blood bank paused collections after hundreds of civilians volunteered to give blood as the number of wounded soldiers increased. The center said donated blood has a limited shelf life of up to 30 days and encouraged people to call ahead.
Since the train station attack, the center announced it needs more donors to fill the reserve.
Ukrainian President Volodymyr Zelensky denounced the missile attack, accusing Russia's military of deliberately targeting the train station and civilians. Zelensky said he expects a tough global response on Moscow.
"The missile strike on Kramatorsk should be one of the accusations voiced at the tribunal, which will definitely take place," Zelensky said in a video address. "All international forces will be aimed at identifying who gave certain orders, where the missiles were launched from, who transported them, who voiced the order, and how this strike was approved. Accountability is inevitable."
However, Russia's Foreign Ministry blamed Ukraine for the deadly train station attack.
"The Ukrainian Armed Forces (UAF) committed another war crime by striking a railway station in Kiev-controlled Kramatorsk with a Tochka-U tactical missile," Russia's Foreign Ministry said.
The World Health Organization, in partnership with the Ukrainian Ministry of Health, is accepting donations of medical supplies including ice packs, crutches and other first aid supplies. Those wanting to donate can find out more information here.
Newsweek reached out to Zelensky and the Russian Embassy for comment.