Lyft Bans Man Seen Hurling Racist Abuse at Driver in Viral Video
Lyft has permanently banned a man seen hurling racist abuse at a driver in a viral video.
The driver, David Kangogo, said the incident occurred in Issaquah, Washington, on Tuesday night.
He said he had picked up a couple at about 9.30 p.m. when, mid-ride, he noticed the man had taken off his mask. Lyft requires both drivers and riders to wear face coverings in the COVID-19 pandemic.
"So I said, 'Sir, could you kindly put your mask on,'" Kangogo, 30, told Newsweek.
"He ignored me the first time, I repeated [it] and told him he's putting me at risk and all the other passengers I pick up after him."
Kangogo said that's when the man, identified only as Joe, directed a racial slur at him.
"He said, 'Oh, shut up n*****, you don't know s***," Kangogo said. "So I just pulled over and got out of the car and told them I have canceled the ride, they can go ahead and get another driver."
Kangogo said he then started filming the video, which went viral on Twitter after it was posted by the Fifty Shades of Whey account. It has been watched more than 265,000 times.
"You're a sand n*****. That's what you are. You're a f****** sand n*****. Fuck you!" Joe says in the clip after getting out of Kangogo's vehicle wearing a face mask.
Taking off the mask, he continues: "What's a sand n*****? Do you know what a sand n***** is? 'Cause I do."
At this point, Joe's companion steps in and urges him to "stop" because she is filming.
While Joe continues to hurl profanities in the background, the woman tells Kangogo she has captured his license plate on camera. "You should never drive Lyft again," she tells him. Joe adds: "No, you will never."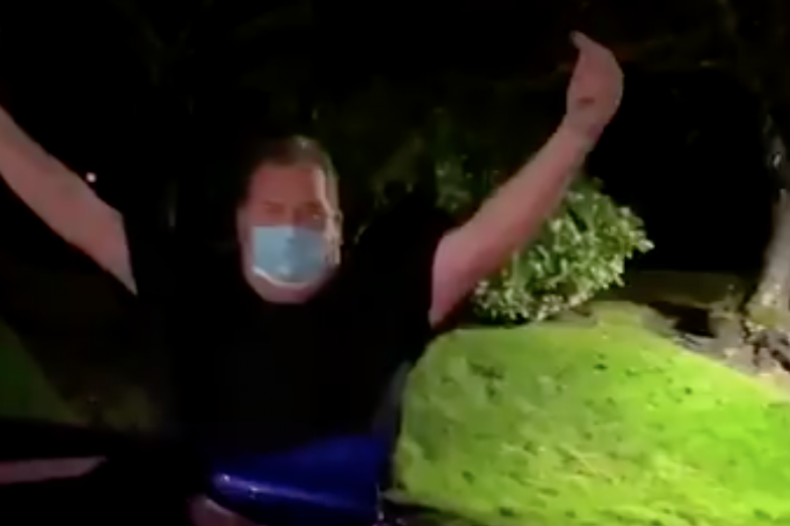 "Are you happy now?" Kangogo asks her. "No, we expected a Lyft ride home. That's what we expected," she replies.
When Kangogo tells them to "just put on your mask," Joe responds with more abuse before threatening to urinate inside the car. He then backtracks and utters the racial slur one more time.
"Thank you so much. Have a good night," Kangogo tells the couple before the clip ends.
He told Newsweek that he got into his car, called Lyft Support and went home. "I couldn't drive. I was literally shaking," he said.
Shortly after the video was posted on Twitter, Lyft tweeted a response that said the man had been banned from the ride-hailing platform.
"There is no place for discrimination of any sort in the Lyft community, and this behavior is unacceptable," Lyft said. "We have permanently removed the rider from the Lyft community and are in touch with the driver to offer our support."
Lyft has been contacted for additional comment.
Meanwhile, Kangogo has set up a GoFundMe page to raise money for school fees. "Turning racist Joe's hate into a blessing," he wrote on the page. "Due to covid lyft requests has gone really down so thank you guys."