Lyn May Shares Baby Scan, Due Date After Announcing She's Pregnant at 68
Mexican actress Lyn May has posted a baby scan, along with a due date, weeks after announcing on Instagram that she's pregnant at the age of 68.
Earlier this month, the screen star caused a stir when she stated that she was expecting a child with American singer Markos D1, who turns 30 on August 29.
And May shared an update with her Instagram followers on Wednesday, when she posted a brief clip of a baby scan, alongside an indication of a January 12, 2022 due date, captioning the post: "01/12/22 👶."
In making her initial announcement on August 8, May shared a series of photos of herself with Markos, as she wrote in Spanish: "I am very happy to announce that I am 3 months pregnant and @markosd1official is very happy that he will be a dad."
However, in an interview with Newsweek days later, California-based Markos revealed that he was left in the dark about May's purported pregnancy, as he learned of the news along with the rest of her fans on social media.
"I found out I was going to be a dad through social media," he said. "When she posted [her announcement], people started hashtagging '#MarkosD1Baby.'"
Markos, real name Marcos Hernandez, also told Newsweek that he and May could only have conceived the child during a drunken one-night stand when they spent time together earlier this summer—which was also the last time they spoke.
"We never had an actual relationship," he explained. "It was kind of curious to me, because I did go to Mexico to the Pepsi Center, to an event that we were invited to. We drank. I drank so much that I don't even know what happened that night. It was just crazy.
"And then, like I said, she never told me anything. I was just getting [messages] on my Instagram, like, 'Happy that you're gonna be a dad,' and it just went crazy."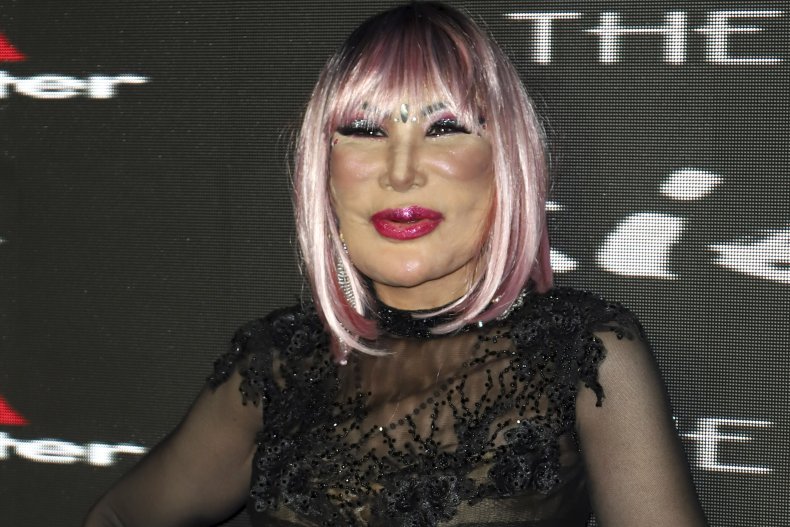 Searching for reasons as to why May wouldn't have discussed her news with him before announcing it to the world, Markos posited: "I think she probably thought it would be a surprise for me.
"Or, if she is pregnant, she maybe thought, 'It's easier through social media to tell somebody I'm pregnant.' I have no idea what went through her head."
While Markos has been unable to get in touch with May—telling Newsweek that her phone appears to have been switched off—he still regards her as a close friend, and said he wishes to support her, should her pregnancy be confirmed.
Despite reiterating his admiration for May on several occasions during his interview with Newsweek, Markos insisted that he and the actress could only ever be friends, as he also ruled out marriage.
"She's been married seven times already," he said. "I don't think she would want to get married again. And there have been so many stories about when she dug up her husband from the grave. She has a lot of history!"
Ficheras cinema star May, real name Lilia Mendiola de Chi, was previously married to Antonio Chi-Xuo from 1989 until his death in 2008. The same year Chi-Xuo died, she married Guillermo Calderon Stell.
During an interview on El Minuto Que Cambió Mi Destino (The Minute That Changed My Destiny), which was shared on YouTube in January, May confessed that she missed Chi-Xuo so much that she dug up his remains.
"Yes I dug it up, I always had it there in my bed," she said. "My mother fought with me every day, she told me, 'You are not going to let him rest.' We fought every day because I would not let go of him.
"He was my partner. I lived 25 years with him, a 25-year marriage. I didn't want to let him go, I wanted him."
She continued of her mother: "At night she would tell me, 'Daughter, let him rest, let him go." I said, 'No, I will not let him go,' until one day my mother convinced me—and he was the only one I married in the church, a great man."
Should May's purported pregnancy safely make it to full term, she would set a new Guinness World Record as the oldest woman to have given birth.
On December 29, 2006, Maria del Carmen Bousada Lara became the titleholder when she gave birth to twin boys, Christian and Pau, by cesarean section in Barcelona, Spain, when she was aged 66 years and 358 days.
Bousada, who died in 2009, conceived her children through IVF treatment in the U.S., after saying that she was 55 years old. She had previously been rejected for treatment in Spain.