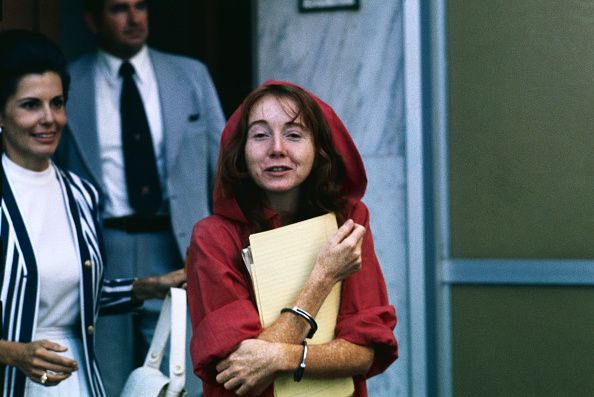 Charles Manson, the cult leader who died in prison on Sunday, has at least one devoted follower who is still roaming the world.
Lynette "Squeaky" Fromme wasn't involved in the California murders that landed Manson and a handful of his followers in prison, but she was handed a life sentence after pointing a gun at former President Gerald Ford in 1975. Throughout her years in prison, Fromme corresponded with Manson, and she was one of just a few of his followers who didn't eventually denounce him. She was released on parole in 2009 at the age of 60 after spending 34 years in jail.
"He's got more heart and spirit than anyone I've ever met," Fromme said of Manson in a 1978 interview. "He's got everything he wants coming from me, 'cause he gave me everything," she continued, calling him a "once-in-a-lifetime soul."
Fromme, a former child performer, was discovered by Manson on a California beach in the 1960s. During Manson's trial in 1971, she regularly held vigil outside of the courthouse and argued against his incarceration.
During her own trial a few years later, Fromme said that she had never meant to harm President Ford. In fact, the gun she pointed at him didn't contain any bullets. Her lawyer argued that she would have killed the president if she had intended to carry out the assassination.
"She'd been around guns. And let's be realistic: We know the Manson family, at least some of them, are killers," her lawyer told CNN.
Fromme said she was only trying to talk to the president and had planned to use the gun as a coercive mechanism.
Fromme has been described by many as bright, intelligent and even eloquent. She has reportedly been living in Marcy, New York, with her boyfriend since being released from prison eight years ago. In 2010, CBS published photos of Fromme shopping at a Walmart in Marcy, her long gray hair tied in a braid.
The pictures show her trying to punch the camera before getting into her vehicle.
Fromme escaped from jail in 1987 but was soon discovered wandering the countryside just a few miles away. Officials at the time investigated whether Fromme had escaped after hearing that Manson had taken ill.
Five other Manson followers are serving out death sentences commuted to life imprisonment for their roles in the 1970 murders.