Top HUD Official Promotes Clinton Conspiracy Theory in Wake of Epstein's Apparent Suicide
A top official at President Donald Trump's Department of Housing and Urban Development (HUD) reacted to the news of Jeffrey Epstein's apparent suicide on Saturday by suggesting that Epstein, a multi-millionaire financier who may have been able to attest to the involvement of other individuals in the sex-trafficking conspiracy with which he was charged, was murdered by Hillary Clinton.
Lynne Patton, the highest-ranking official at HUD's Region II bureau, which covers New York and New Jersey, alleged on her Instagram account Saturday that Epstein had been "Hillary'd," an apparent reference to one of several conspiracy theories surrounding the Clintons that purport to implicate the couple in the premature deaths of a number of people in their orbit.
The conspiracy theories are completely unfounded and have dogged the Clintons since Bill Clinton emerged to political prominence in Arkansas. They are often resurfaced by fringe right-wing commentators and trolls whenever the death of a notable political figure occurs.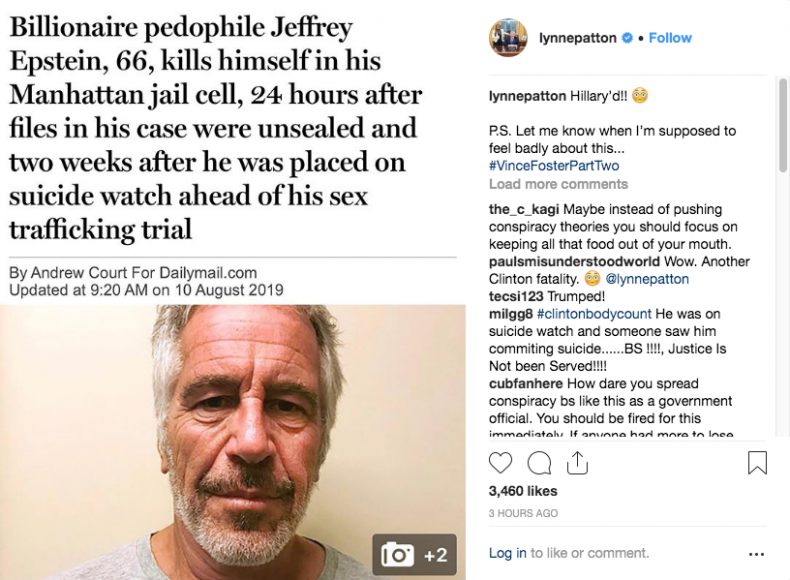 Patton leveraged her considerable social media platform on Saturday to reinvigorate these debunked tropes.
"P.S. Let me know when I'm supposed to feel badly about this," she wrote, adding the hashtag, #VinceFosterPartTwo, a reference to a Bill Clinton White House lawyer who took his own life in 1993.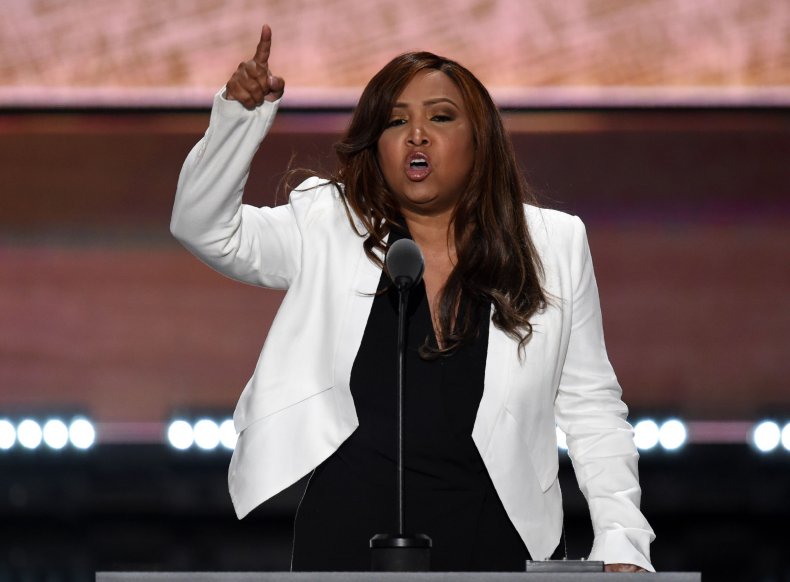 Almost immediately after news of Epstein's apparent suicide broke, many conspiracy theories began to swarm social media. The hashtag #ClintonBodyCount and phrase "Another Clinton" started to trend on Twitter.
While MSNBC host Joe Scarborough didn't point blame to the Clintons, he did advance another unfounded conspiracy gaining currency on the left, that Epstein's suicide was a staged Russia-style jailhouse murder.
According to Media Matters for America researcher Alex Kaplan, some of the biggest amplifiers of the Clinton disinformation on social media in the wake of Epstein's death originated from QAnon-promoting accounts and an Infowars host.
Patton is a controversial Trump associate who had no apparent housing experience before she was appointed to lead one of the largest regions that HUD oversees in 2017.
She first began working for Eric Trump in 2009 and eventually planned his wedding to Lara Yunaska in 2014.
Recently, she obtained permission from the White House to participate in a reality television show that's currently in development about black Republicans, all while serving as the administrator of a region that oversees grants to more than 800,000 vulnerable households and provides homeless services to more than 80,000 people.
Patton told CNN that HUD lawyers cleared her involvement in the television program as long as she does not participate on government time. She also said the Trump family signed off on the endeavor.
"Look, they know I tend to put my foot in my mouth. They were a little concerned that maybe with some alcohol I might be a little too freewheeling on a show like this," Patton said. "I think that's what everybody hopes for on a docuseries or reality show. But they were very supportive."
The White House and multiple HUD spokespeople did not return a request for comment. Patton did not reply to several questions e-mailed to her individually.