An Afghan man accused of stabbing nine people in Lyon, France, over the weekend reportedly "heard the voice of God telling him to kill," according to French police.
The attack, which took place at a bus stop the suburb of Villeurbanne Saturday, left one person dead and others seeking medical treatment.
The suspect, who reportedly was seeking asylum in France, brandished a knife and a meat skewer. Investigators believe he has psychological problems and smoked large amounts of cannabis before stabbing a 19-year-old man to death and injuring eight others outside Laurent Bonnevay metro station.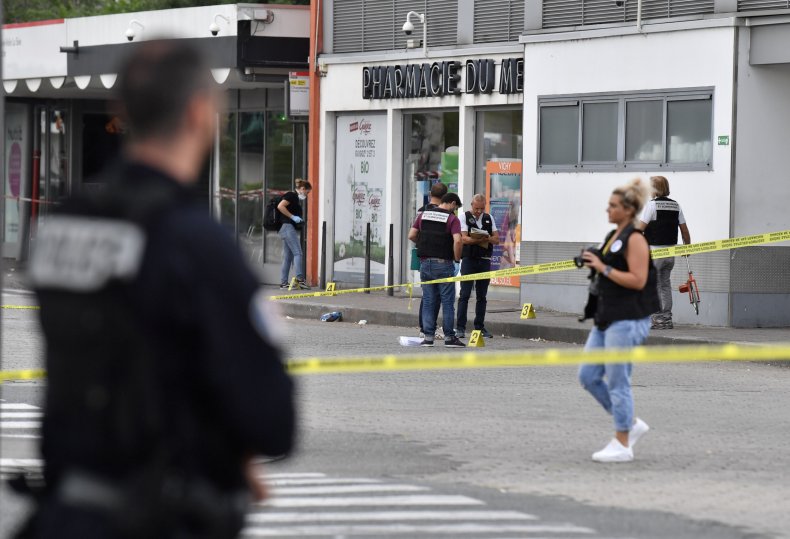 "I sensed that something was not right and when I got to the lift I saw that some people had stopped someone," one witness told Euronews. "I thought it was a robbery at first. Someone else, I'm not sure if it was a security guard, said to me: 'Get away from here.' I saw a man with some blood on his t-shirt."
The man, who attempted to escape through the subway, was held by passersby until police arrives.
"I saw some people in front of the lift who shouted at a man 'Stay there!' and 'Don't move!'" the witness added. "There were maybe three men who had stopped him, it wasn't police."
The identity of the man, who is Muslim, has not been disclosed, but prosecutors say he's used at least two aliases and three different birth dates, making him 33, 31 or 27. He has no previous criminal record and holds a temporary residence permit that's valid until January 31, 2020.
According to prosecutors, the suspect claims to only remember the beginning of the attack, insisting he recognized his first victim, "an individual with whom he had been in dispute since his time in England a few years ago."
Prosecutor Nicolas Jacquet reports the man claimed to have "acted out of revenge" but gave answers that "were incoherent and confused." After a court psychiatrist diagnosed him as being in a psychotic state with paranoid delusions, he was charged with murder and attempted murder.
Jacquet told reporters the case was not being treated as a terrorist incident. In addition, reports of an accomplice were dismissed by both police and prosecutors.
Lyon Mayor Gérard Collomb said he targeted "people waiting for their buses in a high-traffic area" but asked residents not to speculate about the nature of the attack.
It's the second violent mass attack in Lyon this year, following an explosion in May that injured 13 people. According to Agence France-Presse, a package containing "screws or bolts" detonated in front of a bakery near Rue Victor Hugo.
A suspect, Mohamed Hichem Medjoub, was arrested three days later and admitted to carrying out the bombing, telling authorities he had pledged allegiance to the Islamic State. Medjoub was charged with attempted murder, criminal terrorist conspiracy and manufacturing and possessing and carrying an explosive device in relation with a terrorist undertaking.
Medjoub, a 24-year-old Algerian student, reportedly arrived in France on a tourist visa in August 2017 and was unknown to authorities before the attack.
In March, a prisoner and a visitor stabbed two guards at a high-security jail in Conde-sur-Sarthe in northern France, in what authorities called a terrorist attack. Michael Chiolo was serving a 30-year sentence for armed robbery, kidnapping and murder, when he and his unnamed female accomplice attacked guards.
Chiolo reportedly shouted "Allahu akbar" ("God is Greatest") during the attack. He was injured by police, while his companion was fatally shot.
"[He] said he wanted to avenge Cherif Chekatt," anti-terrorism prosecutor Remy Heitz told Reuters. "[Chiolo] said he was wearing an explosive belt and threatened to use it." The belt turned out to be fake.
Cherif Chekatt was killed by police in December 2018 after allegedly murdering three and wounding many others in a terrorism attack at at a Christmas market in Strasbourg.
France has faced an uptick in terror attack since 2015, when suicide bombers set off explosions outside Stade de France in Saint-Denis in coordination with a mass shooting at the Bataclan theater in Paris.
That same year, gunmen entered the offices of Charlie Hebdo magazine and killed 12 staffers.