Where to Buy Lysol Disinfectant Spray Approved by EPA to Kill Coronavirus
The Environmental Protection Agency (EPA) has found Lysol Disinfectant Spray and Lysol Disinfectant Max Cover Mist to be effective against the coronavirus. The Lysol products have now been authorized by the EPA to claim that they can kill SARS-CoV-2, the virus that causes COVID-19.
"EPA is committed to identifying new tools and providing accurate and up-to-date information to help the American public protect themselves and their families from the novel coronavirus," said EPA Administrator Andrew Wheeler in a statement.
"EPA's review of products tested against this virus marks an important milestone in President Trump's all of government approach to fighting the spread of COVID-19."
The Lysol Disinfectant Spray and Lysol Disinfectant Max Cover Mist are the first products to be approved by EPA and added to List N, which is the list of products found to be effective against the novel coronavirus in a laboratory setting.
According to Lysol, the disinfectant spray kills 99.9 percent of fungi, viruses, and bacteria, kills cold and flu viruses, disinfects hundreds of surfaces in your home, sanitizes soft surfaces, prevents mold and mildew from growing for up to a week, and eliminates odors at the source.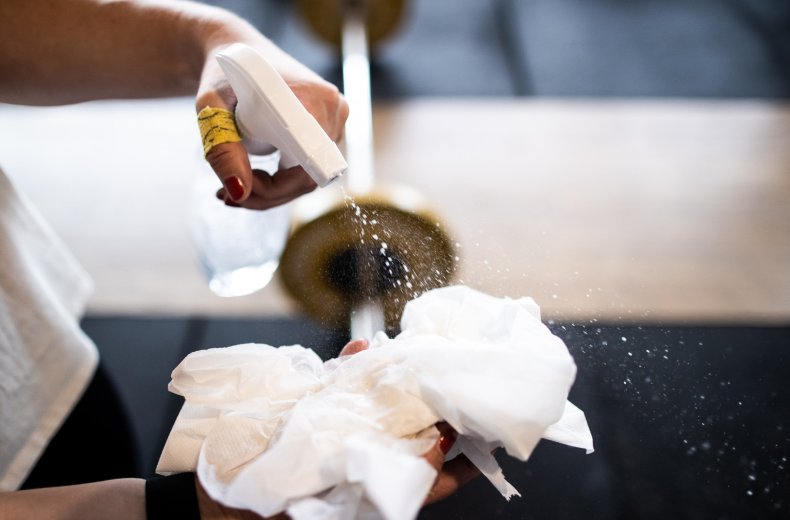 Where to buy Lysol Disinfectant Spray?
Target
Walmart
Kmart
Sears
Walgreens
Dollar General
Target
Target is selling the Lysol Disinfectant Spray 19 fl oz bottle in both Crisp Linen and Early Morning Breeze for $5.99 each. The Lysol Disinfectant Max Cover Mist can also be found at Target— the Lavender Fields 15 fl oz bottle is selling for $5.79.
Walmart
Many Lysol products are currently sold out at Walmart online, but the Professional Lysol Disinfectant Spray, Original Scent, 19 fl oz, and Lysol Disinfectant Spray, Brand New Day, Green Apple and Aloe, 19 fl oz are available instore at Walmart.
Kmart
Kmart sells the Lysol Disinfectant Spray in Spring Waterfall and Crisp Linen 12.5 fl oz for $5.99, and the Lysol Disinfectant Spray in Lemon Breeze and Early Morning Breeze 19 fl oz for $7.79.
Sears
Sears is selling the Lysol Disinfectant Spray in various scents with prices ranging from $4.49 to $5.29.
Walgreens
While it has sold out online, Walgreens has Lysol Disinfectant Spray in stock instore, with various scents available instore, with prices ranging from $6.99 to $8.99.
Dollar General
Dollar General is selling Lysol Disinfectant Spray instore, including Lemon Breeze and Crisp Linen, with prices ranging from $4.85 to $5.85.
CDC Advice for Using Disinfectant
The Centers for Disease Control and Prevention (CDC) recommends using an EPA approved disinfectant and has issued advice for using disinfectant spray safely and effectively:
Wear skin protection and consider eye protection for potential splash hazards
Ensure adequate ventilation
Use no more than the amount recommended on the label
Use water at room temperature for dilution (unless stated otherwise on the label)
Avoid mixing chemical products
Label diluted cleaning solutions
Store and use chemicals out of the reach of children and pets
You should never eat, drink, breathe, or inject these products into your body or apply directly to your skin as they can cause serious harm.
Do not wipe or bathe pets with these products or any other products that are not approved for animal use.
The EPA said in a statement: "All products on EPA's List N meet the agency's criteria for effectiveness against SARS-CoV-2. When using an EPA-registered disinfectant, follow the label directions for safe, effective use.
"Make sure to follow the contact time, which is the amount of time the surface should be visibly wet."
Newsweek has affiliate partnerships. If you make a purchase using our links, we may earn a share of the sale.