Chadwick Boseman Leaves a Lasting Final Impression in 'Ma Rainey's Black Bottom'
The sun is shining when Chadwick Boseman makes his entrance in the Netflix film Ma Rainey's Black Bottom. He appears on a corner in Chicago, cigarette in hand with all the jovial hope of a youthful musician smattered across his face. Flirtatious smiles for the pretty girls who pass by, as Levee the cornet player, Boseman is undeniably charming from the very start of the movie without having uttered a word. When he does finally speak though, his charisma is unmatched.
Releasing on Netflix on Friday, Ma Rainey's Black Bottom—an adaptation of the August Wilson play and directed by George C. Wolfe—is the story of rising tension among the members of the legendary blues singer Ma Rainey's band during a recording session on a blazing hot day in the 1920s. Viola Davis stars as the Mother of Blues while Boseman serves as her cornet player who's starry-eyed jazz ambitions lead to more misfortune than luck. Davis delivers a compelling performance and is very clearly the leader of this troupe, commanding fear and respect from all who cross Ma's path. But Boseman, like his character, is the standout.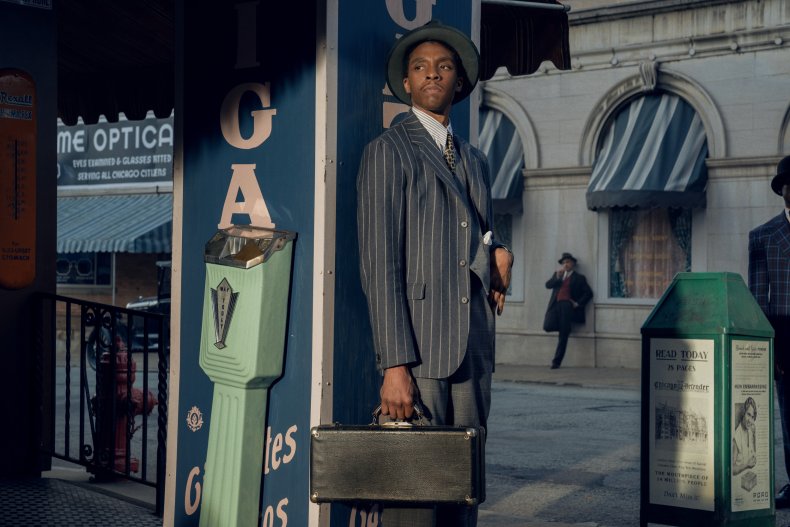 Boseman's work in the film is already generating Oscar buzz, and critics have deemed the performance as perhaps "his best and most spiritual gift to cinema." It's deserving praise considering the way Boseman portrays the complete unraveling of Levee with such conviction. When he tells Cutler (Coleman Domingo) that he's not like the rest of his bandmates, you believe him. "I got talent," he says. And he does.
One particularly moving monologue comes when the horn player wails against God and suggests that the Almighty has turned his back on Black people. "God ain't never listen to no n***a's prayers," Levee so passionately proclaims.
It's a heart-pounding scene that draws a visceral reaction from Levee's bandmates as they watch a flood of emotions pour out of Boseman's character. He appears as a man unhinged, pissed off, hurt, tired and, most of all, honest. Watching the film now, just four months after Boseman's death from cancer, one can't help but wonder if he too was in a fight with God while filming the movie and knowing an end was ultimately near.
In an interview with NBC released on Wednesday, Michael Potts, who plays Ma Rainey's bassist Slow Drag, recalled watching Boseman deliver the chilling speech. "It's like everything came to a stop," Potts said.
"Something very spiritual happened in that moment. It was something you could not look away from.… It was an extraordinary moment. It was a terrifying moment as well," he continued.
It's a powerful final performance Boseman gives in Ma Rainey's Black Bottom, and it's a memorable one that will likely land him on best actor lists far and wide.
Ma Rainey's Black Bottom debuted on Netflix on December 18.