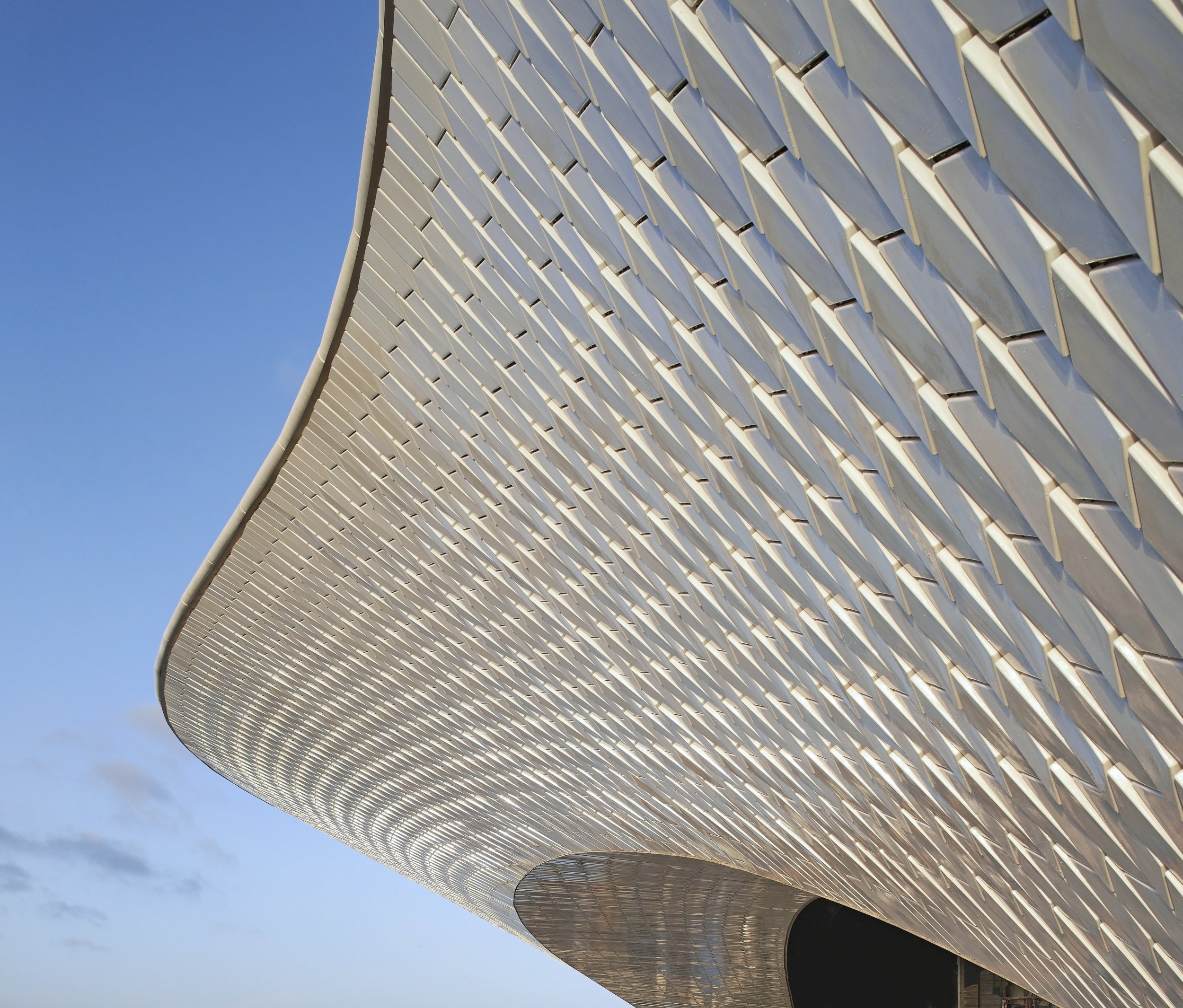 "It's the light," says Amanda Levete, "that incredible southern light." Curled up barefoot on a sofa in her studio on a gray North London morning, the architect of the beautiful new Museum of Art, Architecture and Technology (MAAT) in Lisbon, Portugal, seems about to burst into song.
Levete and her team at AL_A have done more than seen the light; they've captured it. The same southern sun that flamed along the River Tagus in the 16th century—when the spoils of its seafaring explorers allowed Portugal's capital to build some of Europe's most opulent architecture—now turns the undulating, low-lying structure of MAAT an impassioned gold. Sparkling off the Tagus and reflected from the building's brows, the light dances across floors and ceilings, galleries and café, its patterns changing throughout the day. The museum opens its doors for the first time on October 5—it's so new it has barely had time to draw breath. But already it feels as if it belongs to the river, and to the city.
Unusually for a building of this stature, there was no competition to find the right architect. MAAT was commissioned by EDP, the Portuguese energy company and owner of the science-oriented Electricity Museum, housed in a huge, disused power station on the river at Belém, just to the west of the city center. Wishing to extend the reach of its cultural foundation, EDP came up with the idea of a kunsthalle—an art space for temporary exhibitions and explorations into the interconnected worlds of art, architecture and technology—with a remit to be as global in reach as the voyages of Vasco da Gama centuries earlier. Antonio Mexia, its CEO, was impressed by the plans for a new gallery and ceramic-tiled courtyard that Levete's studio was working on at London's Victoria and Albert Museum (V&A).
"The invitation to design MAAT came out of the blue," Levete says. "There was no competition. For us, it seemed amazing that a public utility company should want to push the barriers of art and architecture. What has been particularly special is that EDP didn't want a flamboyant 'iconic' design. The project has been all about reviving and reshaping the Tagus riverfront and reconnecting it to the old city. For decades, a busy dual carriageway and railway line have divided river and city. So we've linked MAAT and the power station to the historic streets of Belém with a bridge that curves over the road and tracks, bringing visitors to the museum campus."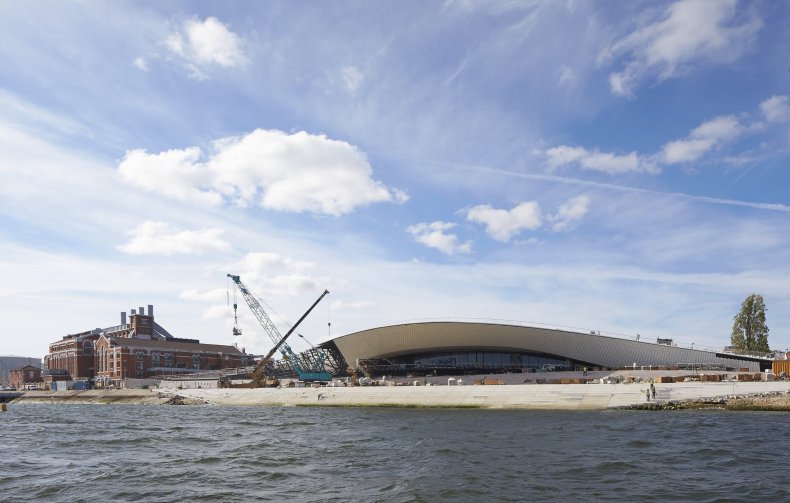 The emphasis on the building's practical potential to connect, and the resistance to gesture for gesture's sake, is typical of Levete's work. She was born in Wales in 1955 and went to art school in London, before training at the Architectural Association's school. An early job was with the leading British architect Richard Rogers, and she had her own partnership by the time she was 30. But it was after 1989, when she joined Future Systems, a London practice bursting with ideas for what new architecture might be, that her career really began to burgeon.
Future Systems was founded by the late Jan Kaplicky, a Czech neo-futurist architect almost 20 years older than Levete. Together—professionally and personally—Levete and Kaplicky would realize two remarkable buildings that drew attention from around the world. The first was the media center at Lord's Cricket Ground in London, completed in 1999 and winner of that year's Stirling Prize, one of Europe's most prestigious architecture awards. A gleaming white pod made of aluminum, built in a Welsh boatyard and raised up on a pedestal, it gave journalists a panoramic view of the game below. They adored it.
The second building was launched in 2003: a new Selfridges in Birmingham, central England, that was quite unlike any existing department store. Willfully curved, its entire surface plated with 15,000 large, light-catching silver discs and with windows at one end that made a kind of face, it looked like an alien that had just landed from Planet Fashion. Space age without being cartoonish, both buildings were proof of lateral thinking and the ability, especially on Levete's part, to realize highly imaginative designs that managed to be both practical and efficient.
Kaplicky and Levete split up in 2006 and, professionally, went their separate ways two years later; by 2009, Levete had founded AL_A. She has remained as inventive as ever, while nurturing an altogether more collaborative way of working. When she begins the design process for a new building, she says, her team begins "not with a concrete proposal, nor even a sketch, but with a conversation, so that designs emerge free from preconceptions." The result is an architecture that, though less sci-fi than her Future Systems days, is as graceful as it is original.
The V&A project is a case in point. Its 1,100-square-meter underground gallery, set to open next year, will be completely free of columns, a major feat of urban engineering. The courtyard, acting as the building's new main entrance, will be tiled with porcelain, a first for a public space in the U.K. and a nod to the museum's globally important collection of ceramics. Winning the competition was the making of AL_A: Today the studio employs a staff of 60 and is busy on projects around the world.
"We're dedicated not just to research—looking to the future—but to craft too," Levete says. "With MAAT, for example, we've been able to design a new form of tile for the skin of the building. It's taken time to do this. It's a freedom you'd rarely get with the design of, say, commercial office blocks. At the V&A, we were able to research the porcelain tiles for the courtyard for more than two and a half years. That's a luxury in contemporary architectural terms, when the pressure is on to build as fast as possible at the lowest possible cost. Public institutions, like museums, might move slowly compared to commercial clients, but they allow time to think, to resolve and refine new ideas."
So what ideas will visitors find in Lisbon? When they arrive at the museum, they won't be faced by a traditional grand entrance—or even much in the way of conventional roofs and walls. Instead, the structure swells out of—or flows down to—the ground. By the side of the Tagus, long, broad steps slide down into the water, more of them revealing themselves at low tide. The museum has been designed so people can walk, or sit, before, behind, between, above and below it, its steel structure sheathed in a skin of seamless tiles (a modern take on a Portuguese tradition) designed to make the most of that Portuguese sunlight.
"We like to think of MAAT as more of a place than a building," says Levete, referring to herself and her fellow AL_A directors, Ho-Yin Ng, Alice Dietsch and Maximiliano Arrocet. "It does have presence, but it's not bombastic. It's a place to meet, to congregate, to encounter new ideas." Rather than being routed through a sequence of formal rooms, visitors will be able to roam freely through a flow of three major galleries under the museum's great roof, one of them oval, the others curved. The entire building is effectively one seamless flow of external and interior spaces.
Levete agrees, noting, "It's as much topography as it's architecture." Outside, the flow continues. "Visitors can walk right across the roof, and this will be used for screening films in summer against the backdrop of the city." Inside there is a shop, as well as a riverside café whose floor rises from front to back, so that even those sitting farthest from its windows will have just as commanding a view of the river as they enjoy a coffee and custard tart, the local pastéis de Belém .
Back at the V&A, Martin Roth, its German director, announced recently that he is to stand down and return home. Publicly, he has said the decision has been a matter of Brexit, an unpalatable matter for a liberal-minded German born in the mid-1950s. With current projects including a remodeling of the venerable Galeries Lafayette department store in Paris and a mosque for the World Trade Center in the United Arab Emirates's Abu Dhabi, AL_A is an international studio, so what will Brexit mean for Levete? This is the moment when she turns sphinx: smiling, eyebrow raised, but silent. Whatever they might think personally, architects need to be pragmatists to win commissions.
And in any case, they have worked across borders, traveling and exchanging ideas, since the days of the Roman Empire. Architecture thrives when cultures mingle. Seen through that lens, what sparkles from this, one of Europe's most lyrical new museums, is the light of imagination.
The Museum of Art, Architecture and Technology in Lisbon, Portugal, opens to the public October 5. Visit www.maat.pt for more information.