Ariana Grande Was Dedicated to Helping Mac Miller Get Sober, Friend Says
A friend of Mac Miller said the rapper's ex-girlfriend, Ariana Grande, encouraged him to get sober. Grande received hate messages after Miller's Friday death, an apparent overdose, with some blaming her.
Shane Powers, a friend of Miller's and host of "The Shane Show" podcast, told his listeners Grande was a positive factor in his sobriety, TMZ reported Tuesday.
"They were very much in love. She was incredible when he was first sobering up," he said. "She was a f****** G to him. There could not have been anybody more supportive of him being sober than Ariana."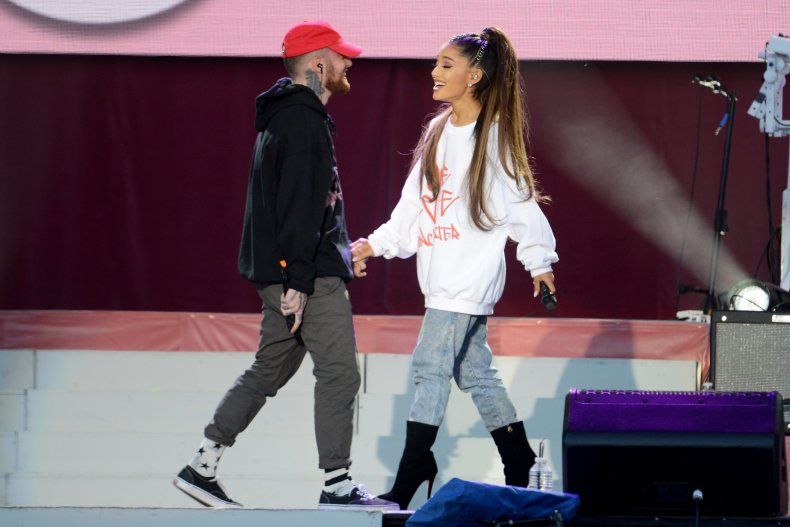 Powers alleged Grande called him and asked how she could be effective in supporting Miller. "I saw that. I was around it. I took phone calls from her…'How do I help, what do I do.' This little girl was unbelievably involved and helpful to him being healthy."
Powers didn't label Miller an addict but noted his lifestyle was not healthy and Grande was a force in fighting for him to get well. "Whether he's an addict or not, the way Mac partied was not healthy. But I've gotta tell you, man, there was no one in his life more ready to go to the wall for him when it came to him being sober," he said. "She was an unbelievably stabilizing force in his life and she was deeply helpful and effective in keeping him sober and helping him get sober. She was all about him being healthy."
Grande has not released a statement on Miller's death, though she did post a black and white photo of him on her Instagram. The photo shows a pair of white sneakers in front of Miller, which are assumed to be on Grande's feet. There was no caption with the photo. Grande and Miller broke up in May after two years of dating. The singer is now engaged to Saturday Night Live cast member Pete Davidson, who proposed in June.
Some Twitter and Instagram users blamed Grande's quick engagement for the apparent overdose.
Others, however, defended the Sweetener singer.