MacArthur Foundation Announces New Class of 'Genius' Fellows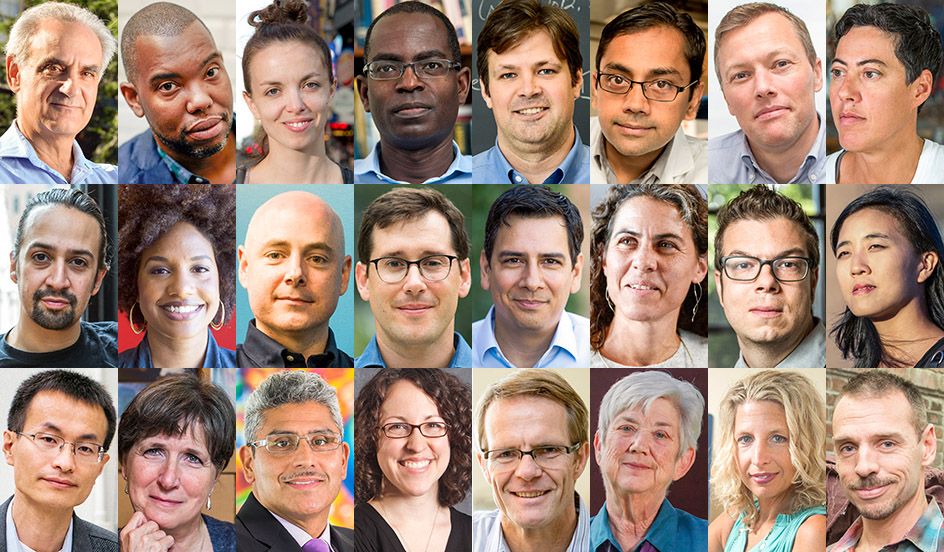 What makes a genius? For the MacArthur Foundation, there are three fundamental components that go into selecting recipients for its fellowships, also known as genius grants: "exceptional creativity, promise for important future advances based on a track record of significant accomplishment and potential for the fellowship to facilitate subsequent creative work."
The foundation announced this year's recipients of the prestigious award—its "Class of 2015." The list of two dozen fellows includes writers, entrepreneurs, engineers, social scientists, artists, scientists and more. They range in age from 33 to 72, and while most are based in the United States, Canada and Ghana are also represented.
"These 24 delightfully diverse MacArthur Fellows are shedding light and making progress on critical issues, pushing the boundaries of their fields, and improving our world in imaginative, unexpected ways," MacArthur President Julia Stasch said in a statement. "Their work, their commitment and their creativity inspire us all."
The grant is a "no strings attached" award of $625,000 (paid in installments over five years) that is given directly to individuals rather than to support specific projects or institutions. In other words, recipients are not expected to produce specific work and are not evaluated by the foundation during the grant period. Instead, the award is "an investment in a person's originality, insight and potential," the foundation writes on its website. "The purpose of the MacArthur Fellows Program is to enable recipients to exercise their own creative instincts for the benefit of human society."
A video the foundation published in 2011 gives an overview of the MacArthur Fellows Program (the award amount cited at the time was $500,000) and features past fellows discussing what the grant meant to them. "I think they're saying to me, you know, 'You've done all this work. Well done. Here's an award. Now do more, do better,'" says Matthew Carter, a type designer and 2010 fellow who was 72 at the time of the award. "It's very nice at my age to be told by someone that we expect more from you."
Carol Padden, a sign language linguist and 2010 fellow, says: "This award will help me do the kind of work that I have dreamed about doing, but have not yet begun."
"Receiving a MacArthur Fellowship is like receiving a phone call from the Greek gods," says Shannon Dawdy, an anthropologist and 2010 grantee. "It's going to be a challenge grant for the rest of my life, by which I mean I am going to be challenged to live up to it."
The full list of Class of 2015 fellows (each link includes more information and a video about the recipient):