The MacArthur Genius Who Won't Sell Out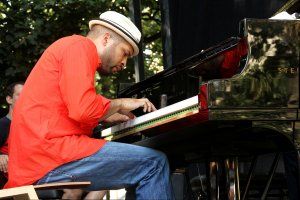 Jason Moran is wise in a couple of ways. There's the brilliant-musician thing, what with his being equally adept at interpreting Thelonious Monk and Afrika Bambaataa. But then he also knows that Americans don't listen to much jazz piano today—never mind Bambaataa's early hip-hop. So Moran realizes his being named a MacArthur grant "genius" isn't necessarily going to make you sit up and pay attention to him if you hadn't already. He likens the problem of jazz to that of the three-star restaurant wanting to expand its client base. "But only a certain type of person goes there," he says. "Affluent, apparently, with a wide palate, and someone who wants to experiment with 'What is food? What can food be?' So then they wind up serving the same person over and over again."
That doesn't trouble Moran just for jazz's sake; part of him is asking whether he himself has been compromised. The final, hidden track on his excellent new record, Ten, is, pointedly, a vaudeville number made popular by Bert Williams, an African-American entertainer from the turn of the 20th century who performed in blackface. "As far as America and the global culture has come, there are some things that always reduce you to a minstrel, like being asked to come play for money," Moran says. "Or like being shown in through the back entrance of a theater. Some artists don't think about it, but it's a part of my psyche that I'm trying to deal with." So how does getting $500,000 from the MacArthur crowd play into that frame of mind? For now, Moran believes this is a less troublesome kind of transaction, since the grant comes with no strings attached. "But I could be very naive," he says. "Check back with me in a couple years and see whether it's f--ked up my minstrelsy."
The smart money says he won't turn into a sellout. The projects Moran is thinking about next (in various stages of completion) are of a piece with the work that won him the MacArthur. To begin, he's taking an existing song cycle about the quilts of Gee's Bend, Ala., directly to the place that inspired him. "I want something really low tech: just setting up some amps and a piano and some microphones, and playing next to this house where they sell their quilts. I don't get a chance to do that very often." Moran says he'd like to pair up with one of his favorite contemporary MCs (a list that includes Ghostface Killah and Jay Electronica), though not in a situation where he's given a beat and merely asked to solo over it. Like his onetime teacher Jaki Byard—the pianist in some of Charles Mingus's greatest bands—Moran wants to dip into other forms, but not to the point where he's compromising his essential jazz feeling. That balance is in evidence on Ten, especially on a Jimi Hendrix–sampling piece called "Feedback, Pt. 2." Showing off DJ-style smarts about how to develop sound fragments into a full theme, the beats Moran and his bandmates push in front of Hendrix's feedback are never mashup-by-rote; each moment is alive with improvisation. Like its maker, this pop-wise jazz essay is several kinds of smart—an achievement even a half-million dollars will have a tough time changing.