Macaulay Culkin Turned Down 'Big Bang Theory' Role: 'I'd Have Hundreds of Millions of Dollars Right Now'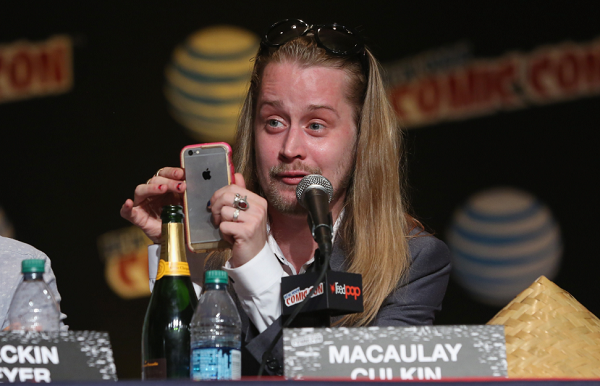 Macaulay Culkin would be a lot richer had he not turned down an offer to star in the hit CBS series, The Big Bang Theory.
The actor opened up on his decision not to join the cast of the show when it was early in development. "They pursued me for The Big Bang Theory and I said, 'Noooo,'" Culkin said on the Joe Rogan Experience podcast on Wednesday."
Culkin said he wasn't sold on the pitch when he was originally presented with the opportunity to star on the show. Not to mention, the idea of working on a TV show gave him a headache. "The way the pitch was, 'Alright, these two astrophysicist nerds and a pretty girl lives with them. Yoinks!' That was the pitch," he said. "And I was like, 'Yea, I'm cool. Thanks."
Despite initially passing on the show, Culkin said producers reached out to him two more times regarding the role. He continued to turn them down even to the dismay of his manager who he said was twisting his arm about the series.
Culkin didn't specify which role he was being vetted for.
The Big Bang Theory went on to premiere on CBS in September 2007 with Jim Parsons and Johnny Galecki staring as the two "nerds" and Kaley Cuoco playing the role of the "pretty girl." An instant hit with fans, the series became one of the most-watched sitcoms on the CBS network and won dozens of awards. Season 12 of the show is set to premiere on September 24.
Culkin, who is 37, noted that he had missed out on a lot of money by passing up the role but said he was very comfortable living a "life of leisure" with properties in the U.S. and overseas. "I'd have hundreds of millions of dollars right now if I did that gig," he said, adding, "At the same time, I'd be bashing my head against the wall."
The lead actors on The Big Bang Theory are slated to rake in $900,000 per episode for the 12th and 13th seasons, making them some of the highest paid actors on television, according to Variety.
Cuoco came in second on Forbes 2017 list of Highest-Paid TV Actresses of 2017, earning $26 million between June 2016 and June 2017.
Parsons was the number one highest earner on Forbes 2017 list of Highest-Paid TV Actors, bringing in 25.7 million within the same time frame. Galecki landed the number two spot on the list, with $26.5 million.