Macaulay Culkin Explains Why the First 'Home Alone' Was Better: 'It Had 100 Percent Less Trump'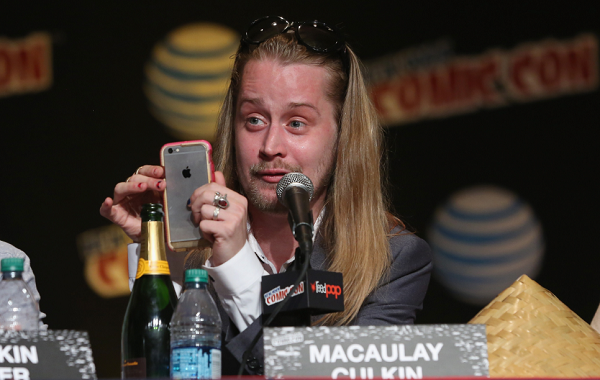 How to choose between Home Alone and Home Alone 2? Both films, starring Macaulay Culkin as the mischievous Kevin McCallister, are family classics. Since debuting in the early 90s, a holiday season hasn't gone by without one or both movies on heavy TV rotation.
But Culkin has no problem picking his favorite of the two. During a Reddit AMA (Ask Me Anything) promoting his new podcast, Bunny Ears, on Monday, the actor revealed why he preferred the original. "The first was more fun because we didn't know what we were walking into and it was a lot less flying all over the place—it was all in Chicago," Culkin explained.
But there was a bigger reason for the preference: "Also it had 100 percent less Trump."
Long before Donald Trump became president (even before he was a reality TV star), the larger-than-life real estate mogul would make off-the-wall appearances on TV shows and in movies set in New York City. One of his first was in Home Alone 2, in which Culkin's character winds in the Big Apple and books a suite at the famous Plaza Hotel.
Trump's cameo is brief; he has just one line. During a scene in which McCallister asks him for directions to the lobby, Trump says, "Down the hall and to the left."
That show-stopping moment in the 1992 film was likely lost on most viewers, too young to know Trump. But the landmark hotel, bought in 1988, is is still one of his properties.
The film's crew couldn't explain how Trump ended up in the movie. "I know nothing about how orange man got in the film," Janet Hirshenson, the film's casting director, told Newsweek.
The movie's director of photography said Trump's minor role was completely unplanned. "He showed up on the set, and Chris [Columbus, the director] thought it'd be fun to put him in. We were all nice to him because he owned the Plaza Hotel, and we were filming there," the DP said, noting that most of the cast and crew were staying at the hotel while shooting Home Alone 2. "We were the belles of the ball because of the success of Home Alone, and he wanted to hang with us."
You can say one thing for Trump: He knows the value of self-promotion, and a camera.