Maced Right-Wing Demonstrator Points Gun at Protesters in Oregon 'Freedom Rally' Clash
A right-wing demonstrator responded to left-wing activists, who appeared to mace him, by pulling a gun and pointing it briefly in their direction during Sunday's clashes between dueling demonstrations in Oregon.
Leftist counterdemonstrators showed up in response to a planned right-wing "Freedom Rally" in the city of Salem. According to a police press statement sent to Newsweek, left-wing activists "wearing black clothing and ballistic vests and carrying firearms, bats, skateboards, umbrellas, shields and gas masks arrived on the capitol mall grounds." Police said that some of the counterprotesters were holding flags of the Youth Liberation Front, which is a group that promotes leftist views.
In a video of one clash, leftist demonstrators appeared to be throwing items at a silver truck with American flags and stickers expressing support for veterans and the police. The apparent driver of the vehicle stood outside the car wearing a black hoodie with an American flag on the back. The front of the hooding had the words "I stand for the flag, I kneel for the cross."
The unidentified white man urged the group near his car to stop throwing objects and appeared to be inspecting damage to his vehicle. At one point, an individual decked out in full black combat gear appeared to spray Mace toward the man's face—causing him to wince. The man then quickly pulled a gun from his waistband, cocked it and pointed it briefly toward those harassing him. He yelled, "Get away from me," by then holding the gun pointed toward the ground.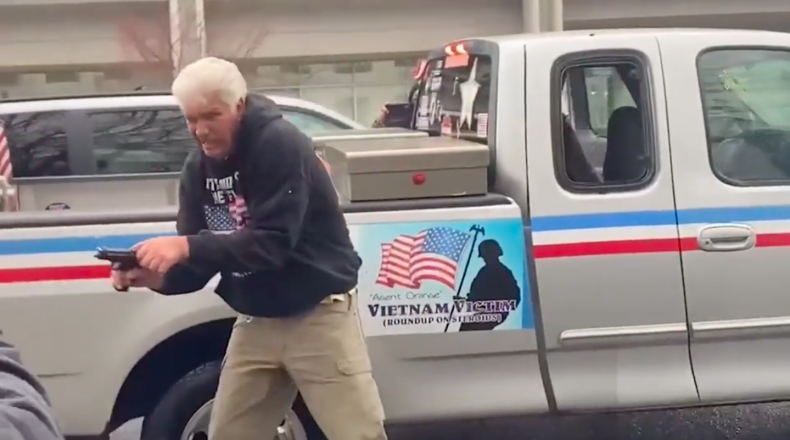 A police officer quickly intervened and ordered the man to lie face down on the ground. The man dropped his gun in the bed of his truck and immediately complied as the counterprotesters continued to yell. "Yeah, yeah, what's up, proud boy?" a male voice can be heard screaming off camera.
Treven Upkes, a spokesperson for the Salem police, told Newsweek the man was not charged over the incident.
"He was detained until we were able to conduct an initial investigation. Based on that investigation, it was determined the man was a potential victim and the case has been forwarded to detectives for follow-up," Upkes explained.
Three people were charged over their alleged actions during the clashes. Police identified those charged as 34-year-old Andrew Alan Foy, 33-year-old Nathan McFarland and 18-year-old Anthony Villaneda. Foy was charged with disorderly conduct in the second degree and criminal trespass in the second degree. McFarland was charged with disorderly conduct in the second degree, and Villaneda was charged with five counts of unlawful pointing of a laser.
"Several altercations and property damage were reported, including a reported incident of paintball guns being used and a firearm displayed. During the arrest of two suspects, officers used less-than-lethal rounds in their apprehension," police said in a statement.