As the Macedonian Border Tightens, HRW Fears a Complete Closure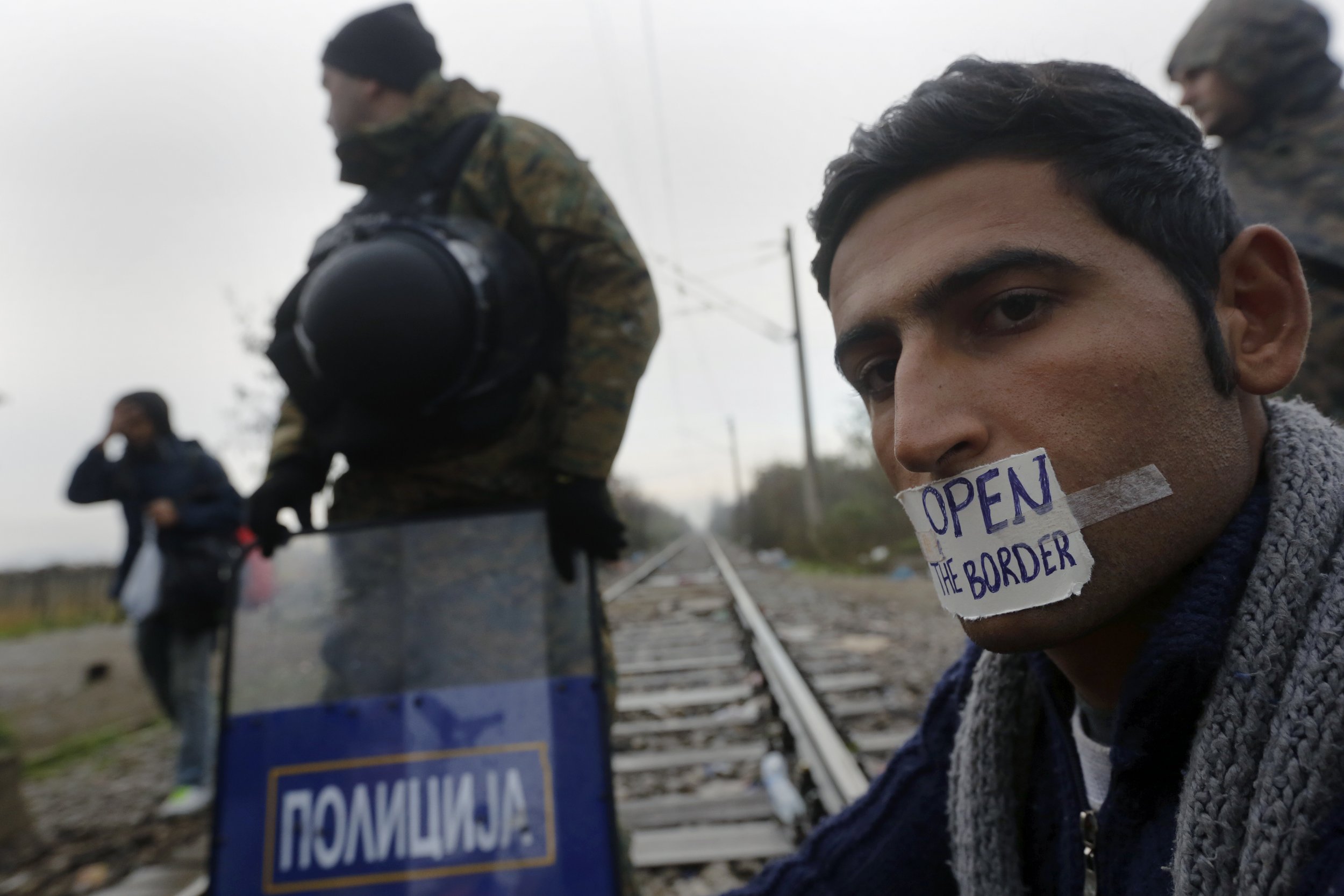 Human Rights Watch (HRW) fear that Macedonian authorities will permanently close the Greece-Macedonia border, after thousands of refugees were left stranded on Monday night.
Earlier that day, non-Syrian refugees—mainly Iranians, north Africans, Pakistanis and Bangladeshis—who were refused entry at the Idomeni border crossing between Greece and Macedonia staged a series of dramatic protests. Several Iranian men sewed their mouths shut; one man threatened to cut his veins with a razor.
Assistant Researcher for HRW in Greece, Eva Cossé, tells Newsweek about the intense situation at Idomeni, where 3,600 people are stuck waiting to continue their journey into Europe.
"People are being discriminated against based on their nationality," she says. "They are forced to sleep in small tents, crammed up against one another. It is a very dangerous situation, especially with winter approaching."
Greek authorities are providing transport back to Athens for those willing to accept it. But many people are refusing to leave, hoping instead to move on to other countries in Europe, Cossé says.
She blames the cascading border closures in the Western Balkans, triggered by Slovenia tightening its measures in the wake of the November 13 Paris attacks. Serbia and Macedonia soon followed suit, prohibiting entry from November 18 to anyone from a country not considered to be in conflict, the UNHCR told the BBC.
HRW now expect that Macedonia will eventually shut its doors completely. "It seems in the past few months, especially after the past few days, Macedonian authorities intend to close the border," Cossé says. "They will initially close it to everyone but Syrians, Afghans and Iraqis. Then, little by little, it will be closed to them and will shut completely."
Having left Idomeni on Sunday evening, Lydia Gall, another HRW researcher in Eastern Europe and the Western Balkans, confirms Cossé's worries.
"When I arrived at the border, I heard rumors from volunteers and agencies working in the area that the border will be closed," she says. "I couldn't confirm these rumors myself, but something definitely will happen."
Gall describes the situation at the border as "untenable," with thousands of people languishing in horrific conditions. She says there is a danger that many more will arrive and face a similar fate, as it is unclear what Macedonian authorities will do next.
"There are a large number of refugees and migrants coming to the border who are being refused," says Nikolaos Kifonidis, who has been working at Idomeni for the International Organisation for Migration since August. "Some people have started traveling back to Athens alone."
But Kifonidis won't comment on the rumors of an imminent border closure.
Now HRW is calling for the Western Balkans and the 28-member European Union to come up with a sufficient and humane way to process people before the situation at the border gets any worse.
The Macedonian Interior Ministry did not respond to Newsweek's request for comment.