Man with Machete Slices Another's Fingers to the Bone Before Victim Stabs Attacker in Chest, Police Say
A man who attacked another man with a machete ended up being on the receiving end of some swift revenge, according to a police force in Queensland, Australia.
An unnamed 46-year-old man went to a house in Brandon, around 45 miles southeast of Townsville where he allegedly attacked a 49-year-old man with a machete around 11 p.m. on Saturday night.
The victim tried to defend himself by putting his hand up in front of his face but the momentum of the weapon he was facing was too much and he was cut all the way to the bone, the Courier-Mail reported.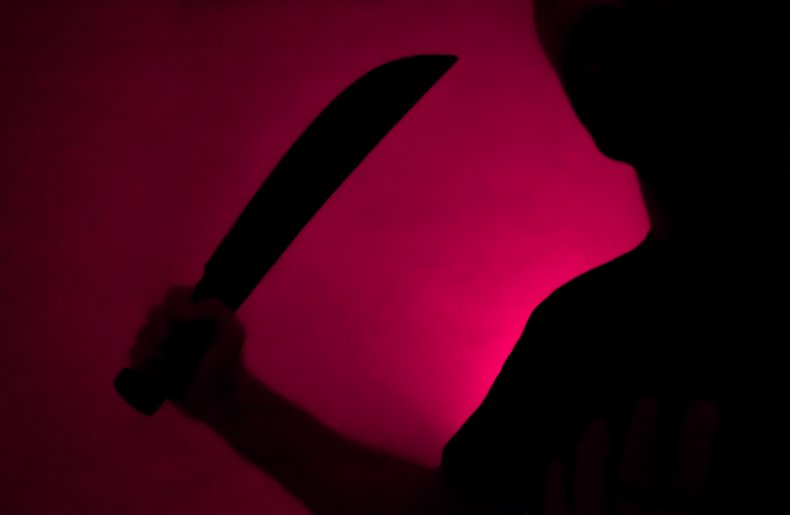 Despite his injuries, the victim did not consider the altercation to be over however and was seemingly not deterred.
He then fought back, striking his attacker on the head and stabbing him in the chest, police said, although there were no details about the weapon he used.
The machete victim was taken to hospital where he had to have emergency surgery on his arm.
Queensland police are investigating the cause of the fight and no one else is believed to be involved. No one has yet been charged.
Last week in the Australian state of Victoria, a man accused of killing a man with a machete was acquitted of all charges.
Steven Mark Dunn, 51, from Ultima, had been in custody since Boxing Day after he was accused of slashing Nicholas Bruton, then 39, in the chest with the weapon during an altercation in the early hours of Boxing Day, 2017.
Bruton later died in hospital, but Dunn pleaded not guilty and said that it was self-defence, because Bruton had come to his property on a "quest for revenge" over an earlier incident, Australia's ABC News reported.
Also last week, a man in Maui, Hawaii, appeared in court accused of using a machete to kill a man in the bathroom of a mall.
Kumulipo Sylva admitted to slashing Eduardo Alejandro "Alex" Cerezo's throat with a machete at the Queen Kaahumanu Center on March 18, 2018, although his defense team has argued that he suffered delusions due to a mental illness called schizo-affective disorder, according to Hawaii News Now.
Also this weekend, police in Winnipeg, Canada arrested two people after a man had been attacked in the street by another man brandishing a machete.
The victim in his 20's was left with severe lacerations, bleeding and was in shock after the violence incident in Fort Rouge early Monday morning, according to the Winnipeg Sun.
Man with Machete Slices Another's Fingers to the Bone Before Victim Stabs Attacker in Chest, Police Say | World